Ice To See You
Besides the Frozen Four games themselves, the leading story this week at the FleetCenter could be ice conditions. On Wednesday, the building will see five practices (the Montreal Canadiens and each of the Frozen Four teams) plus a Boston Bruins' Stanley Cup playoff game at 7 p.m.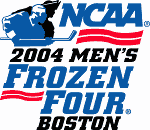 Thursday, BC and Maine will have optional ice in the morning, coupled with the two NCAA games. Friday and Saturday things calm down with only practices and the Bruins playoff game that night, and Saturday's national championship game.
Still, remake after remake of ice will have to take some toll on the surface.
As the progression of hours moved by on Wednesday, commentary on the ices conditions began to slip, but few felt at this point that there will be a problem.
"Right now I think the conditions are great," said Denver's Connor James, whose team practiced right after the Montreal Canadians, the first of the four Frozen Four teams to practice.
By the time Maine finished, the third of the four, commentary wasn't as positive.
"When we started [practice], the ice felt pretty good," said Maine's Greg Moore. "As things went on it started to get kind of chipped up."
Still, comparing to some of the conditions in the regionals, not many want to complain.
"I thought that the ice is good, it was fast," said Minnesota-Duluth's Beau Geisler, whose team faced less-than-perfect conditions at the Midwest Regional in Grand Rapids a week and a half ago. "It wasn't chipped up. It wasn't like it was out in Grand Rapids where there was [standing] water on the ice.
"Albany was worse," said Maine's Todd Jackson about the conditions at the Pepsi Center, where Maine won its region to advance to the Frozen Four. "We survived that and both teams are going to be playing on the same ice, so it really doesn't matter."
Some players even hope that the Stanley Cup playoff game could magically help them.
"Hopefully those NHL games will leave a little extra skill on the ice," said Denver goalie Adam Berkhoel. "And we can pick up where they left off."
DU's James Will Play
Denver forward Connor James will play Thursday's national semifinal in pain.
James, the Pioneers' second-leading scorer with 35 points, played in 158 straight games before fracturing his right fibula in the final weekend of the regular season. He missed the WCHA playoffs and the NCAA West Regional, and Gwozdecky said last week his chances of playing in the Frozen Four were 50-50.
After James got through Wednesday's practice, Gwozdecky pulled him aside and asked how he was doing.
"He kind of looked at me in surprise, as if, 'You actually think I'm not going to play?' He's going to play. He's already made that decision, and I concurred. If he wants to play, he's going to play.
"How much he's going to play — I would like to think that we're going to, I don't want to say ease him in slowly, but he probably won't get as much ice time in the first half of the game as he's used to. We'll just see how he is in the first period and go from there."
James said he was in pain during the team's workout, but said that won't stop him.
"I knew that going in," he said. "This is something I'm going to have to play with. … Hopefully that pain will just go away with the excitement of finally playing hockey."
Honoring a Pioneer
The death of Pioneers legend Keith Magnuson in a December car accident was a shock to the program, Gwozdecky said.
Magnuson, a former defenseman and coach for the NHL's Chicago Blackhawks, was a two-time all-American with Denver and was the WCHA's MVP in 1968. He remained close to the program, driving from his Chicago home to Madison, Wis., to see the Pioneers play Wisconsin and spend the day with the team.
The Pioneers wear a sticker on the back of their helmets to honor Magnuson.
"I think in the back of everybody's mind, everybody realizes what Keith meant to Pioneer hockey," Gwozdecky said. "Keith was Mr. Pioneer. He lived and breathed crimson and gold. … I think he would be very proud of this team and how they have responded to all this adversity they have faced in the middle of the season and where we've put ourselves now."
Tips from the Top
Boston College head man Jerry York is well-known in his tenure at the Heights to call on sports legends to provide a bit of a spark to his team. This week, he went to the top of the recent list — asking two-time Super Bowl champion coach Bill Belichick to provide a motivational speech to his players.
"[Belichick] talked about playing at home and not taking that for granted," said York about the fact that the club is playing this weekend just 15 minutes from campus at the FleetCenter. Belichick should know, having had to coach his team through three home games, including this year's AFC Championship, en route to his two Super Bowls.
"Bill [Belichick] was outstanding," said York, "He's just what you'd expect from what's now one of the legends of coaches."
York went on to say even that Belichick did his homework before heading to the Heights.
"He was for poised and very, very prepared," said York. "He knew all about college hockey and the Frozen Four. I was very impressed, as were the players."
Belichick joins a long list of sports figures to address the Eagles. When they won the national championship in 2001, York called on then-heavyweight champion Johnny Ruiz. Names like Los Angeles Kings general manager Dave Taylor as well as NHL coaches Pat Quinn and Mike Keenan have graced BC's list of speakers leading up to past Frozen Fours.
Overly Familiar Foes
Thursday's semifinals will match league foes in each games for the first time since 1984, with the WCHA's Minnesota-Duluth and Denver playing in the noon time game, and BC and Maine playing in the nightcap.
When asked about being familiar with Maine, BC defenseman J.D. Forrest might have done the best at summarizing things.
"There aren't that many secrets between the two teams," said Forrest. "It's all going to come down to who wants it more.
"I know you hear people say that all the time in sports. But when there are no secrets between teams, that's about all it comes down to."
Déjà vu or not?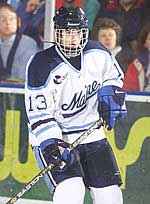 Two seasons ago, Maine came within a minute of winning a national championship on enemy ice. The Black Bears were facing Minnesota at the Xcel Energy Center in St. Paul, Minn. Needless to say, that was the ultimate home-ice advantage, and when the Gophers tied the game in the closing minute of regulation, the crowd of 19,000-plus helped elevate them to an overtime goal and a national title.
Thursday night, Maine will be in a similar predicament facing Boston College at the FleetCenter. Senior Todd Jackson, though, doesn't think it will be quite the same.
"We like the fact that we're playing Boston [College] in Boston," said Jackson. "But it's a little different than it was playing Minnesota in Minnesota where the fans were about 99 percent Minnesota.
"We have a good following in Maine and a lot of people are going to make the trip so I don't think it will be quite as bad as it was two years ago."
Relaxed Underdog
Perfectly playing the role of Cinderella, Denver coach George Gwozdecky was quick to classify his team as "loose," saying that the team's inexperience is probably playing to their advantage right now.
"We've been having a ball," said Gwozdecky, who also noted that the team's police escort from the hotel to the FleetCenter for practice on Wednesday was "the most exciting thing that we've had in years.
"We'd be more concerned if [the Frozen Four] was more customary for us. "This is the first time for these kids so it's exciting, it's fun. So we don't have to plan a strategy for these guys to get them excited."
The Mentor
In the multitude of factors in the turnaround of Denver's season, some of the credit goes to former Michigan State coach Ron Mason.
While the Pioneers were struggling at midseason, Gwozdecky had one of his frequent chats with Mason, for whom he was an assistant coach for five years in the 1980s. Gwozdecky gives most of the credit for the turnaround to the leadership of senior captain Ryan Caldwell, but discussions like the one he had with the coaching legend helped focus the way he wanted the team to go.
"We were going through a very difficult, challenging period of our season back in January and I got a call from him and we just chatted about what was going on," Gwozdecky said. "We tried to compare what we were going through to some of the times that we were going through when he and I were together at Michigan State."
In the five seasons Gwozdecky spent at Michigan State, he went to the Frozen Four three times and won the 1986 championship. In that time, Mason developed into one of Gwozdecky's mentors.
At the Pioneers' practice at the FleetCenter on Wednesday, Mason and Gwozdecky talked on the bench during drills. Gwozdecky joked that the first word out of his mouth when he saw his former boss at practice was "help."
"He's a very shrewd person and has a great hockey mind," Gwozdecky said. "There's a reason he won that many games. Sometimes you just need someone to bounce ideas off of, and sometimes the way he does things, he leads you to the answer without giving it to you. And I don't know if there was an answer to our struggles, but it's great to be able to have someone you can trust."
No Experience Necessary
The last time Scott Sandelin was a part of the Frozen Four experience, he had jobs with two schools. He was an assistant coach at North Dakota when the Sioux won the national championship in 2000, but he had been hired a week before as Minnesota-Duluth's next head coach.
None of his UMD players have Frozen Four experience, but Sandelin does. So do his assistants — Steve Rohlik has a ring from the 1990 Wisconsin team and Lee Davidson has one from the 1987 North Dakota squad.
Sandelin doesn't think the Bulldogs will need any direction in big-game preparation, but if they do, there's experience to draw on.
"As a player when you get here there's a lot of emotions and excitement and there's an experience that you want them to have," Sandelin said. "That's why this is such a great event and the pinnacle of what you work for as far as getting to this point and having a chance to win the national championship.
"I talked to them a little bit, but at the same time, you don't want to say too much. They've been a pretty focused group on what they need to do all year. It's not like we have to go in there with the Gipper speech."
The Last Time
Sandelin remembers the Bulldogs' 1-0 victory over Denver in January, but not for what happened on the ice. It was the team's reaction after the game that stuck with the UMD coach.
"I went into the locker room after the game and I just felt a different sense of excitement after that game," Sandelin said. "That was a game that we probably didn't deserve to win, but we did a lot of different things that I really liked. … The guys were excited. It was one of those hard-fought wins."
Sandelin cautioned that the Pioneers will be a better team than the one they faced that game. DU played that game without forward Gabe Gauthier and defenseman Jussi Halme and Matt Laatsch.
The Bulldogs completed the sweep and continued an unbeaten streak that later topped out at 14 games with a 6-3 victory a night later.
"That was a series where our team made a huge turnaround," goaltender Isaac Reichmuth.
Last One Standing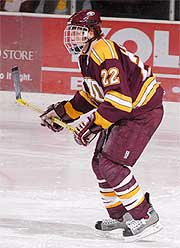 Minnesota-Duluth's Junior Lessard is the only one of the three finalists for the Hobey Baker Memorial Award still playing. It's something that's hard to ignore, but with a national semifinal game left to play before the award is announced, the senior isn't terribly focused on that ceremony.
The award will be presented to either Lessard, Brown goaltender Yann Danis or North Dakota forward Zach Parise on Friday.
"I see the Hobey Baker Award as not only an individual [one], but my teammates deserve credit for that," Lessard said. "I'm not really thinking about it too much. It would be a great honor to win it, but we've got a game to play first. We'll see whenever it comes. That NCAA championship looks a lot more appealing."
Sharing the Space
The NCAA Frozen Four banner that appeared behind coaches and players during news conferences at the FleetCenter on Wednesday was actually put in place over the Stanley Cup playoffs banner.
The Boston Bruins and the Montreal Canadiens took over the arena at night for the first game of their NHL playoff series.