The Hobey Baker Memorial Award is named for a college hockey legend who died a tragic, accidental death in a plane crash during the waning days of World War I.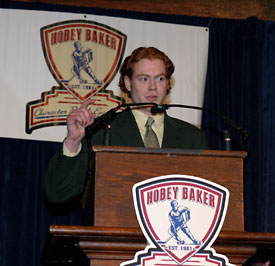 Minnesota-Duluth's Junior Lessard almost emulated the award's namesake a little too well last summer, when he nearly drowned while swimming off of Duluth's Park Point in Lake Superior.
Instead, Lessard started the 2003-04 season simply happy to be alive and ended it with receiving the coveted trophy at Boston's Faneuil Hall today, as dozens of Bulldog diehards roared out their approval when his name was announced. Lessard beat out Hobey Hat Trick finalists Zach Parise of North Dakota and Yann Danis of Brown to claim the prize.
"I wish my teammates were here," a slightly-nervous Lessard said to the crowd. "They had to go back to Duluth, but I know they're watching now. The Hobey Baker is not only an individual award — it's also a team honor. I couldn't have done it by myself. When I look back at this summer, I'm fortunate to be here and to be playing."
Minnesota-Duluth coach Scott Sandelin got the biggest laugh of the afternoon when commenting on Parise recently going pro after just two years with North Dakota.
"I'm tremendously excited for [Lessard] to receive this honor," Sandelin said. "He's certainly very deserving, as are the other candidates. I know Zach pretty well from playing against him. I'm glad he's gone.
"For Junior, it's the culmination of a lot of hard work. From where he's started to where he's finished, I couldn't be prouder of him."
Lessard led the nation in goals (32), points (63), and power-play goals (14), and he was tied for sixth in assists (31). Perhaps most importantly, he led the Bulldogs to their first Frozen Four since 1985. On the national stage, he scored two of this team's three goals in their semifinal loss to Denver.
The honors have rolled in for Lessard in recent weeks, culminating in being named a first-team West All-American as well as the runaway pick for USCHO.com Player of the Year. Previously, he had been named WCHA Player of the Year and tied North Dakota's Brandon Bochenski for the league's scoring title.
When Lessard arrived in Duluth from the town of St. Joseph deBeauce, Que., there were no signs that he would one day be a Hobey Baker contender. During his freshman year, he notched modest totals of 4-8–12 in 37 games.
"I came to college, and my speed was a couple of steps back," Lessard said. "I just worked hard during the summers. My sophomore year I started scoring goals and just kept working hard. I had a good feeling this year when I started this season — about myself and about the team — and we just went from there."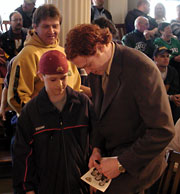 As a sophomore, he blossomed with 17 goals and 13 assists for 30 points in 39 games, then built on those totals as a junior with 21-16–37 in 40 games.
The hard work and lessons learned over those three years set the stage for an incredible finish. He started off with a goal a game versus tough competition in North Dakota, Boston College, and Michigan State.
"I started the season with three goals in three games against pretty good teams, and I kind of had the feel that it was going to be a good year," Lessard said.
Then he exploded on Halloween weekend, knocking repeatedly on Alaska-Anchorage's door and coming away with quite a bag of treats: five goals and two assists in two games.
"That was obviously a pretty big weekend for us and myself too," Lessard said. He went on to have an impressive nine multi-goal games this season and 17 multi-point games for the year, including a hat trick and a pair of assists against Minnesota State on March 13 in game two of the WCHA playoffs.
Still, Lessard was far from convinced that he would walk away with the big prize.
"I had pretty good numbers, but it's more than numbers that they look at," he said. "I think Zach had a great year as well; he won the gold medal [at the World Junior Championships], and Yann in net was probably one of the best college goalies in years. So the competition was pretty tough. Anyone could have won.
"I wasn't expecting to win; I thought I might win, I might not."
He also was heartened by the presence of the Denver Pioneers, who made a sportsmanlike show of support for their two league members who were nominees.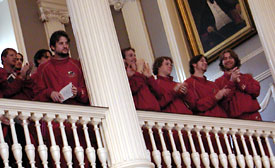 "That's great," Lessard said. "It shows a lot of commitment for our league. I think it's awesome that they came to watch it. We've got lots of respect for them, and I wish them the best [Saturday]. If we couldn't be the one to get it done for our league, hopefully they can. They'll represent our league well."
Lessard is the fourth Bulldog to win the coveted trophy, following Tom Kurvers (1983-84), Bill Watson (1984-85), and Chris Marinucci (1993-94). Watson attended today's ceremony and received a huge ovation when introduced. Playing for North Dakota, Sandelin was a teammate of Hobey Baker winner Tony Hrkac, albeit playing alongside him two years before Hrkac won in 1986-87.
"They're different players," Sandelin said of Hrkac and Lessard. "Tony was more of a Zach Parise-type of forward. Junior's got more of that power forward, Brett Hull-type of player. More importantly, he was one of our leaders on and off the ice. Once he learned his English, he was pretty good. He's very committed, and this just shows what hard work can do for you.
"I'm so happy for him. I think that the [near-drowning last summer] put a different perspective on this, but even without that I think he would have a great year."
From nearly drowning to being drowned out by the cheers in Faneuil Hall on Frozen Four Weekend — it's quite a way to end this chapter of the Junior Lessard story: saying adieu to college hockey instead of college hockey having to say goodbye to him last summer.