It's hard to believe that 52 seconds could last a lifetime. Right now, though, for the Maine Black Bears that's true.
Two years ago, the Black Bears were 52 seconds from the national title before Minnesota tied the game and then won in overtime. Two years later, the pain is still present.
"I'm still not over it," said Maine senior Todd Jackson. "It's definitely a motivating factor and it's driven our team since that time."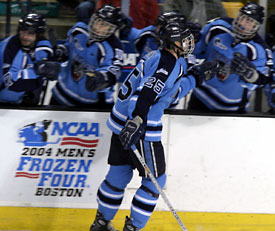 The memories of that near-miss at college hockey's ultimate crown were the topic of conversation Friday at the FleetCenter as the Black Bears, 2-1 winners over Boston College in Thursday's national semifinal, prepared for a return engagement in the national championship, this time against Denver.
"During summer training workouts you're thinking about those 52 seconds and what could've been," said Jackson, who was excited but focused at Friday's practice. "But now we're here and we have another chance to win one."
As the Black Bears prepared for Saturday, talk went back to Thursday when Maine won its remarkable eighth straight one-goal game. According to Jackson, the team has begun learning how to win the close games. And to do that, as hard as it is, it's been necessary to forget that heartbreaking finish against Minnesota.
"You just try to block those things out because if you start thinking about them they're probably going to happen again," said Jackson. "[Last night] we kept talking about not just hanging on, but keeping the pressure on."
"But our team is comfortable in those situations now. We've been through them so many times that it's nothing new to be in a tight game."
Fellow senior Prestin Ryan agrees.
"Maybe it's a little bit of luck, but the most important thing is just composure," said Ryan. "If you have composure and confidence in the game you're going to make the right plays at the right time."
It wasn't just one-goal games that have prepared the Black Bears. Their road through this NCAA tournament, one that began with an emotional 5-4 comeback win over Harvard, has been grueling, but character-building.
"This is definitely one of the toughest roads that we could've gone through to get here," said Jackson. "To win four games in a row may not sound like much but each game you're trying to knock out another team, and it gets harder."
Head coach Tim Whitehead is thankful that there was a break in that road. "It's been a long ride that started with the Hockey East tournament," said Whitehead, whose team needed triple overtime to dispose of Massachusetts in the Hockey East championship. "It's been a long emotional run. What really helped us for this weekend was the couple of extra days that we had after the regional.
"We needed that break because we were running on empty at the regional. It allowed us to regroup a little bit and regain some focus, and I think that helped us a lot to get back on track."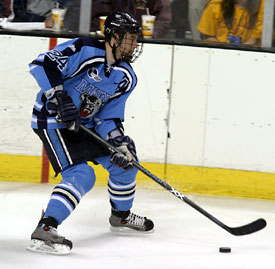 So with their tanks refilled, the Black Bears are set to accomplish that which a "more talented" team, according to Jackson, could not two years ago: win the final game.
Jackson noted, though, that what this team might lack in raw talent is easily made up elsewhere.
"There are a lot of new faces this year and I'm not sure if we have as much talent as we did two years ago, but our character and everybody being on the same page is one of the reasons that we're here," said Jackson. "I'd say that is a common thread with championship teams — character. It's not necessarily the most talented team that's going to win, and I think that's why we're here."
Whitehead compares this year's team to Maine' 1999 club that beat New Hampshire in overtime for the NCAA title.
"I remember coach [Shawn] Walsh saying about the '99 team that there wasn't a lot of margin for error there, and that's how I feel about this team," said Whitehead. "One of the strengths of our team this year is that we recognize that. We don't get ourselves into thinking that we're anything like the '93 team [that went 41-1-2] because we're not. That has allowed us to be successful."
When the puck drops on Saturday night, Whitehead hopes that all of that, along with his club's experience in pressure situations, will be the decisive factor
"For those of us that were involved on this type of stage, that definitely helps you," said Whitehead. "Every stage you go through you improve as long as you're focused on improvement. For our program we're looking to get back [to the national tournament] every year. If we can get back to the tournament every year our odds increase of winning the championship."
"Personally, I came to the University of Maine for this opportunity," said Jackson. "I had it two years ago and here I am again with another chance. This is a program that anything less than a championship is disappointing."
And if the Black Bears can win just one more game, the disappointment of two years ago will be erased.