Sometimes it's okay to shake your head. Sometimes it's okay to ask the question, "Why?"
Heck, sometimes it's even okay for a grown man, the head hockey coach of a national powerhouse, to tear up.
That time is now for Maine.
Coach Tim Whitehead said it best: there's almost no way to put feelings into words, as his club, for the second time in three years, was denied a national championship.
This time it came in a nailbiter that knocked off the 2002 title game against Minnesota that ranked as the top tension game on my list. This time for Maine, it was a Murphy's Law night that just didn't seem like one when Maine would catch a break.
In the end, though, the Black Bears return to Orono, one of the ultimate big-time-hockey, small-time-towns around, without their third national championship trophy.
Two years ago it was a Minnesota goal with 52 seconds left and a controversial overtime call that led to the game-winning goal. Saturday it was as opposite, yet as similar to that game as you could get.
This time there's no doubt that Maine was beat. Sure, the Black Bears scored a goal that was disallowed early in the 1-0 loss, but this time it was clear-cut — right along with the rules, a correct call that even the players said was "forgotten" as soon as it could be.
Still, it seems hard to find an explanation.
Some might call it karma — less than a month ago Maine beat Massachusetts in the Hockey East final, 2-1, in a game that saw the Minutemen have a goal disallowed in regulation for the same reason as Maine on Saturday — a skate in the crease. Maine won that game in overtime.
So karma, yeah, maybe.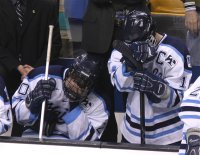 But similarly, some felt that it was missed retribution for the Black Bears. As controversial as the penalty was two years ago that decided the title game, Saturday, Denver was whistled for not one, but two penalties in the final two minutes of the game, setting up the rarest of rares: a 6-on-3 advantage for Maine.
The second of those two penalties was a not-so-frequently called delay of game on Gabe Gauthier — ultimately the hero of the game with the winning goal.
The Black Bears couldn't score.
Remember, sometimes it's okay to ask, "Why?"
When all is said and done, fans will want to look for a silver lining for the Mainers. Returning a nucleus of talent to a team that had low expectations going into this season, the Black Bears should have another crack at the elusive title next year.
"We have a wealth of the team coming back next year," said possibly the brightest of returning bright lights, Jimmy Howard, who, ironically, by allowing only one goal Saturday, broke the all-time NCAA record for goals against average.
"We're losing a lot of key guys, but I think that a lot of guys will fill those roles next year."
It's okay to say, "Wait 'til next year." But at the same time, it can be said, "This year wasn't too shabby itself."
Maybe that's the head coach's job.
"It's hard to have been here twice in the last three years and come up one goal short both times," said Whitehead. "It'll hurt a lot more the longer we get away from it because I know that. It really stays with you.
"To be honest with you, it'll hurt for a long time because this is what we do. I know all the coaches — and I see ex-Michigan State coach Ronny [Mason] shaking his head [in the back of the press conference] — once you've been there, you never forget the losses.
"Maine's been here to the Frozen Four nine times and has two titles. But we have to get back here and regroup. This is our sixth in a row right now. We have to stay the term and get back and eventually we'll win another one."
As well-put as can be.
But for now, for Maine, it's okay to hurt. It's okay to shake your head. It's still the right time to be asking the question, "Why?"