The biggest reason for Denver's rise from WCHA mediocrity to NCAA superiority was a man's character so strong that all of his teammates would take a bullet for him in a heartbeat.
There were never bullets fired on the ice, but there were pucks that Pioneer defenders stopped to protect senior goaltender Adam Berkhoel, the tournament Most Outstanding Player. His merits extend beyond the 24 saves he made, to the way he inspired his teammates to block 27 shots in front of him.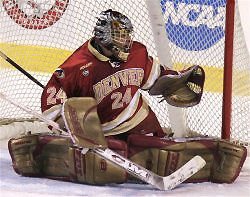 The willingness to give all for Berkhoel was why Denver won.
"You just love to play for him, because he's such a true, true team guy," said Denver coach George Gwozdecky.
The Pioneers' heart in battling for Berkhoel was clear to see when Maine earned a 6-on-3 in the final minutes. In Gwozdecky's words, it was a battle with four warriors on their side, where anything went. Maine coach Tim Whitehead called the blocked shots in those final minutes tremendous. Bodies were sacrificed all over the ice.
The trio of Pioneer skaters couldn't do everything, and when Colin Shields had the clearest look from the slot all evening, Berkhoel nabbed the rising threat with his glove. The netminder's selection as MOP was indeed completed minutes before the 6-on-3, but those final moments left little doubt as to who deserved it.
Berkhoel's senior year wasn't nearly as smooth at the end product. There were seven regular-season games in which Berkhoel allowed more goals than the five he let up for the entire NCAA tournament.
Among the lowlights were an 8-7 loss to Minnesota State in which Denver blew a 7-1 lead (in game which ended with just two healthy defensemen), and a 6-1 loss to Colorado College that ended Denver's WCHA tournament run in the first round. Gwozdecky often called Berkhoel the best goaltender in the country, but he lacked the numbers to prove it. The coach felt Berkhoel had a difficult senior year with the team not playing well in front of him.
Berkhoel deserved better, and his teammates were willing to give him better, because of the quality of his personality, which Gwozdecky said was the greatest intangible he brought to the ice.
This was a man who played in the shadow of Wade Dubielewicz for much of his time at Denver, and until Dublielewicz's graduation, and he showed no regrets for getting passed over for just about every accolade.
"Adam, not one time did he ever say anything as if he was underappreciated or underrespected," Gwozdecky said. "He was the consummate team guy. He deserves every accolade that he's going to get."
Now that Berkhoel is getting showered with accolades, he's still not giving himself much credit. His teammates called him the ultimate penalty killer, but he didn't share that view.
"Our penalty kill tonight was doing an amazing job blocking shots," Berkhoel said. "Give them the credit. They were doing everything. I was down and out."
Gwozdecky would not let Berkhoel get away with that revisionist history, but he noted that it was part of why his teammates bled for him.
"You saw him deflecting so much praise to his forwards and defensemen, and I think all of you saw the breakdowns in front of him and the point-blank shots they had," Gwozdecky said.
Such behavior was typical of Berkhoel, evident on more than just this Saturday. After Thursday's 5-3 NCAA semifinal win over UMD, Berkhoel's Denver teammates credited a second-period save for turning the momentum of the game and inspiring them to come back from a 3-1 deficit.
That save was routine for Berkhoel, who had an eerily similar run to a championship in 2000 with St. Paul of the USHL, after an up-and-down year.
"In the postseason all the talk is about goaltending, and I knew I had to be strong," Berkhoel said. "I've been up and down. To end my career, what better way to play well in the last four games?"
Every fan or player out there who has ever worn a Pioneer sweater would agree.