In the days following the University of Denver's 2004 NCAA Championship victory over Maine, writers and pundits attributed the success of Denver's hockey program to a variety of factors. Words like "goaltending," "grit," a "loosey-goosey attitude" and "senior leadership" were tossed around in abundance. Some even called it a "Cinderella story" after the lowest-seeded team of the Frozen Four skated away with the championship trophy.
Such comments, while perhaps true, also sell the program short. The real story of the Denver Pioneers' resurgence, after a 35-year absence from the pinnacle, is a much deeper one that reflects a proud program's determination to overcome years of obstacles — some real, some psychological, but all of them difficult. Ten such obstacles mark the evolution and development of the Pioneer program across history.
Obstacle One: Starting from Scratch (1949-1951)
To understand Denver's place in college hockey, we must turn back the clock some 55 years to the birth of the program, just after World War II. At that time, there was no ice arena in town, no native pool of players to draw upon, and little hockey history in the area. The first big obstacle would be just starting a hockey program and making it viable.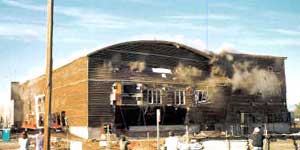 The University of Denver, a private university founded in 1864 (before Colorado was even a state), was already over 80 years old with functioning football, baseball, basketball and track programs. Denver athletic director Ellison Ketchum saw the opportunity to raise the visibility of university athletics by upgrading the facilities on campus. Ketchum managed to acquire a donated WWII surplus Naval drill hall that had stood in Farragut, Idaho, from the U.S. War Assets Administration. The U.S. government paid for the dismantling and shipping of the facility to Denver, where it was re-erected on campus as the new University of Denver Arena. It would stand for nearly 50 years as the home of Pioneer hockey. (A similar war surplus facility was also re-erected at RPI, which is now Houston Fieldhouse.)
In 1949, under coach Vern Turner (the former rink manager of he Broadmoor Ice Palace in Colorado Springs) the new DU Arena hosted the first Pioneer team to lace up the skates. Since DU lost its inaugural game to the University of Saskatchewan, 17-0, and then lost its next eight games by a combined 108-10, few imagined that the program would reach respectability, let alone prominence. The Pioneers went 4-13 that first year, with all four wins coming over a club team from the University of Wyoming. But the next season, the team went 11-11-1, beating varsity teams like Princeton, Toronto, Minnesota and Michigan. Denver hockey was on the map.
Obstacle Two: Building a Legend (1952-1969)
In 1952, Turner left, and Denver hired 24-year old Neil Celley, a 1948 US Olympian who had just graduated from the University of Michigan, as its new coach. Celley had scored a hat trick against Denver the year before, and now was coaching the Pioneers against many of his former Michigan teammates. Celley stayed five years and racked up a .646 record before giving way to the legend called "The Chief."
By 1956, Denver had become a competitive program in what was to eventually become the WCHA, but the arrival of ex-NHLer Murray Armstrong as coach would make DU the dominant team of the era. Armstrong arrived on campus and guaranteed a champion in three years. He actually did it in just two.
Armstrong, who had been coach of the famed Regina Pats junior team in Saskatchewan, established a virtual pipeline of talent from western Canada to Denver, a pipeline that still exists to this day, albeit in a different form and intensity level. In Armstrong's era, it was legal to recruit major junior players from Canada to NCAA hockey, and many of Armstrong's Canadian players were much older and more experienced than their US-born counterparts on other teams. Within two years of arriving in Denver, Armstrong won his first of five NCAA titles with his 1957-58 team, which beat North Dakota 6-2 in Minneapolis — the first NCAA Championship tourney outside Colorado Springs, site of the first 10 NCAA Tournaments.
Armstrong's teams (often ex-Regina Pats coming down to Denver in waves) soon became a dynasty. The 1959-60 Denver NCAA Champions beat the eventual gold medal 1960 US Olympic team and also tied the vaunted Russian Olympic Team prior to the Squaw Valley Olympics. Indeed, the 1960-61 Pioneer squad was one of the greatest college teams of all time with a 30-1-1 record. In postseason play, the Pioneers outscored their opponents, 35-6, including a 12-2 win over St. Lawrence in the NCAA Championship game, still the largest margin of victory in history. The Pioneers of that era had a spectacular offense led by all-Americans Jerry Walker and Bill Masterton and an equally dynamic defense also led by all-Americans Marty Howe, George Konik and Grant Munro with another all-American, George Kirkwood, in goal. (Masterton would go on to the tragic distinction of being the first and only player to die on the ice during an NHL game, as a member of the Minnesota North Stars, and the NHL still awards a trophy in his name every year to the player displaying the most courage and perseverance.)

In the early 1960s, there was little local competition for the winter sports dollar. There were no big-time professional sports in Denver, and the ski areas were just getting started, so Pioneer hockey was the top winter entertainment in town. The DU Arena was packed with 5300 fans for every game. More importantly, Denver hockey's success had now replaced football as the dominant sport at the University, making it far easier for the school to drop football in 1961, and put football's $100,000 budget into other sports. Homecoming was now a hockey weekend, and that tradition remains to this day. At the same time, a growing rivalry with Colorado College was becoming the dominant social event of the winter season. Denver fans would stay overnight at the swanky Broadmoor Hotel in Colorado Springs where tickets were included in the room price (the old Broadmoor World Arena was on the grounds of the hotel) while well-heeled CC fans would come north from Colorado Springs to stay at the Brown Palace Hotel. DU Hockey reigned supreme in the Denver sporting scene for years after, until a certain new AFL football team called the Denver Broncos began to gain converts, initially using the University of Denver's old stadium for preseason and early-season games.
Denver was NCAA runner-up in 1962-63 and 1963-64, and NCAA third place in 1965-66, and returned to the NCAA pinnacle with back-to-back championships in 1967-68 and 1968-69. The Denver teams of the late '60s were led by two-time all-American defenseman Keith Magnuson, who is a member of the all-time NCAA team and was voted best defenseman in the history of the WCHA by the Hockey News. The fiery redheaded Magnuson went on to NHL fame in Chicago and tragically lost his life in a car accident on Dec. 15, 2003. This years' Pioneer championship team wore a uniform patch commemorating Magnuson, and more than one Pioneer fan commented that when Maine forward Ben Murphy had a breakaway in the 2004 Championship game and mysteriously "tripped" over the blue line with no visible player nearby, that it was Magnuson who "hip-checked him from above". Magnuson's intensity and love for the college game was infectious, and he fired up this year's Denver squad with a preseason pep talk as he had done many times with other Denver teams after his playing days were over. His legacy as "Mr. Pioneer" will never be forgotten.
But the late '60s Denver dynasty wasn't just Magnuson. It was all-Americans like Jim Wiste, George Morrison and stars such as Cliff Korroll, Craig Patrick and goalie Gerry Powers that again brought Denver hockey to national dominance. However, the 1969 4-3 NCAA Championship victory over a superb Cornell team (led by the great Ken Dryden) was the last time the program would be a NCAA champion until 2004.
Obstacle Three: The Dynasty Starts to Collapse (1971-1973)
At first, there was no reason to believe that the Pioneer program was in decline. Those early '70s DU teams had stars like Peter MacNab, Bruce Affleck, Rob Palmer, Rich Preston, Mike Christie, Vic Venasky and Ron Grahame, all of whom went on the NHL. In the early 1970s, Armstrong's Pioneers returned to the NCAA Frozen Four three times in a row, but were turned back each time. Boston University knocked Denver out in 1971, Cornell gained revenge on Denver in 1972, and Wisconsin did the honors in the 1973 final. While the team's NCAA dynasty dreams were collapsing on the ice, the DU Arena roof literally collapsed, too. The repairs would take a year, and the roof had to be shored up with 14 seven-ton steel trusses. The roof repairs forced the team to play its 1972-1973 season at the Denver Coliseum, an old rodeo arena some 10 miles from campus. But collapsing NCAA Frozen Four appearances and arena roofs were nothing compared to the obstacles ahead. …
Obstacle Four: The Denver Way vs. the NCAA Way (1974-1978)
By the mid 1970s, there was an ongoing debate in college hockey regarding the status of Canadian Junior A players, who were increasingly seen as professionals by the NCAA. Denver, whose 20 years of previous hockey success was predicated on these Canadian junior players, was a flag bearer for schools with no native talent pools. But some coaches, such as Minnesota hockey godfather John Mariucci, did not want their own players — just out of local high schools — to be playing against Canadians in their mid-20s. As a result of this feud, the WCHA had fractured and Denver and Minnesota would not play each other in league play throughout the entire 1960s into the early 1970s.
Though this Canadian junior issue was complex, by the mid 1970s, the NCAA wanted a resolution. The NCAA asked Denver (and other schools) to declare certain players who had played Canadian major junior to be "ineligible," and in return, the NCAA would "restore" those players' eligibility — thus grandfathering the current players with an eye toward eventually stopping the practice altogether.
Denver wanted nothing to do with such a plan. Denver Chancellor Maurice Mitchell and coach Armstrong stood up to the NCAA, refusing to call their own players "cheaters." The NCAA then slapped Denver with serious sanctions for refusing to "whitewash" their players. Soon after, the legendary Murray Armstrong retired, ending his 21-year career at DU with five NCAA Championships in 10 NCAA appearances.
Assistant coach Marshall Johnston, a former Denver star from the early '60s and later an NHL'er, stepped in as head coach. Johnston's 1977-78 Denver team stormed out to a 33-6-1 record, a No. 1 national ranking and a WCHA title, but was not eligible for the NCAA tourney due to the NCAA sanctions. Boston University, under hot goalie Jim Craig, would win the NCAA title, but many believed the best team the country never had the chance to prove it.
Obstacle Five: Denver declines on ice and off (1978-1985)
After the NCAA sanctions disappointment, the Denver program went into a long tailspin, never regaining a higher WCHA finish than fourth until 1985. Midway through the slide, in 1981, Johnston moved on and was replaced by LA Kings and former Denver assistant Ralph Backstrom, who had won five Stanley Cups in his playing days with the Montreal Canadiens. The grim years in the late '70s through the mid 1980s were mirrored by a decline of the university as a whole, which had lost its financial footing amid declining enrollment due to demographic change and poor planning. In the late '70s, the University downgraded most of its sports programs from Division I to NAIA or NCAA Division II. Hockey was the only men's sport that remained NCAA Division I.
As with many college teams of that era, Backstrom liked freewheeling offensive hockey, and his teams piled up the goals, but often gave up just as many (or more) at the other end of the ice. The resulting inconsistency kept the Pioneers mired in mediocrity for most of his tenure as coach.
The one big exception was in 1985-86, when a big and bruising Denver team, led by DU career points leader and playmaker Dallas Gaume and goal-scorer Dwight Mathiasen, went 34-13-1. That Denver team won three grueling WCHA playoff series in a row, carried a No. 1 ranking for most of the year, and was buoyed by fervent student and community support. After beating Minnesota for the WCHA title, the '86 Pioneers took a memorable curtain call for the 5,200 fans that stood in appreciation of winning the WCHAs for the first time since 1978. However, after an emotional home NCAA quarterfinal total goal series win over Cornell (and Joe Nieuwendyk), the Pioneers were spent. They limped into Providence for the Frozen Four tired, injured and worn down from a host of distractions, particularly from NHL teams who coveted a number of the non-drafted Denver players. Harvard rolled over the Pioneers 5-2 in the national semifinal, and Minnesota beat a depleted Pioneer lineup in the third place game, 6-4. Denver would not see the Frozen Four again for 18 years.
Obstacle Six: Campus Crisis and Laying New Groundwork (1987-1994)
In the late 1980s, the University of Denver was in crisis. It had borrowed money to meet payroll and had ended 1989 with a working capital deficit of $12 million. Applications were declining, and the buildings and grounds had deferred maintenance then estimated at $45 million. A new Chancellor, ex-Westinghouse Broadcasting CEO and Harvard MBA Daniel L. Ritchie, was brought in to literally save the school. Ritchie would serve (and continues to serve today) without pay, and used both his financial acumen and heavy donations from his own pocket and from well-connected friends and alumni to aid the university. As DU began to turn around, the hockey program changed along with it when Frank Serratore was brought in as coach after Backstrom left in 1990.
Serratore's energy and passion changed the intensity and tone of the program. Serratore and his hard-working staff actively began recruiting American and European players as well as working the historic western Canada pipeline. The DU Arena, which was aging badly, got some more patchwork renovations and while the Pioneers struggled on the ice, the groundwork was being laid for a dynamic new era in Pioneer Hockey. Serratore never got to finish what he started and was fired after four seasons in 1994 with a .357 winning percentage, but the cupboard was not bare when new coach George Gwozdecky arrived from Miami (Ohio) in 1994.
Obstacle Seven: Adjusting to another New Coach
Using Serratore's recruits, Gwozdecky's 1994-1995 team played excellent hockey, finished second in the WCHA and returned to the NCAA tournament for the first time since 1986, whipping New Hampshire 9-2 before losing a close 4-2 decision to Maine. In 1996, the program built more momentum by setting a new Denver college hockey attendance record with over 16,000 on hand to watch Denver defeat archrival CC 3-2 in the Denver Cup tournament final at the old city-run McNichols Arena. DU Hockey was back on the map.
And so was the school. By the mid 1990s, improving enrollment and fundraising allowed the University to embark on an ambitious strategy to add massive improvements to the campus. Hundreds of millions were raised, and a new athletic center, a new business school, a new performing arts center, new science buildings, residence halls and a new law school building were planned (and eventually built), signifying a new era in the history of the university. Academic standards were raised, enrollment surged, and as the new millennium beckoned, things were turning around for the hockey team, too.
Gwozdecky's troops, now with his own recruits, returned again to the NCAAs in 1997, beating Vermont 6-3 in the NCAA regional semi, only to lose an excruciating 4-3 heartbreaker in overtime to Boston University on a Chris Drury goal. That season also marked the last for the venerable old DU Arena. Those who attended a game there will remember the steep bleacher balcony at one end, and a gaudy early '70s rainbow design painted on the wall at the other end with 5,200 wooden seats and just two sets of restrooms for the entire building. It fell to the wrecker's ball not long after the final WCHA playoff victory over Minnesota Duluth.
Obstacle Eight: Homelessness and Michigan (1997-1999)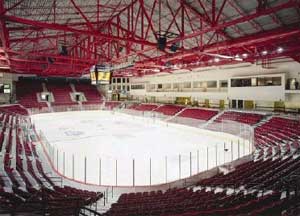 Just as the Pioneers were regaining their edge, they lost their home arena and would not have a home on campus for the next two seasons. Games were played in four different arenas around the state according to availability — McNichols Arena and the Denver Coliseum in Denver, and at the Air Force's Cadet Ice Arena and Colorado College's World Arena in Colorado Springs. Understandably, the team lost most of their fan base, especially as Denver now had four major pro teams and plenty of other diversions.
Despite not having a home rink, Gwozdecky's boys had a 26-13-2 season in 1999, led by all-American Paul Comrie — good for a third place finish in the WCHA regular season. At the WCHA Final 5 in St. Paul, Minn., the Pioneers upset top-ranked North Dakota with a 4-3 victory in overtime. Winning the WCHA tourney guaranteed Denver an NCAA bid to the East Regional, in Worcester, Mass. where they faced perennial powerhouse Michigan. The Pioneers jumped out to an amazing 3-0 lead on the Wolverines, but Michigan coach Red Berenson called a timeout to settle down his team. Michigan stormed back to score five consecutive goals, and the Pioneers suffered a meltdown of sorts, which some suggest was caused by the repeated playing of "The Victors," (the Michigan fight song) after each goal — and in between.
Obstacle Nine: Making the New Arena into Home … and facing Michigan again (1999-2002)
In place of the old DU Arena, the newly revitalizing University made a multi-million commitment to the hockey program by building a $75 million multi-purpose sports center named after Chancellor Ritchie, with the new 6,000 seat Magness Arena as its centerpiece, named after cable TV pioneer (and major donor) Bob Magness. The building had not only a hockey arena, but an Olympic sized pool, a 3,000 seat gymnasium, a field house, and a huge fitness center as well as a 215-foot tall gold-leaf covered bell tower, complete with a 75 bell carillon. As part of this initiative, all Denver sports would return to Division I in 1999 (only hockey and women's gymnastics were Division One through the 1990s — all the rest were Division II). The new commitment was needed, as nearly all the WCHA schools had either built or were in the process of building new arenas. Moreover, it signified to everyone that the University of Denver was serious about committing the resources necessary to compete at the highest level. Top recruits began to sign with Denver and light could be seen at the end of the proverbial tunnel.
During the first two seasons at Magness Arena (1999-2001), the Pioneers struggled to win back their fan base, and with ninth and sixth place finishes respectively, there wasn't a lot to cheer about. But when expectations were lowered for the 2001-2002 season, the Pioneers would shock the college hockey world by winning 20 of their first 22 games en route to a 32-8-1 season, a WCHA regular season and WCHA playoff championship behind the 1-2 goaltending punch of all-American junior Wade Dubielewicz and sophomore Adam Berkhoel. Defensively deep and offensively balanced, the Pioneers were the top-ranked team for most of the year, and expectations were high that this top-seeded team would finally break through to the Frozen Four.
But once again, the Maize and Blue of Michigan lay waiting, this time as host of their own NCAA regional in Ann Arbor, Mich. Just like 1999, the Pioneers jumped out to a lead — 3-2 entering the final period. And just when Michigan began to tire, the 7,000 home fans cramming Yost Ice Arena lifted the Wolverines to a come-from behind victory, as Michigan first tied the game and then won it on a Jed Ortmeyer goal with less than 2 minutes left in regulation. The Pioneers' dream lay shattered. …
Obstacle Ten: Overcoming the Psychological Trauma of Michigan (2002-2004)
The second Michigan meltdown of 2002 may have had a deep psychological effect on the Pioneer squad that followed. Picked for first place in the WCHA for 2002-2003, with much of the talent coming back, the Pioneers struggled with the weight of expectation all season long, losing a number of games late, and ended with a 21-14-6 overall record and a disappointing seventh place WCHA finish.
As the 2004 season dawned, was team was ready for a fresh start and was only expected to finish fifth in the WCHA. Despite some very promising road performances, the 2003-2004 edition struggled at home in league play for much of the season, and injuries would cut deep into Denver's depth, especially on defense. But on the last night of January, the Pioneers tied North Dakota 1-1 in Grand Forks, allowing the team to believe in itself. In the final 16 games they played, the Pioneers would only lose twice more, en route to that elusive sixth NCAA title, sweeping Minnesota and Colorado College, and beating Miami (Ohio), North Dakota, Minnesota-Duluth and Maine in the NCAA playoffs to do it.
The team would be led by a special senior class including the big-game shutout goaltending of NCAA Tourney MOP Adam Berkhoel, the warrior-like leadership skills of all-American Captain Ryan Caldwell, and the courage of forward Connor James, whose gutsy return to the lineup in Boston after a recently broken leg to capture all-tourney team honors may be a college hockey equivalent to Toronto Maple Leafs legend Bobby Baun's broken-leg Stanley Cup game winner in 1964 or Willis Reed's injured-knee performance in the 1970 NBA finals for the New York Knicks.
Others have pointed out contributions by the other Denver seniors — the 110% energy of opponent-irritating forwards Greg Keith or Lukas Dora, or the timely giant-killing shot and penalty killing skills of Max Bull. Some even cite the spirit of seldom-used forward Scott McConnell, the grandson of the great coach Badger Bob Johnson, whose greatest contribution to the team may have been the black eye he suffered in a tone-setting, preseason fight with his best friend and roommate, Ryan Caldwell.
Some also say it was the Pioneers' loose, "lets-just-have-some-fun-here" attitude — a deliberately planned strategy designed to contrast with, and prevent a recurrence of, the disaster of Denver's last Frozen Four experience in 1986, when the uptight, distraction-laden and worn-down WCHA Champion Denver squad fell with a thud at the hands of Harvard and Minnesota in Providence, R.I.
Gwozdecky will tell anyone that will listen that this team was not a Cinderella story — that it was a simply a talented, hard working, relatively healthy team peaking at the right time, hammering home the best record in college hockey over the final 16 games of the season. Of course, he's correct.
But then again, he also knows this program is all about overcoming obstacles.
Tom Douglis is former editor of College Hockey Magazine and former public relations coordinator for USA Hockey. In his undergraduate days at the University of Denver, he was sports editor of the student paper, the Denver Clarion, and covered Pioneer hockey for four seasons.