Guy Gadowsky was introduced as Princeton's new head coach Friday, and quickly went about winning over those close to the program. At least those he hadn't already won over in the interview process.
"I just have such high regard for Princeton, and it's an incredible honor to work here," said Gadowsky, who spent five years as head coach at Alaska-Fairbanks. "For my philosophy in my life … I'm thrilled about the move."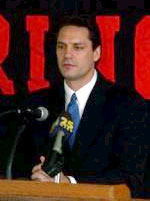 For those who wondered why, in hockey terms, Gadowsky would go from the CCHA to the ECAC, and from one program to another each with relatively little success, he made it very clear that the ideal of a Princeton University meant something to him. When the job opened, it was an instantly appealing thought, and an attraction too hard to repel.
"It's a very easy decision to come to Princeton, it's a very tough decision to leave Fairbanks," he said. "It's sad because I love Fairbanks. I wouldn't leave for just anything, but Princeton is Princeton."
Many Princeton people came in with reservations, having just seen a 20-year member of the program, Len Quesnelle, get fired. But reservations seemed to evaporate quickly, as Gadowsky's energy and Ivy-friendly philosophy became evident.
"To take a page from Jack Welch, the General Electric chairman, we were looking for an energetic coach who could energize others," said Princeton athletic director Gary Walters. "One with passion … intelligence … charismatic to get recruits, and is committed. … We found our man."
The hiring threw many for a curve, but Gadowsky said his involvement was kept extra quiet out of sensitivity to the Fairbanks situation. And once Princeton's decision was made, Walters held off the announcement so UAF could get itself organized.
"I sincerely thank Princeton for allowing me to fly back to Fairbanks and get our ducks in a row," said Gadowsky.
Princeton is a program with five winning records in the last 50 years, and four of those came in a five-year span under Don "Toot" Cahoon from 1994-1999. Princeton is in a growing area for youth hockey, but it's hardly a hotbed, and it doesn't have the hockey tradition of Harvard and Yale to fall back on. Combine that with the nation's most rigorous academic requirements, and it's easy to see where winning consistently at Princeton is difficult if not impossible.
But Gadowsky, obviously, concedes none of that.
"It's going to take a lot of commitment and lot of work ethic, but in what direction, until I find out what the problems are I really don't know where to start solving them," Gadowsky said. "But I know from the people that I've already met in the community that care about hockey, I'm not going to be alone in it.
"Come here and look at this, and look at the academic part of it — it's the best in the world. And personally, I've never seen a more beautiful campus or more beautiful place. So I think if you can get the student athlete to come to visit, you're doing pretty well right there."
Cahoon was also a rare bird in that he was a non-Ivy Leaguer winning at an Ivy League school. That adjustment is not easy, even for coaches with a history of stressing academics, as Gadowsky did at Fairbanks. As one long-time Princeton supporter said Friday, "Toot was scared to death when he first got here, until he met Pete Carrill," referring to the rumpled, cigar-smoking legendary men's basketball coach. Cahoon, a Boston University graduate, proceeded to immerse himself in the Ivy League culture.
Gadowsky, a graduate of Colorado College, acknowledged the adjustment process he would have, but tried to allay concerns by pointing out his background in academics, before qualifying himself with a chuckle, realizing he was among those who consider their institution to be the elite among the elite.
"CC prides itself — it calls itself the Ivy League West," he said. "I don't know if you know that, and I don't know how you feel about that [laughs], but I can tell you, it's an honor to be a part of this system and it's something I've always looked up to. So, no, I don't know the differences in mentality, but I'm looking to hopefully go right along with it."
Gadowsky was lauded for winning at Fairbanks while still stressing academics, which makes him a good fit for an Ivy League school. Of course, at Princeton, theoretically, you are already getting student-athletes committed to the student part of it. So he said it's also important to look at the big picture.
"You do have to have pieces of the puzzle. You can't just choose this type of player and that's it," he said. "However, it's always been my philosophy to choose character first. But in college hockey, you're not going to win without speed and skill."
Gadowsky expects to bring his trademark style to Princeton.
"We've been typically a very disciplined and wide open offense," he said. "We score a lot of goals and we haven't taken bad penalties. That's not to say we haven't been aggressive. I think other teams characterize us as a very physical team, but certainly not stupid — I think we all take pride in that. I don't forsee much change in terms of style.
"In Fairbanks we played on an Olympic sheet … but I don't think the style is going to change. I don't know, because I don't know the players we have for next year, but I know in the future I guarantee that we will be disciplined and we will be hard working and it will be exciting hockey. We'll play to score, we're not going to win many games 1-0. We're going to try to get it done with goals."
Scoring is down throughout hockey, though most of college hockey has not been as drastic as in the NHL. The ECAC, however, has become a grind-it-out game, as many teams follow the lead of Cornell and recruit bigger players. The difference is, Cornell's big players are often also skilled, and so Gadowsky believes that, instead, you go with a different approach.
"You have to zig when others zag," Gadowsky said. "Cornell's been very successful. They have a lot of size, they always have. But they have very good players, it's not just size. And they play a very successful style. But again, it's problem solving, and I don't know how exactly we're going to solve it, but I know that college hockey and hockey in general has gotten very defensive. … I love hockey and I love watching it, and I want to get excited by it. And what excites me is offense, so that's what I want to see."
How successful Gadowsky is in accomplishing that goal will go a long way toward determining whether the Tigers can begin to come close to the sustained excellence seen on campus from the men's lacrosse, basketball and football programs.
But as he went to start meeting those challenges, he gave a nod back to where he just came.
"There's so many great people [in Fairbanks] who meant so much to the program and to my family and myself — it was emotional [leaving]," Gadowsky said. "They're great people and it's really tough to leave there. But … I know it's going to continue in the right direction and continue to improve.
"Really, the greatest successes of the UAF hockey program are still to come, and I'm going to take a lot of pride in watching it happen."