It's often the most taken for granted position in hockey, but if you ask any goaltender, it's only that way until the screw up, until the day they let in the soft one, until that moment in time that you lose the 'big one.'
For Michigan goaltender Alvaro Montoya, known affectionately to most in the hockey world as 'Al,' those days of being overlooked but for the negatives may soon be over — well, at least for a moment or two.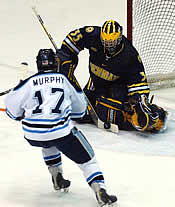 Montoya is in position to finally get the recognition a solid, ever-improving goaltender deserves in the coming days when the National Hockey League Entry Draft kicks off on Saturday in Raleigh, N.C. Montoya currently ranks No. 1 among North American goaltenders in the Central Scouting Service's final rankings — a system that rates all of the eligible players in preparation for each year's Entry Draft.
Montoya, having just completed his second year for the Wolverines, leading his club within a game of the Frozen Four in what was thought to be a "rebuilding year," is one of the oldest draft-eligible goaltenders in this year's crop. A season ago, Montoya chose not to "opt in" to the draft because as an 18 year-old, he would have lost his college eligibility under NCAA rules. The NCAA since passed new legislation that eliminates its stance against opting-in, making this year's field full of college freshmen and incoming students alike.
For Montoya, though, that extra year seems to have worked to his benefit. Michigan head coach Red Berenson said that the improvement in Montoya's game was marked.
"He's improved in a lot of subtle ways," said Berenson, who compares Montoya's play, particularly his puck-handling skills, to former Wolverine and current Dallas Stars netminder Marty Turco. "His overall athleticism and his physical preparation improved. He's a better athlete now and in better condition. He played strong in the stretch run and I see an improvement in rebound control, conditioning and decision making with the puck."
Montoya's numbers improved from what was a stellar freshman season. His 2.23 goals against average was a slight improvement from 2.33 a season earlier, and his rookie-year .911 save percentage bumped up to .917. More notable was the team in front of Montoya.
Michigan's 2002-03 club was thought of as a young team that would've been seen as contenders if not for the early departure of top producers Mike Cammalleri and Mike Komisarek — both leaving early to sign NHL contracts. That club still, riding the back of Montoya, made the Frozen Four.
But the 2003-04 version of the Wolverines was even more a preseason underdog (as much so as Michigan can ever be considered one). Montoya, though, again proved up to the test and carried his club to a regular-season title, a runner-up slot in the CCHA tournament, and within a clanged post of the Frozen Four.
"He's a big game goalie," was Berenson's simple remark when asked to classify Montoya. "As far as the draft, I don't get to see all the other players in the draft, but from what I read he's one of the leading goalies.
"You have to take that, though, with a grain of salt. So many goalies are top picks and they still haven't developed."
And development is what Berenson sees to be the key for Montoya. Though entering his junior year with the Wolverines, there's no doubt Montoya is still very young. With the departure of Josh Blackburn after the 2001-02 season, Montoya saw the ability to step right into the Michigan program as a major opportunity, despite the fact he was only 17 when recruited.
"He has a lot of vision and confidence," said Berenson. "Academically he's strong, so he put himself in that position [to play at the college level]. And he came in here and proved that he can play at this level."
What that means now, though, for Montoya, is that he'll be in a unique position.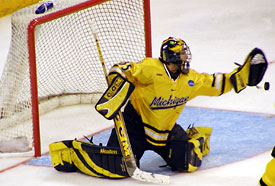 No doubt, an NHL general manager who spends his top draft pick on Montoya would like to cash in immediately. Unlike most goaltenders available in the draft, Montoya has two years experience at a top development level, in this case college hockey. Many GMs will push the envelope for Montoya to make an early departure. That, though, is something Berenson is strongly against.
"He has potential. He's proven himself and is proving himself at every level," said Berenson, a long-time outspoken proponent of college players completing their four-year education before heading to the pro ranks. "When you look across the board, he's emerging at a good [pace of] progress.
"But I can't say enough about continued development. Nobody has enough at 19 years old, but he does have potential.
"From my perspective, goalies always take longer. When you look at the NHL there are not a lot of young goalies who are difference makers on their teams.
"Here [at Michigan], he's in a great situation. He's got a lot of opportunity and pressure and he's learning what it takes to win. Plus he's going to school."
Berenson is quick to point out situations to illustrate his point.
"You look at kids like [ex-New Hampshire goaltender Ty] Conklin and Turco who spent all four years in college," said Berenson. "They're doing well in the NHL and it's because they developed."
"The draft is like a brush fire. Its starts out as smoke but then it's a full out fire. These kids are just sitting out there and don't see things coming."
Berenson realizes that in impressing his position about the importance of development and education, he's still up against a lot of barriers.
"It's hard for me to change their minds if they've already been influenced by so many things," said Berenson. "They're influenced by agents, scouts, GMs, the draft itself, other players who are peers.
"And then there are parents who get caught up in the fact that it's the son's dream. Two years ago they wanted them to get an education. Now that the NHL is in front of them, suddenly it's about their dream.
"In the meantime I'm trying to give them the straight goods, show them why [staying in college] is the best route."
Regardless of the final outcome, Berenson can be confident that this draft will do one thing to Montoya: change his life forever.
How high Montoya will be picked is yet to be seen. Many say he'll be the No. 1 college pick, but regardless of where he goes, the end product is that for Montoya it will be impossible to ever again be overlooked.