After years of pleading and more than just a few rants from fans and media alike — not to mention players, coaches and administrators — a new ECAC was born during the offseason. Say hello to the ECAC Hockey League (ECACHL).
Finally, at long last, we have a conference that is focused on hockey. The years of diminished attention and, in some cases, outright neglect for the sport are over. Now we'll see if the league will finally be able to fulfill its potential both regionally and nationally.
But patience will be a virtue, since drastic improvements will not happen overnight — especially since the league loses Vermont and gains Quinnipiac after this season. It remains to be seen how the league will realign its travel partners or if it goes to another scheduling format.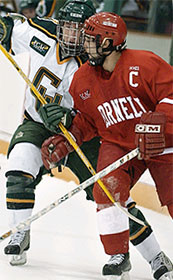 For now, though, we'll take the small victories, like the multi-year television contract recently signed with CSTV and the solid staff that has been put in place in the league office.
But there are other storylines this season.
In addition to the end of the Catamounts' era in the ECAC, all eyes will be on the wide-open field of teams vying for the top spot, as well as the impact new coaches may have on their teams' fortunes.
A league famous for hiring from within witnessed both Princeton and Harvard go outside the conference's walls for coaching talent.
In New Jersey, Len Quesnelle was shown the door after another disappointing season and a combined 8-50-4 record over the last two years. In his place, former Alaska-Fairbanks bench boss Guy Gadowsky brings experience having turned around the Nanooks' program to a Tigers team that could use a boost … any boost.
The Crimson, meanwhile, brought back 1991 graduate and former NHLer Ted Donato to replace Mark Mazzoleni, who returned to Green Bay after a successful, albeit stressful and rocky five-year stay in Cambridge. Unlike Gadowsky, Donato enters the ECACHL without prior coaching experience, but with promises of returning Harvard to its high-flying ways — a style he and his 1989 National Championship teammates played under Donato's mentor Bill Cleary.
If we continue with our coaching theme we end up in Hamilton, N.Y., where the defending regular-season champion, Colgate, welcomes back Don Vaughan after a year serving in an administrative capacity.
"Things are certainly different now than last year at this time," joked Vaughan.
In some ways, however, the year away from the game he loves served him well.
"I learned as much from watching other teams and players," he explained, "as I did from watching our guys. In was an interesting benefit. More than any else, I learned patience, something you do not have much of as a coach."
But while the last-minute move from Vaughan to Stan Moore certainly didn't hurt the Raiders, will the switch back have an adverse effect on the team's attempt to defend a title no one predicted they'd win in the first place?
"I was around enough so that I was not completely removed," Vaughan remarked, "but Stan is a different coach than I am. Even so, we've picked the brains of players to see what they liked about last year and are going to keep doing it.
"Stan and I have worked so well together for years. He was a big part of the team before he took over as coach. The players don't expect much difference."
What Colgate can expect, however, is a group of tough challengers. The ECACHL's coaches and media predict that Cornell, Dartmouth, Harvard and Clarkson will all battle for home ice berths in the postseason.
The Big Red, who we'll profile next week along with the rest of the Ivy League squads, will be their usual defensive machine after struggling with injuries and scoring slumps a year ago. The Big Green and the Crimson, both regular season underachievers, are expected to be better, especially since Dartmouth looks to be even more loaded with talent.
Harvard, meanwhile, which came from a sixth-place finish to capture its second ECAC championship in three seasons, should be free of the internal controversy that plagued it the last few seasons.
By all accounts, the Golden Knights, who finished ninth before making a shocking run to the tournament title game, have one of the best recruiting classes in the league. But whether that translates into results remains to be seen.
Remember, head coach George Roll has only one season in charge under his belt in Potsdam. Will he need more time to change the atmosphere surrounding the Knights or is that process already complete?
"We've improved our commitment level," he said. "We had gotten away from the things that made Clarkson successful — on the ice, in the classroom and in the community. We had growing pains last year. I won't lie to you, we had disciplinary issues."
Because every year brings a new set of surprise teams, the best of prognosticators have trouble accurately scouting the ECACHL. Last year, Rensselaer and Colgate emerged from nowhere, while Harvard and Yale struggle more than most predicted.
Will that be the case again this year?
Why not? It happens like clockwork in this league. Will Union be the darkhorse? Perhaps Vermont will go out with a bang.
Will the Engineers', Knights' and Crimson's late-season successes carry over into 2004-05? Will Dartmouth finally put all of its well-heeled pieces together? Or is Cornell once again the team to beat?
Reply hazy, try again.
And while we shake the magic 8-ball with more energy than any NHL owner will exude over the next six months, prepare yourself for what promises to be a fantastic season of hockey in a reborn league finally full of hope.
Here's a quick look at all 12 clubs, in order of predicted finish. Let the disagreements begin …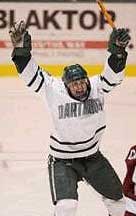 Head Coach: Bob Gaudet (187-240-61, 16 years)
2003-2004 Record: 14-11-9 (10-5-7 ECAC, T-4th)
The Scoop: The pieces are all there — an exceptional offense, solid defense and good goaltending. The question is whether all three elements will click on a consistent basis. If not, the window will close a little further come March.
Head Coach: Don Vaughan (179-172-33, 11 years)
2003-2004 Record: 22-12-5 (14-6-2 ECAC, 1st)
The Scoop: Expect the Raiders to be better than the squad that swiped first last season. Steve Silverthorn will put up big numbers again, as will the offense. The "X" factor? Vaughan's return after a year watching from the press box and the stands.
Head Coach: Mike Schafer (172-98-31, 9 years)
2003-2004 Record: 16-10-6 (13-6-3 ECAC, 2nd)
The Scoop: Masters of defense, the Big Red must get more offensive production. Ryan Vesce is gone, but Matt Moulson has picked up the torch. He'll need a strong supporting case, though. In goal, expect sophomore David McKee to dominate.
Head Coach: Ted Donato (1st coaching year)
2003-2004 Record: 18-15-3 (10-10-2 ECAC, 6th)
The Scoop: No more blaming the departed Mark Mazzoleni for frustrating regular seasons. This one's all on the players. Yes, new coach Donato is untested, but there's enough talent on this team to walk away with the regular season title. Of course, that's been true for a few years now. Noah Welch needs to lead the way in his senior campaign.
Head Coach: George Roll (124-80-19, 7 years)
2003-2004 Record: 18-18-5 (8-12-2 ECAC, 9th)
The Scoop: Roll and his staff have turned up the offensive juice in their recruiting efforts. Will this year's class emerge as the new Craig Conroys, Erik Coles and Todd Whites? Will the Knights suffer from their annual first-half slump or will netminder Dustin Traylen strap this team on its back until the offense clicks?
Head Coach: Dan Fridgen (183-154-30, 10 years)
2003-2004 Record: 22-15-2 (13-8-1, T-4th)
The Scoop: There are major questions in goal as the Engineers look for someone to emerge and grab the top job. Offensively, they can match any club in the ECAC and outskate most of them. Shoring up the defense without the graduated Scott Basiuk will be essential.
Head Coach: Joe Marsh (341-279-45, 19 years)
2003-2004 Record: 14-21-6 (7-12-3, 10th)
The Scoop: The goaltending has developed to they point where it will keep them in any game, but the Saints need some luck to avoid the annual rash of injuries that has set them back early in recent seasons. If all the pieces fall into place, they, too, could make more noise than most expect.
Head Coach: Nate Leaman (14-17-5, 1 year)
2003-2004 Record: 14-17-5 (8-11-3, 8th)
The Scoop: Consistency will be key. Last year's drastic mood swings of winning months and a massive losing streak must be avoided. As is usually the case with the Dutchmen, the offense needs to be better. Kris Mayotte can be exceptional in goal, but he needs some help in his own zone and the occasional day off.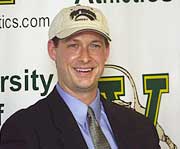 Head Coach: Kevin Sneddon (59-121-22, 6 years)
2003-2004 Record: 9-22-4 (7-14-1, 11th)
The Scoop: Good signs at the end of last season could bode well for improvement this year. As with most clubs, the offense needs to be more consistent while the penalty killing must improve a great deal. Make sure you catch a game at Gutterson this season … it's a rink not to be missed.
Head Coach: Roger Grillo (77-112-27, 7 years)
2003-2004 Record: 15-11-5 (13-7-2 ECAC, 3rd)
The Scoop: Graduation killed the nucleus of this team, especially on defense and in goal. No Ford, no Danis. Who will step up in the Bears zone and how long will it take? Unless those questions are answered early on, there are too many issues here to expect a better finish than 10th.
Head Coach: Tim Taylor (327-388-50, 26 years)
2003-2004 Record: 12-19-0 (10-12-0 ECAC, 7th)
The Scoop: The defense needs help after some scary performances that left their netminders hung out to dry last season. If anyone can pull things together, it's Taylor, but will the new kids be able to step up in time to salvage the season?
Head Coach: Guy Gadowsky (68-89-22, 5 years)
2003-2004 Record: 5-24-2 (5-15-2 ECAC, 12th)
The Scoop: It's never fun to see a team struggle, so for the sake of the league we're hoping Gadowsky can work his magic in the Garden State. Don't expect a miracle right away; it took him two years in Alaska, but taking baby steps would be a good start.