Well, Thanksgiving is over and so too the early season tournaments that give a peek into who has some early season momentum and who doesn't. Yes, it's only a hand full of games for most of the teams in the East, but several are already making waves — both good and bad early on in the season.
The Rivalry Continues …
Ranked No. 1 and 2 respectively, Middlebury and Norwich need no additional motivation when facing each other. The Primelink Tournament finale was certainly worth the price of admission as both teams skated to a 1-1 tie through regulation and a five-minute overtime period. Norwich won the title by winning the postgame shootout, 2-1, and while the game is officially registered as a tie, there will surely be more decided in a late regular season game and perhaps more in March. Both schools saw good things in a fast-paced game with Norwich's Mike McShane surprised at his team's performance. "We won an ugly game on Friday night and I was surprised with how really hard and well the kids played against Middlebury. We have five or six freshmen in the lineup and they have been steady."
The Cadets have relied on All-American Kurtis McLean for a lot of scoring in the past. This year he has settled into a different role as captain and playing with two new linemates. "Kurtis is doing a great job as captain with a young team. He is still adjusting to playing with some new people and not scoring as much now but he is meeting a lot of expectations in leading the team this year."
McShane also can boast having one of the best goaltending tandems in the country in senior Kevin Schieve and junior Mike Boudreau who are alternating starts at this point in the season. "They play hard and practice hard. They push each other and get along great," noted McShane. "We'll see if we can continue to play well on the road this weekend with tough match-ups at Hamilton and Amherst."
Pilgrims Give Thanks for First Win
While league foe Norwich is off to a solid start, perennial rival New England College is struggling out of the gate. Their 0-4 start had Tom Carroll's Pilgrims digging out of a big hole and looking to build some momentum before the semester break. While their schedule has not been easy, they have played all of their games at home and have a tough time with conference and non-conference foes alike. "We started out 1-2-1 last season with the same four opponents as this year. We haven't been very efficient on the power play due to a lack of experience, some bad bounces of the puck and just good penalty killing and goaltending. Still, we have been in position to win 3 of 4 and need some guys to step up," said Carroll.
A couple of guys that are looking to help carry the burden are goalie Michael Shimek and defenseman Nick Fouts. Carroll noted, "Nick had an excellent weekend against Oswego and RIT. He is a real leader and is developing as the quarterback on the power play. Mike (Shimek) has been good but we have given up some power play goals and a couple of face-off goals that hurt us. He's a solid goaltender and he'll be right there for us as the season gets going."
New England College broke out on Tuesday night with a big road win at Wentworth, by a convincing 6-2 score. "It's an important game for us, noted Carroll. Playing a team that went to the national tournament last year is a big game." With league games against Conn. College and Tufts this weekend, New England hopes to inch back to the .500 mark.
More Morgan Magic?
Framingham State started out 0-5 this year but has been competitive, losing some close games against the top teams in the ECAC Northeast. Coach Chris Coogins observed, "we competed hard in three of the first four games and if we continue to play hard from start to finish we'll get our share of wins. There is a lot of parity in this league but we need to play better team defense. If we work harder, we can make our own breaks."
Fifth year senior Paul Morgan has continued the level of play that saw him earn Goalie of the Year honors last season in the ECAC Northeast. Morgan made 35 saves in holding Curry to just three goals in a tight 3-2 loss last week. "He is just a great kid. I was so excited that he wanted to come back when he found out he still had eligibility. He has been a great team leader letting his actions speak for him. He is a momentum swinger during a game making some really big saves," noted Coogins.
Offensively the Rams are still looking to replace the lost production of Roger LeBlanc. Coogins believes the offense will come from a number of different sources but emphasizes that good team defense will help get Framingham going.
Corsairs On A Roll

For most analyzing the ECAC Northeast, two teams were thought to be the cream of the crop — Curry and Wentworth. John Rolli's UMass-Dartmouth squad is making an early season statement as they are out to a 5-1 start with a convincing offensive and defensive showing. Though they lead the nation in scoring with a gaudy eight goal per game average, the thing that most impresses their coach has been their defensive play. "We have only given up 17 goals in six games and only three have been 5-on-5 goals," noted Rolli. "The defense has been solid and our goalie has shut the door when we needed a big save to protect a lead. On offense, Scott Trahan and Eric Franck have just exploded."
"Exploded" is the right word, as Trahan leads the nation with nine goals and eleven assists for twenty points in just six games. Franck has added five goals, including two game winners, and seven assists for twelve points. Believe it or not, this is not a two-man show. The Corsairs have been very balanced with 17 different players contributing to their 47-goal output — ten players have two or more goals. Rolli said, "We knew we would have balance and it is great to have the depth."
The Corsairs suffered their first loss of the season on Tuesday with a tough 3-2 decision against NESCAC opponent Tufts. Both teams played well with Matt Ninnemann being the difference making 20 saves and several big ones early in the game.
Rolli, who is in his 21st season as the coach at UMass-Dartmouth, became the second coach this season to join an elite group of active D-III coaches with 400 career wins with a 5-1 win Thursday over Fitchburg State. While John's humility always comes to the fore, he acknowledges he has had great players that come to UMD for the great school that it is. Congratulations to a real class guy in college hockey getting his milestone victory.
Hot Oven Helps Camels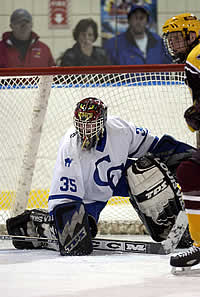 The Charles T. Luce tournament showcased four NESCAC teams (Amherst, Conn College, Trinity and Wesleyan) and, not surprisingly, was won by favorite, Trinity. What was surprising was their final foe, Connecticut College which upset Amherst to gain the final berth by a score of 2-0. Sunday's championship game was no walkover for the Bantams as they held on for a 2-1 victory. The Camels play a tight game and received great goaltending over the weekend from senior Steve Oven who will be a key for future league success. Oven stopped 60 of 62 shots including 34 saves in posting the shutout against Amherst. In four games to date, the senior netminder has yielded just 12 goals while posting a .906 save percentage. "Penalty killing and Steve's hot goaltending were big factors in our weekend, noted second-year coach Jim Ward. "We have improved greatly over where we were 365 days ago and want to continue to get better."
Oven, who earned USCHO defensive player of the week honors, has returned to the form of his sophomore year, which saw him play in 24 games, averaging 32 saves per game. "We want Steve to keep on his game. He's off to a solid start and we'll need him to be consistent while find some offense," stated Ward. "It's early but I am very pleased with how the team is playing and the effort they are putting out."
Skid-Less
While the early season scores have not favored Paul Dion's Skidmore squad, he believes the adversity and tough schedule will pay dividends moving forward through the season. Having dropped a tough overtime loss in the consolation game of the Babson tournament to Brockport, Dion likes the way his team competed and knows if they continue their hard play they will gets some wins in the process. "You look at our first seven games (Middlebury, Williams, Gustavus Adolphus, Brockport, Colby, Bowdoin and Manhattanville) and that is as tough a schedule as there is," noted Dion. "We are still missing a couple of key guys and a goalie with a broken hand but we are competing hard and playing better."
Of note, Dion commented on the solid play of freshman goalie Ted Levine and sophomore forward Robbie Hutchins, who had two goals in Sunday's loss and easily could have had a couple more with conversions on a breakaway and a 3-on-1 rush. "We aren't a team that will score lots of goals so we need to convert on our chances. We will keep working hard to get our chances and hopefully the repetition will increase our success."
DeAngelis One Hot Dog
Flying under the radar on the D-II scene, the Assumption Ice Dogs are off to an early 4-4-1 mark behind the leadership and torrid goal scoring of captain Geno DeAngelis. In eight games played, the junior has eight goals already including two game winners and one game-tying goal for Coach Keith Hughes's team. Combining with senior Scott Hersom (7-6-13) and junior Jeff Ilvonen (5-5-10), DeAngelis' line accounts for 59% of the teams' goal production and over 36% of the team's total points.
The Ice Dogs rebounded from a streak of four consecutive losses with a solid 5-3 victory over league foe Western New England College. They finish the semester with key D-II games against Southern New Hampshire and St Anselm — two teams that beat Assumption in the past two weeks.
Curry Takes Loss in Stride
After a tough 5-4 overtime loss to third-ranked Manhattanville, the Curry Colonels are focused on moving forward and putting Saturday's contest behind them. Unfortunately, the Stonehill Chieftains suffered the brunt of Curry making up for their only loss, losing 12-1 on Wednesday night.
"Even going back to the Framingham State game, we have been pressing a little offensively," stated Curry Head Coach Rob Davies. "We have missed a number of chances and maybe have been a bit to fancy looking for the perfect pass or play. We just need to break out one night and get the offense going."
Apparently, last year's leading offense got the message. On Tuesday, last year's super freshmen George Cademartori and Bret Adams combined for six goals and seven points. Six other players chipped in with two or more points as the offense amassed fifty-two shots on goal.
At the other end of the ice, freshman Ryan Hrisca started his first game, surrendering just one goal. Hrisca has worked very hard to get back in the position to play having recovered from a serious knee injury that kept him out of hockey last season. If Hrisca can stay healthy and continue to play well, Davies will have a great goaltending duo including junior Lenny Mosca, who in four starts has two shutouts and a 1.74 goals against average.
Curry finishes the first semester with a tough league match-up on the road with UMass-Dartmouth.