As we approach the semester break and the official end to the first half of the season, there are a number of teams exceeding performance expectations (Johnson & Wales, St. Anselm and Wesleyan), teams that are where most expect them to be (Middlebury, Norwich and Curry) and teams that are still finding themselves (New England College and Wentworth). Not to mention that everyone is still taking stock in figuring out playing games with large percentages of ice time for specialty teams and penalties aplenty in the search for obstruction-free or easy flowing hockey. All of this basically means there will be some more really great hockey coming after the holiday break as the league seasons get into high gear. But for now, let's take a look at some of the teams trying to gain some momentum going into the semester break and building a foundation for the New Year.
Leopards Seeking a Change of Spots
With two more non-league contests yet to play this weekend, the Wentworth Leopards are searching for some momentum that will turn their winless non-league record around and get them playing some better hockey to build on their undefeated league record. Road games against ECAC West opponents Lebanon Valley and Elmira will hopefully end the first half on a high note and set the stage for a strong second half of the season.

Moving into Tuesday night's match-up with Salem State, head coach Jonathan Deptula wasn't sure what to expect from his talented and underachieving team. "On paper, this is the best team we have had since I have been here. I thought this would be a real breakout year but we have struggled especially with team defense." Deptula noted his team has seen moments of brilliance but don't have a lot to show for it as their goal production has been down. "We have been a little too fancy in the offensive end and we are not finishing on our chances. Hopefully we can get some guys going that have provided some offense in the past."
The Leopards are skating five to seven freshmen a night and for the most part they have been playing well and contributing. Freshmen forwards Jeff Oddleifson and Landon Dingle, who is among the team leaders in scoring, have played consistently well. Ironically, it is the seniors who appear snake-bitten in the point production category. Seniors Brad Carpenter and Shawn Metheral, recovering from off-season shoulder surgery have yet to find their touch that has produced 84 goals and 215 career points in their first three seasons. Despite leading the team in scoring, Carpenter has just one power play goal, an area of concern for the coach. "We just haven't been very efficient on the power play. Hopefully that will be an area where some guys break out."
Overall, Deptula is pleased with his team's defense and goaltending. Following the departure of last season's All-American, Raj Bhangoo, junior Bryce McFadden and freshman Adam Keeso have stepped in and played very well — both with save percentages around .900.
A 4-3 loss at home to Salem State dropped the Leopards' record to 4-5 overall and 0-5 in non-league games. With only four more match-ups outside the conference, Deptula knows his squad has to step it up in the league if they want to be a contender on the national stage. "We want to be a contending national team and we are putting ourselves into a position where we have to win our league. There is no question we have the talent to do it. We need to get it together and play some good hockey without some of the mistakes that have cost us some games early on. We're lucky there is a lot of hockey to play."
Following this weekend, the Leopards may find out just how great a sense of urgency league play brings come the New Year.
Cardinal Youth Maturing Quickly
When you lose 12 seniors including a goaltender that holds nearly every school record, a coach might be concerned about the maturation of a young team in the following season. For second-year coach Chris Potter, his Wesleyan squad is building on some young new talent and growing confidence in their ability to play tough against all comers.
Following a weekend sweep of UMass-Boston and Babson on the road last weekend, Potter was pleased with a lot of aspects of his team's play. "We got solid goaltending from Stevie [Binswanger] and did a really good job in killing penalties especially in the Babson game where we killed off two 5-on-3's and 10 power plays in the second half of the game. Those were two nice wins for us and gives us four solid points going into the break."
Last week saw this column feature another D-III goalie in Connecticut, Steve Oven of Conn. College who won Defensive Player of the Week honors for his performance in the Charles Luce tournament. This week, by coincidence, the honor moves northwest to Wesleyan and Steve Binswanger. Binswanger, who saw spot duty behind stalwart Jim Pancyzkowski last season, has taken advantage of his time to play. He is 2-2 on the season with a 2.91 goals against average and an impressive .921 save percentage. Considering the inexperience found in a young group of defensemen, Binswanger has come up big for the Cardinals, including 51 saves in the 3-1 win at Babson.
Offensively, the Cardinals look to super-soph Will Bennett, last year's NESCAC Rookie of the Year. While he leads the team in scoring, he is getting help this year from some other underclassmen. Freshman Kevin Armstrong leads the team in goals with five, while sophomores Taylor Evans and Ryan Hendrickson have made significant contributions on both ends of the ice. "The kids are working real hard and playing well whether it's 5-on-5, or man-up or a penalty kill," noted Potter. "We have been good at limiting the good scoring chances and giving our goalie a good view of the puck. On offense, we have been opportunistic, getting some rebounds and making some nice passing plays. As our young defensemen get more experience, we can improve and compete in this league."
Vikings Enjoying a Taste of the NHL
[While the NHL strike continues on, many players have gone to Europe to continue playing. For thirteen-year league veteran Shawn McEachern, ice time is found as an assistant coach for the Salem State Vikings. McEachern, a former local star at Boston University joins fellow alum Bill O'Neill in his 24th season behind the bench for the Vikings. What does a current NHL star bring to the table for O'Neill's staff? "When Shawn talks, you can hear a pin drop," said O'Neill. "The kids just know that here is a guy who is still doing it at the professional level and brings that knowledge and experience to the way he works with the kids. He's been terrific."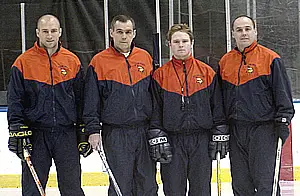 McEachern is enjoying his time with SSC as well but is longing for the NHL to start up again soon. When asked about a possible future in coaching, Shawn just smiled and said, "I am too busy still playing to think about anything else."
For O'Neill, this season brings a potential milestone most recently attained by Trinity coach John Dunham and UMass-Dartmouth's John Rolli — 400 career wins. Like the two aforementioned coaches, all of O'Neill's wins have come at Salem State and he will surely get there sometime in early 2005. Of special note is the fact that this year's edition of the Vikings is truly an O'Neill family affair with Bill's brother John helping out as an assistant coach and rink manager, while son Andrew leads the team in scoring through their first seven games. Sharing the milestone with close family should make for a special moment in Bill's remarkable career.
Despite dropping two games last weekend to NESCAC opponents Middlebury and Williams, O'Neill is quick to note that it is early and he is still figuring out what he's got on the ice. "They're still settling in but I like the make-up of this team," noted O'Neill prior to the Vikings 4-3 win at Wentworth. "Every week is just a battle against really good teams so we are just going to have to prove ourselves every time out there."
What seems to already be proven is an offense that returns the bulk of the team's scoring from last season including Paul Knight, Drew Madeiros, Mike Dowd, Sean Ferguson, Jim Cashins, Josh Cartier and Anthony Inverno. If the defense can stay solid and goaltending provide consistent play, the Vikings just might add a number of wins beyond the 400 mark this season.
Bantams Off To Flying Start
Twelfth-ranked Trinity College is off to an impressive 7-0 start that has coach John Dunham pleased with the effort and results. "It's good to be unscathed but we are not taking anything for granted. Last year after winning the league title we came out unprepared mentally to succeed, this year we are poised and have found ways to win playing basic hockey."
The backbone of this year's team is its five seniors, which include captain Joseph Ori and probably the best of the D-III goalies in Connecticut, Doug Kiselius. "The seniors are very motivated and that has been a big factor already this season," stated Dunham. "We are only seven games into the season and we have already had to play 17 forwards due to injuries. We'll be a better team down the road because of that game experience and depth."
Besides Ori, Trinity has a number of forwards providing the offense, including senior Ryan Stevens, junior Cameron Finch and freshman, Daniel Maturi. The balanced scoring across multiple lines has been and will be a key to the Bantams' success.
On the other end of the rink, Trinity is unique in carrying four goaltenders. This past Wednesday night while Kiselius was given the night off, the three remaining goaltenders each saw playing time in an 11-3 win against Plymouth State. During the third period, junior J. Scott Haskell saw his first game action. The former backup at Avon Old Farms stopped all four shots he faced including a couple of tough ones. "It was great to see the kids skate for him and be excited about Scott getting some playing time. He was so excited to play and this meant a lot to him since he practices every day and he loves the game. I was delighted he got the chance to play and really enjoy the college hockey experience," noted Dunham proudly.
Dunham knows the real fun begins after the New Year with tough road match-ups with Colby and Bowdoin as well as Williams and Middlebury all on the road. "You can throw in all of the league, stated Dunham. There are no easy games and it's going to come down to who can be the most consistent team."
Lancers Learning On The Fly
For Worcester State, the 2004-2005 campaign signified a changing of the guard on this year's ice hockey team. Coach John Guiney's squad has 20 new players on the team, and based on a new recruiting profile, has players from areas other than the traditional Massachusetts draw. "We have a lot of young kids who are still learning what it takes to play at this level both physically and mentally, stated Guiney. We are working through an intensity thing right now where we have good spurts and bad spurts –we are just trying to learn how to win some games.
Off to a 2-8 start, the Lancers are relying on three young goaltenders, including two freshmen, in the absence of Jon Coderre who is not currently playing for the team. "We definitely need some consistency in the goal. Right now we have some kids making great stops but have given up some soft goals at inopportune times. We need someone to step up and help build some confidence from the goal out"
Senior Justin Vallas, the team's captain, has been leading by example with his hard-nosed physical play and freshman Ed Walsh leads the young offense with ten points in ten games including seven goals. "We have some young talent here, stated Guiney. We need to work hard and believe we can play with these teams on any night."
While Worcester State has finished its first part of the season, they open with NESCAC power Bowdoin in the Salem State Tournament just after Christmas. "I hope the kids are excited about playing those guys. Year in, year out they are a top ten team in the country and we get to show what we've got. It's what they should be looking forward to after Christmas."