Nationwide Arena, Columbus, Ohio, Dec. 29-30
Pre-determined opponents:
Minnesota State (7-9-2, 4-9-1 WCHA) vs. Ohio State (11-5-2, 9-2-1 CCHA), 5:05 p.m. Wednesday
Colorado College (15-3-0, 9-3-0 WCHA) vs. Miami (7-9-2, 3-7-2 CCHA), 8:05 p.m. Wednesday
Minnesota State vs. Miami, 5:05 Thursday
Colorado College vs. Ohio State, 8:05 Thursday
Minnesota State
Players to watch: David Backes, F (11-9-20); Travis Morin, F (7-8-15); Kyle Peto, D (0-12-12)
Notable: The Mavericks will look to end a three-game losing streak dating back to Dec. 10, when they take on Ohio State — for the first time in the two programs' histories — in the opening game of the Ohio Hockey Classic … MSU has not won a holiday tournament game since November 25, 2000, when it beat the host schoool, Vermont, in the opening game of the Sheraton/Howard Bank Hockey Classic. The Mavericks lost the next day against New Hampshire.
Colorado College
Players to watch: Marty Sertich, F (15-18-33); Brett Sterling, F (15-15-30); Jimmy Kilpatrick, F (5-11-16); Curtis McElhinney, G (10-1-0, 2.25 GAA, .923 sv%)
Notable: Colorado College brings the nation's top offense and top two scorers to Ohio. Marty Sertich and Brett Sterling are two of the country's three 30-point scorers at break (Brent Walton from Western Michigan also has 30 points). As a team, CC is averaging 4.44 goals per game… Colorado College has faced both Ohio State and Miami once each. CC blanked OSU, 8-0, in 1968 and beat the RedHawks, 3-1, in 1993… The Tigers have had seven players receive weekly WCHA honors this season, including a sweep of the awards last week. Defenseman Brian Salcido was named defensive player of the week, while Sterling took the offensive counterpart to the award.
Ohio State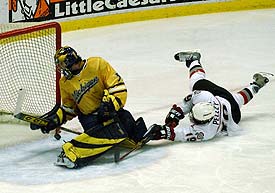 Players to watch: Rod Pelley, F (11-8-19); Domenic Maiani, F (7-12-19); Dan Knapp, F (8-9-17); Dave Caruso, G (9-3-2, 2.40 GAA, .911 sv%)
Notable: Ohio State will look to rebound from a winless weekend that closed the first half of the season (0-1-1) at Clarkson on Dec. 10 and 11. The Buckeyes will also look to improve upon a 2-3-1 record outside of the CCHA … One area that head coach John Markell hopes to improve is his team's penalty minutes. Ohio State currently leads the country in penalty minutes averaging 31.1 minutes per game. Maybe the increased special-teams play would explain why OSU has the second-most shorthanded goals in the nation with five… This is the first year that Ohio State won't play in the Florida College Classic (formerly the Everblades College Classic). The tournament has existed since 2000.
Miami
Players to watch: Andy Greene, D (3-15-18); Todd Grant, F (7-10-17); Matt Christie, F (6-11-17); Brandon Crawford-West, G (7-8-2, 2.31 GAA, .922 sv%)
Notable: The RedHawks enter the Ohio Hockey Classic struggling, having posted just three wins in their last 14 games after opening the season 4-0-0. The fact that they cannot face Ohio State in the predetermined matchups is likely a good thing. Miami lost to the Buckeyes, 9-3, on Oct. 21… The two games in this tournament are Miami's final two non-league games of the year. The RedHawks will finish the season with 16 league games… The timing of this tournament is fortunate for RedHawk fans. One night earlier, Dec. 28, Miami's football team will play Iowa State in the Independence Bowl.
Quotable
"We've been kicking around the idea [of hosting a tournament] for a couple of years. You need major sponsors to get this done … and when the sponsors lined up and the go-ahead was there, we were ready to go. We thought that Florida would be okay, but the trip was harder than we thought. It's just better to sleep in your own beds at Christmastime." — Markell, on hosting the Ohio Hockey Classic in Columbus.
"When you don't bring your "A" game against a team on the road, you get beat. That's something that our young team is still learning. It was very disappointing that we didn't compete harder on Saturday." — Markell, on the tie and loss to Clarkson which ended his club's first half of the year.
Outlook
Seeing as this tournament features predetermined matchups, the second day of play may or may not lack excitement. If any team is poised to go 2-0 it's Colorado College with the high-powered offense that may not be able to be contained by either Miami or OSU. Look for OSU and Miami to both split while Minnesota State continues its struggles to open the second half.