Could it end any other way? Harvard and Dartmouth. The best rivalry in the East. The two teams that have combined to finish first in the ECAC four consecutive years. Head-to-head on the final weekend of the regular season. Three weeks ago, Nicole Corriero turned in a historic five-goal performance to snap a three-game losing streak against the Big Green and cement the Crimson's return to national contention. In this Friday's rematch, the Ivy title and the ECAC regular-season crown are again hanging in the balance.
No. 3 Dartmouth (23-3-0, 16-2-0 ECAC)
Top Scorers: Cherie Piper, Jr., F (19-30-49), Katie Weatherston, Jr., F (33-12-45), Tiffany Hagge, Jr., F (23-16-39)
Top Goaltenders: Kate Lane, Jr. (13-2-0, 2.06, .911), Christine Capuano, So. (10-1-0, 1.91, .902)
Scoring Offense: 5.08 (1st)
Scoring Defense: 2.04 (9th)
Penalty Minutes: 13.5 (11th)
Power Play: 46 of 170, 27.1% (2nd)
Penalty Kill: 131 of 151, 86.8% (11th)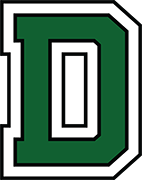 The operative word in Big Green camp these days is rest. Most teams are banged up to some degree by this time of year, but Dartmouth too often seems to get dealt an especially short hand, and this year has been no different. Leading scorer Cherie Piper hasn't played since separating her shoulder against St. Lawrence on February 11. Meagan Walton fractured a finger playing with the Canadian Under-22 team. Gillian Apps sat out last weekend's series with an undisclosed ailment. As for their Friday prognosis, Walton has played through her injury thus far, Apps seemed optimistic about her chances of returning this weekend in talking to her earlier this week, and Piper remains day-to-day.
Coach Mark Hudak concedes that the recent depletion of personnel has been a disruption and has forced Dartmouth to change a fair amount of things within its systems. With an NCAA bid all but secure at this point, the Big Green have understandably scaled back practice time a bit in hopes of having as much energy as possible for the always-grueling road trip to Ivy rivals Harvard and Brown. Hudak is stressing the importance of registering good starts in both games, probably in part because he knows his damaged crew will have a better chance of taking a lead and feeding on emotion to hold on as opposed to struggling to come from behind.
One player who has blossomed amidst the shrinking lineup is junior Tiffany Hagge. After notching 21 goals and 47 points as a sophomore, the Minnesota native found herself with just four power-play tallies at the holiday break this year even as Dartmouth cruised to a 12-1-0 start. So far in 2005, Hagge has piled up 19 goals in just 14 games and her 21 goals in ECAC play trails only Corriero's 33. Junior Katie Weatherston, undeterred by her conspicuous absence from the Patty Kazmaier finalist list, became just the second Big Green player to record at least 45 points in her first three seasons, joining 1998 U.S. Olympian Gretchen Ulion '94.
No. 6 Harvard (18-6-3, 15-1-2 ECAC)
Top Scorers: Nicole Corriero, Sr., F (46-25-71), Julie Chu, Jr., F (11-43-54), Sarah Vaillancourt, Fr., F (17-32-49)
Top Goaltender: Ali Boe, Jr. (15-5-2, 1.95, .904)
Scoring Offense: 4.52 (4th)
Scoring Defense: 1.93 (7th)
Penalty Minutes: 13.2 (16th)
Power Play: 44 of 179, 24.6 (3rd)
Penalty Kill: 141 of 158, 89.2% (6th)

Few and far between are the days when Harvard blows three leads in one game, but such was the case this past Saturday in a 4-4 tie at No.5 St. Lawrence. The Crimson managed to extend its unbeaten streak in calendar 2005 to 13 games, but the game offered a clear indication that as far as Harvard has come since December, additional improvements must be made in defensive zone coverage and offensive zone recognition if the team has designs of reaching its third straight NCAA final.
Even though the team in the field struggled at Appleton Arena, Ali Boe turned in a standout performance between the pipes. True, the Saints pushed four goals past, but that total could easily have doubled if not for Boe, who at one point stoned Chelsea Grills on a breakaway then immediately made three additional stops on uncontested point-blank looks from Grills and Rebecca Russell in rapid succession. The junior netminder readily admits that her confidence waned in the first half of the season and says she used the holidays to break down film of herself and tighten up her technique. If last Saturday is any indication, her game is back in order.
Also of note, junior tri-captain Julie Chu notched her first multi-goal game since the 2004 ECAC Championship game and has now lit the lamp in seven of her last nine contests after posting just three tallies in her first 15 games. Always active at the defensive end and reliable in the faceoff circle, Chu has started looking for her own shot more of late, a dangerous sign for defenses focused on taking away the 46-goal-scorer who plays on her wing.