A shorthanded goal with 35 seconds left on the clock last Saturday put the icing on the cake for senior captain Brian Doherty as his Curry Colonels took home their first conference championship since 1986. A four-year starter and captain, Doherty along with seven other seniors embody the evolution of the Curry program to one of the country's best under the guidance of head coach Rob Davies.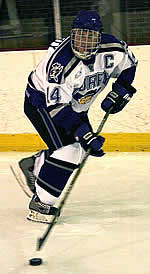 "Last year we got an at-large bid after we had lost the championship game to Wentworth and I think for some guys there were questions as to whether we really belonged in the tournament," said Davies. "This year I didn't realize just how much this title means to all of the players but especially the seniors. With the autobid, we earned our way in and are very excited about the opportunity to play the defending national champion at Middlebury. Brian Doherty always said the one place he wanted to play before he finished school was at Middlebury — we haven't been able to make it work during the regular season, so what better venue is there to play in a big game?"
As far as preparation for Saturday's quarterfinal match-up, Davies is delighted to be getting healthy at the right time of the year. "We got Kevin Brooks, Jonathan Whitham and Ryan Moore back for the conference playoffs and hope to get Trevor Spiridi and Sean Pero back for the game on Saturday. We are going to prepare a couple of different things in anticipation of Middlebury's style and be ready to go on the big ice sheet. We always focus on what we can do well particularly in looking to decrease time and space in the defensive and neutral zones while trying to increase it in our offensive end of the ice. We'd like to get a look at some film of Middlebury and see if we can do something within our systems that might create some issues for their team this weekend."
After seeing last year's Frozen Four match-up between Middlebury and Norwich last season, Davies is excited about trying to duplicate the level of play and intensity with his team in the quarterfinal round. "That game was how you want to see a game played," Davies said excitedly. "It was a track meet with both teams playing well and getting great chances throughout the game. I would like to see our guys play that same way and really compete on a national level."
Competing on a national level is nothing new for the Middlebury Panthers. The defending national champions have been to the NCAA tournament eleven straight years and have come home with the title six times in the past ten seasons. This season has been defined by both a five-day period in January and the NESCAC playoffs in March.
"We lost three games in five days back in January," said head coach Bill Beaney. "That stretch really became the rallying point for our team to move forward and come together as a team. The big difference with where we are now versus back in January is the team coming together and deciding to compete game-in and game-out. We took another big step this past weekend at the conference tournament. Really, all three games were against very good quality teams, any of which could have won the title. We really adjusted and are doing the little things that make a difference in the outcome."

One of the differences for the Panthers has been the emergence of freshman goalie Ross Cherry. Cherry has posted a 7-1-2 record since becoming the starter and a stingy 1.87 goals against average. "I like what Ross has done with his opportunity to play," said Beaney. "He has been very consistent and has not given up second and third scoring chances. I have been impressed with the way he stops shots. He's a big kid who doesn't give the other guys much to shoot at."
As far as preparing for Curry, Beaney has much respect for the Northeast Conference champions. "I think teams from the Northeast deserve more respect than they get," Beaney noted. "Curry has got a good program and has had some great wins against quality teams over the past couple of seasons. We have a lot of respect for their team and will need to be ready for a tough game in our building which is a nice bonus for our team."
Unlike Davies, Beaney and his staff don't do a lot of pre-scouting or film analysis on upcoming opponents. The Panthers' coach prefers to focus on his team's strengths and systems in preparation for any game, and Saturday's quarterfinal is no different in the approach. "Analyzing an opponent on film assumes an ability by the kids to adapt easily to differing styles of play. We actually focus more on what we do best and try to execute at a high level during the game."
Look for both teams to execute on a fast-paced game that should deliver on quality offensive chances, great intensity and entertaining hockey. Both teams have "been there" before and in a one-and-done format, and both coaches know, win or lose, that their teams will leave it all out on the ice.