Senior forward Nicole Corriero (Thornhill, Ont.) has been named the ECAC Women's Hockey League Player of the Year, it was announced earlier this evening at the league's annual banquet. Corriero and several other student-athletes were honored at the event, which marks the start of the women's championship weekend.
Joining Corriero as a repeat first-team selection was junior teammate Julie Chu (Fairfield, Conn.), who was a top pick in 2003 as a rookie. St. Lawrence senior forward Rebecca Russell (Clarenville, Nfld.) rounded out the list of first team forwards. The Crimson's Ashley Banfield (Toronto, Ont.) and Yale's Erin Duggan (Beaumont, Alb.) were both first-team defense selections, while Kami Cote (Copperton, Utah) from Vermont was the top team's goaltender selection.
Cote was also named the league's Goaltender of the Year. The Rookie of the Year award went to Sarah Vaillancourt (Sherbrooke, Que.) from Harvard, while Crimson mentor Katey Stone was the Coach of the Year.
A repeat first-team selection, Corriero is the sixth Crimson skater to be named Player of the Year in the last seven years, giving Harvard a total of eight ECACHL Player of the Year awards in program history. Corriero picked up her 52nd goal of the season when she opened the scoring against Clarkson in game two of the Crimson's quarterfinal series against Clarkson. With that goal, she became the all-time women's collegiate record holder for goals in a single season. The record-breaking goal also gave Corriero the 254th point of her career to place her fourth on Harvard's all-time scoring charts.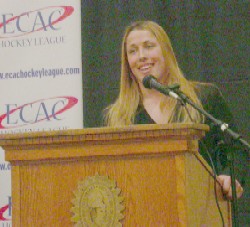 For the year, Corriero has 52 goals and 28 assists to give her 80 points on the year, which ranks third nationally. Eighteen of her goals are power-play markers which rank first nationally. In league games, Corriero averaged 2.80 points per game with 36 goals and 20 assists which was first among ECACHL players.
Cote earned the league's top goalie honors after facing more shots than any other netminder in the league. The senior ranked fourth in overall stats in the ECACHL with her .924 save percentage, stopping 1092 of nearly 1200 shots. She also played more minutes than any other goalie in the league and ranked first in the nation, seeing 2010:55 minutes of action between the pipes. Cote also posted three shutouts on the season.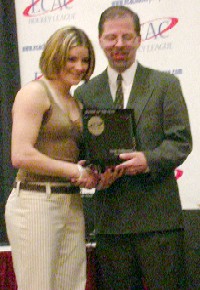 Vaillancourt, who was recently named to the Canadian National Team for the upcoming World Championships, is Harvard's fifth Rookie of the Year selection and follows in the recent footsteps of Corriero (2002) and Chu (2003). The nation's top scoring freshman, she has 57 point this season on 19 goals and 38 assists, which also ranks her seventh nationally.
Stone earned her second Coach of the Year honor after guiding the Crimson to its third consecutive regular season league title after winning the crown outright in 2003 and sharing the title with St. Lawrence last season. Harvard's first ECAC title came in 1999, the year of Stone's first league coaching honor.
Chu, who was a first-team choice two seasons ago and a second-team pick last year, earned her selection to the top team again this year with 57 points on 12 goals and 45 assists in 28 games this season. She racked up a 24-game point-scoring streak this season which was the longest in the nation. For her career, she has 206 points (69-137), which already ranks her fourth all-time at Harvard. In league contests, Chu followed Corriero with 41 points with eight goals and 33 assists.
Russell, who was an honorable mention pick as a junior, earned her spot on the first team after a 28-goal, 35-assist season, which ranked her second in overall scoring and first on her team. Her 63 points on the year also rank her among the nation's top 10 in that category as well as the top 10 in goals and assists. She is the St. Lawrence women's all-time leading points and assists leader and is five goals away from tying the Saints career goals mark (77). In league games this year, she averaged 1.90 points per game on 17 goals and 21 assists, to rank fourth in scoring.
As one of the league's top defenders, Banfield helped her Crimson squad limit opponents to less than two goals a game. She also plays a key role in scoring, as she has 39 points on the year, including 30 assists. Twenty-five points came in league games. Both her league and overall points lead all ECACHL defenders.
Duggan is a tough one-on-one defender and helped lead her Yale squad to its best ever finish in the regular season, its first playoff victory and its first-ever appearance in the semifinals. A scoring threat, she was third among defensemen in overall scoring with 26 points, and her 11 goals led all blue liners this season.
The league also recognized its top rookies with Vaillancourt leading the way on the six-person list. Hayley Moore (Wakefield, Mass.) from Brown and Sabrina Harbec (St. Hubert, Que.) from St. Lawrence joined her as All-Rookie Team forwards. Moore and Harbec followed Vaillancourt in scoring among freshmen with 20 and 16 points, respectively in league games. Harbec also posted 34 points overall (15-19) on the year and Moore had 26 (11-15).
The rookie defensemen were Helen Resor (Westwood, Mass.) of Yale and Annie Guay (Rouyn-Noranda, Que.) of St. Lawrence. Resor led all rookie blue liners in scoring with 7 goals and 10 assists and also had a key penalty shot in the opening game of the Bulldogs first-ever home playoff game. Guay posted seven points on the year and helped her Saints hold opponents to 2.00 goals per game.
St. Lawrence's Meaghan Guckian (Victor, N.Y.) was the rookie goaltender after posting four shutouts on the year. Her 2.28 goals against average in 20 games was tops among the league's freshman netminders and her .926 save percentage in league games only was just a hair off the first-place mark.
Nine other student-athletes were also recognized at the banquet with second team and honorable mention honors. The 2005 second team included: Dartmouth forwards Kate Weatherston (Thunder Bay, Ont.) and Tiffany Hagge (Coon Rapids, Mich.) and Harvard's Vaillancourt. Dartmouth's Alana BreMiller (Millbrook, N.Y.), Myria Heinhuis (Chatham, Ont.) from Brown and Princeton's Dina McCumber (North Tonawanda, N.Y.) were all named second team defense. The goalie was Princeton's Roxanne Gaudiel (Venice, Fla.).
Honorable mention picks included Princeton's Liz Keady (Braintree, Mass.) and Colgate's Tara French (Truro, N.S.).
INDIVIDUAL AWARDS
Player of the Year: Nicole Corriero, Harvard
Goaltender of the Year: Kami Cote, Vermont
Rookie of the Year: Sarah Vaillancourt, Harvard
Coach of the Year: Katey Stone, Harvard
FIRST-TEAM ALL-LEAGUE
Forward: Nicole Corriero, Harvard
Forward: Rebecca Russell, St. Lawrence
Forward: Julie Chu, Harvard
Defense: Ashley Banfield, Harvard
Defense: Erin Duggan, Yale
Goaltender: Kami Cote, Vermont
SECOND-TEAM ALL-LEAGUE
Forward: Katie Weatherston, Dartmouth
Forward: Sarah Vaillancourt, Harvard
Forward: Tiffany Hagge, Dartmouth
Defense: Alana BreMiller, Dartmouth
Defense: Myria Heinhuis, Brown
Defense: Dina McCumber, Princeton
Goaltender: Roxanne Gaudiel, Princeton
ALL-ROOKIE TEAM
Forward: Sarah Vaillancourt, Harvard
Forward: Hayley Moore, Brown
Forward: Sabrina Harbec, St. Lawrence
Defense: Helen Resor, Yale
Defense: Annie Guay, St. Lawrence
Goaltender: Meaghan Guckian, St. Lawrence
HONORABLE MENTION
Forward: Liz Keady, Princeton
Defense: Tara French, Colgate
All-Academic Team
Eighty-four student athletes representing the ECAC Hockey League's 11 women's programs were named to the 2005 ECAC Hockey League All-Academic team. Of the 11 institutions, Harvard leads the way with 13 selections to this year's team, followed by Princeton with 11. In its first year with the ECACHL as a Division I program, Clarkson had three student-athletes named to the team.
Players are eligible for the All-Academic team if they have completed at
least one academic year, have a cumulative grade point average of at least a 3.00 on a 4.00 scale, and have competed in at least one-half of her team's
games during the current season. Goaltenders must have played in at least 33 percent of the team's minutes.
BROWN
Ann Brophy So. Art History
Ashlee Drover* Jr. Human Biology
Katie Guay^ Sr. Economics and Psychology
Myria Heinhuis* Jr. International Relations
Christine Holdredge So. Economics
Kristine McManus* Sr. Economics
Margaret Ramsay Jr. Economics
CLARKSON
Emma Madigan So. Psychology and Physical Therapy
Andrea Maluta So. Biology-Molecular Science
Kristi Shaw Sr. Biology/Pre-Med
COLGATE
Tara French So. Molecular Biology
Maura Kehoe*^ Sr. French
Kristy MacDonald*^ Sr. Molecular Biology
Cheryl Setchell*^ Sr. History and Geography
CORNELL
Rebecca Fisher* Jr. Biological Sciences
Lara Kelly*^ Sr. Nutrition, Food & Agriculture
Halina Kristalyn So. Psychology
Pearle Nerenberg* Sr. Nutritional Sciences
Maryann Nowak* Sr. Natural Resources
Jamie Ramenofsky Sr. Applied Econ. and Management
Caroline Scott So. Bio & Society
Andrea Skinner* Jr. Human Development
Flora Vineberg Jr. Industrial and Labor Relations
DARTMOUTH
Meredith Batcheller So. Undeclared
Caroline Ethier So. Undeclared
Tiffany Hagge* Jr. Psychology
Kate Lane Jr. Environmental Studies
Emily Nerland* Jr. Psychology
HARVARD
Caitlin Cahow So. Anthropology
Julie Chu* Jr. Psychology
Ali Crum*^ Sr. Psychology
Sarah Holbrook Sr. Government
Katie Johnston So. Anthropology
Jennifer Raimondi Jr. Psychology
Carrie Schroyer* Jr. Psychology
Jennifer Sifers So. Sociology
Jennifer Skinner Jr. Psychology
Liza Solley So. Sociology
Katherine Sweet*^ Sr. Psychology
Lindsay Weaver So. Psychology
PRINCETON
April Brown* Sr. Chemistry
Sarah Butsch* Jr. Psychology
Tarah Clark* Jr. Economics
Roxanne Gaudiel Jr. Sociology
Kate Hession So. Classics
Katharine Maglione*^ Sr. Psychology
Dina McCumber So. Psychology
Chrissie Norwich* Jr. Politics
Kim Pearce So. Sociology
Alison Ralph So. Molecular Biology
Becky Stewart* Sr. Sociology
ST. LAWRENCE
Casey Hughes So. Economics
Kate Michael* Jr. Biology
Jessica Moffat Jr. Psychology
Tracy Muzerall Jr. Psychology
Elisabeth Pahler So. Math
Julia Palmateer So. Math
Christin Powers*^ Sr. Anthropology
UNION
Lauren Carlson So. Chemistry
Amanda Hanson So. Mechanical Engineering
Kelly Lannan So. Liberal Arts
Jamie Laubisch* Sr. Pre-Med
Carli McNeil So. Liberal Arts
Courenty Riepenhoff* Sr. Psychology
Brittany Stewart So. Liberal Arts
VERMONT
Caitlin Barnes* Jr. Elementary Education
Kami Cote*^ Sr. Physical Education
Jackie Duerr*^ Sr. Nursing
Jenny Hogan So. Arts & Sciences
Kate Hudspeth* Jr. Psychology
Abbey Kaknes* Jr. Elementary Education
Ashley Keane So. Arts & Sciences
Kristen Norris So. Psychology
Lindsey Tilbury* Jr. Physical Education
Gabrielle Worzella So. Animal Science
YALE
Erin Duggan Sr. Psychology
Regan Gilbride So. Undeclared
Kelsey Johnson So. Undeclared
Sarah Love* Jr. Psychology
Nina Resor So. Undeclared
Kristin Savard So. Undeclared
Jenna Spring So. Undeclared
Nicole Symington*^ Sr. Psychology
Ali Turney*^ Sr. Psychology