Letting bygones be bygones. That's Robbie Bina's approach this weekend, as he roots on his teammates in the NCAA Frozen Four.
The North Dakota sophomore defenseman saw his season come to an end last month when he was hit from behind by Denver freshman Geoff Paukovich during the WCHA Final Five semifinals.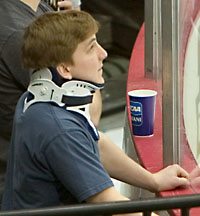 Bina needed surgery to remove a shattered vertebra and fuse two others together. Paukovich, who received a two-minute minor on the play, was later suspended for the WCHA final by the league, and then also suspended for the first NCAA tournament game by coach George Gwozdecky.
Since then, Paukovich has reached out to apologize. His family sent Bina a package as a friendly gesture. Paukovich also left a phone message and e-mail for Bina.
But Bina seems more intent on moving on than reaching out.
"I don't know. He's a hard player," Bina said whether ill feelings remain. "Stuff happens in hockey. I'm sure he doesn't feel good about it; I'm sure the last idea he had was to hurt me."
North Dakota coach Dave Hakstol said it's in Bina's nature to just move on.
"That's the way Robbie is. He's a little bit of a throwback to the old days," said Hakstol. "That comes through in his character and his demeanor and his toughness. I think right now he's worried about getting himself healed up, and I think he's most concerned about how his teammates are doing.
"I don't think that (reconciliation) needs to be part of it, necessarily."
Bina, who is wearing a neck brace but is expected to fully recover, was told in the hospital it may be nine months to a year before he could participate in contact again. But he is hoping to return by next fall.
"I have a long way to go," Bina said. "I see the doctor again May 2. We'll see what he says."
In the meantime, he's around the team this weekend as inspiration, even if it's reluctantly. For the regionals, he watched from home, but coach Dave Hakstol wanted to take him with the team for the Frozen Four.
"It's something I don't want (to just be an inspiration), but any way I can help I will," Bina said. "I'm just kind of around, hanging with the guys. I'm not much of an inspirational speaker."
Said Hakstol, "It's not something we talk about a whole lot in the locker room. … The guys were playing hard for him (at the regional in Worcester). I think it meant something to the team to maybe have an opportunity to come to the Frozen Four and bring Robbie on the trip."