Colorado College junior forward Marty Sertich is the winner of the 25th Hobey Baker Memorial Award, presented annually to college hockey's top player.
Sertich, the nation's leading scorer this season with 64 points on 27 goals and 37 assists in 43 games, led the Tigers to a share of the MacNaughton Cup as the WCHA's regular-season co-champions, and to a Frozen Four berth for the first time since 1997. CC lost to Denver, 6-2, on Thursday in the national semifinals.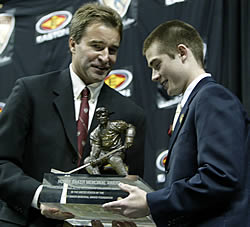 He is the second Colorado College player in three years to win the Hobey Baker, following Peter Sejna, the 2003 recipient. For his three-year career with the Tigers, Sertich has 47 goals and 85 assists for a total of 132 points in 124 games.
During the 2004-05 season, Sertich, a native of Roseville, Minn., led the WCHA in scoring with 42 points in 28 games en route to being named the league's Player of the Year. On Thursday, he was also named a First-Team West All-American.
Sertich was presented with the award Friday afternoon at Nationwide Arena in Columbus, as part of the "Frozen Friday" activities surrounding the Frozen Four. He beat out fellow Hobey "Hat Trick" finalists Brett Sterling — Sertich's teammate and linemate with the Tigers — and Cornell goaltender David McKee for the honor.
Ten original finalists for the Hobey Baker were determined by vote of the nation's 58 Division I head coaches, along with online voting. The winner was selected by a 25-member committee and fan balloting.
Check back for USCHO.com's continuing, complete coverage of "Frozen Friday" events, including the USCHO.com Town Hall Meeting, the Humanitarian Award, and more on the Hobey Baker.