As the Middlebury Panthers of '03-'04 were capturing their first national championship in four years and sixth overall, the future Panther players of '08 were still finishing out their days in high school. After the loss of such great players to graduation as national player of the year Kevin Cooper, captain John Dawson, all-NESCAC defenseman Mike Velez, and Adam Foote, it seemed unlikely Middlebury would repeat let alone be a threat in a time when the parity of Division III hockey is ever increasing. But unlike other teams from other schools, as mentioned many times in the past, Middlebury doesn't just rebuild, it reloads. And with the help of leadership from its five seniors and the large and talented freshmen class, the Panthers were able to do what most thought unlikely this year: win its seventh national championship.
"We never mentioned last year's team, and I don't think there was any added pressure [being national champions]," said senior defenseman Scott Ward.
Some of the players perhaps didn't think there was any pressure to repeat, but that couldn't hide the fact that in order to win they'd have to find some new blood to replace the players that had left, as alternate captain Levi Doria explained. "Our team was so different this year. We didn't have a super star, and we knew this year would be different."
Coach Bill Beaney went to some reliable sources to make up for the lost talent, such as The Taft School, which produced the likes of Matt Snyder, Deerfield, from which players such as Darwin Hunt and John Sales came, and Culver Academy, which brought Evgeny Saidachev.
"There's nothing Beaney told me that convinced me to come. I decided to come here after I saw the school, and saw the facilities. It was after seeing everything that I decided to come here," said Sam Driver of the Taft School.
No matter how Beaney was able to get the players to come to Middlebury, both the freshmen and seniors knew they had a long road ahead of them, and that winning back-to-back national championships wouldn't be easy.
Unlike some of his classmates alternate captain Patrick Nugent "felt some pressure this year. After coming off an emotional high last year I wanted to have that feeling the end of my senior year as well."
The first step into garnering another championship was having the new players buy into the Beaney system, and Doria admitted that it was a challenge. "We had to be a lot more understanding this year, which such a large freshman class. We had to stress points over and over again."
However, the freshmen never thought the seniors were pampering them at all.
"The seniors told us after a couple of months that we weren't rookies anymore, and that we needed to step up and play a bigger role," said Tom Maldonando, who led the Panthers in scoring in his freshman season. Scott Bartlett agreed: "The seniors never looked at us like we were replacing players who had left. They look at us like we were new players with differemt talents, and didn't compare us to guys who had left."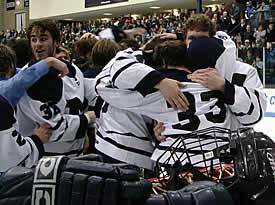 And sure of enough, this class did have talent. Despite not getting any accolades from the NCAA or NESCAC, the freshmen on the 2004-05 Middlebury team produced at an astounding rate. The top two scorers on the team were freshmen including Maldonado and Mickey Gilchrist who scored a team high 21 goals, nearly breaking the single-season record for goals scored by a freshman. In addition, freshman netminder Ross Cherry carried his team to the national championship with a nation-leading 1.61 G.A.A.
Nugent saw this talent early. "From the beginning of the year I could tell that the younger guys were going to be able to score. We could tell they were really talented."
Things were going along smoothly for this young team, knocking off Plattsburgh easily in the Primelink Great Northern Shootout semifinals and taking Norwich into a shootout. They even blew out Salem State, who in the past had given them trouble, and tied the always competitive US Under-18 Team leaving them atop the USCHO national ranking. However, despite the early season success, Doria explained that "Going up to Maine would really tell us where we were. We had played at home for most of the beginning of the season, and this would really show us where we were."
If those results were any indication of where they were, it showed that Middlebury was not the number one team in the nation, let alone the number one team in NESCAC. Following a couple of close losses up in [nl]Maine, the Panthers then lost perhaps their most humiliating game at the Chip Kenyon Arena, falling to Williams 6-3 on three third-period goals.
The freshmen might not have been as concerned because as Gilchrist admitted, "Every team catches a bump. I didn't think we'd win every game this season."
Unlike Gilchrist, the seniors of the team were worried. Perhaps they weren't worried as much by the resutls, but by the way the team was playing. Nugent noticed something that disturbed him.
"I couldn't recall in the three years I'd been here losing games in the third period. It just never happened. We always used to have that sense of urgency and that wasn't happening this year. As you looked around you saw guys with blank stares on their face wondering who's going to make the big play. Well if I'm not going to, then who is? That's what scared me the most."
If the freshmen didn't realize the severity of it after the game, then they knew it after the remarks Beaney made to the press and to the players.
"It definitely hit home when Beaney said it was the worst game he'd seen in a while. When we watched the video we knew we needed to step it up," said Rob MacIntyre.
Things did pick up, at least momentarily for the Panthers as they proceeded to win the next three games knocking off tough opponents: St. Anselm, New England College, and Plattsburgh.
However, the Panthers continued to struggle tying Babson and losing to Hamilton. Despite the results, the players were gaining more confidence, and were seeing the potential this team had.
"I think some people were doubting us, but our mind sets never changed," said captain Brian Phinney. "We kept on coming down each day and enjoyed being with each other. We enjoyed every practice, every game, and every challenge, and everybody knew we'd be [playing for a national championship].
The '04-'05 season began to mirror, eerily, the '03'-'04 season. The ingredients: start off with some success, add a little bump in the road, throw in a new goalie, and you have yourself a championship.
Cue: the new goalie.
Unlike Marc Scheuer, Ross Cherry was no journeyman senior who was waiting three years to finally fulfill is role as starting netminder. He was a freshman, but like Scheuer had to prove not only to the team and Beaney, but himself that he was ready to play.
"It's been a long road," said Cherry. "I kind of struggled in the beginning of the year adjusting to hockey and school. Coach Beaney sent me a message at the beginning of the year that if I don't straighten it out then I'll be off the ice. That really motivated me to push myself and get everything in order. It gave me the chance to play and I went with it."
Perhaps the most defining moment of the regular season didn't come until the middle of February. On the 12th, Middlebury was hosting the number one team in NESCAC, Trinity, and had nothing to gain from the win except confidence. A win would not move them ahead of Trinity, but at least it would give them a boost going into the last weekend of the regular season, where they faced Norwich.
Things did not look well for the Panthers as they trailed Trinity 3-0 mid-way through the second period. Perhaps this would finally be the year that Trinity could claim superiority over Middlebury. It was not to be, as the Panthers roared back with three unanswered goals, to finish tied with Trinity 4-4.
"That was the moment when we knew no team could beat us," explained Cherry. "The fact that we could come back from down 3-0 to the best team in our division and one of the beast teams in the country showed that if we really wanted to win we would."
The Panthers took that confidence into the Norwich game, completely dominating their arch-rivals to a 7-3 defeat.
There may have been no significance to the win, because it didn't move the Panthers into first place in the conference, but it was surely a bright spot in the season.
"Every time you beat a team like Trinity it boosts your confidence. And then traveling to Norwich and knowing in the third period you're going to win. That was one of the highlights of my career being at Norwich's rink and knowing that you're going to knock off a team with a great name and a great record. It was great being there in a packed house with us clicking on all cyclinders. It was really something special," said Nugent.
With the subpar regular season behind them, the Panthers had to accomplish something no Middlebury team had done in the past in order to advance to the NCAA Tournament: win a NESCAC championship on unfriendly soil. Nugent took this to be a challenge.
"I spoke to one of the alums from last year before the championship and he told me you can do something that no other team had ever done before, win the NESCAC Championship on the road. When he put it that way, it was like a challenge. It was something that could define a team. And now we can say that we've done something no other team has ever done in Middlebury history."
After winning their fifth NESCAC Championship in six years, the Panthers were back in the familiar place of hosting an NCAA quarterfinal game against a team with which they were unfamiliar.
"For some reason every year in the quarterfinals we play a team that we rarely play and don't know what to expect," said Doria. We figure they must have something since thay've gotten this far."
Prior to the quarterfinals, there was much speculation that if Middlebury were to win their quartefinal matchup against Curry, they would earn the right to host the NCAA Championship Tournament. This added some incentive not only for the seniors to win their final year on home ice, but the freshmen also had an incentive as well.
"We had a good idea that if we defeated Curry we'd host, and considering the next three years will be pre-determined sites we were pretty motivated to win since it would be our only chance to host," explained Jed McDonald.
After thumping Curry, the Panthers earned the right to host the NCAA Championship for the second time at Kenyon Arena. Last year, the players admitted they enjoyed playing on the road for the championship because there were less distractions, but Doria argued that "As long as you don't let the distractions of playing at home get to you, playing a National Championship at home is something you always want."
The Panthers began their 2005 NCAA semi-final game the way they began their 2002 NCAA semi-final game: at home, down early, and looking flat footed.
However, unlike in the 2002 matchup against Norwich, the Panthers were able to regroup quickly and get the equalizer before any more damage was done. Despite their effort, the Panthers found themselves down 2-1 after two periods to a New England College team that finished in third place in the ECAC East regular season standings.
During the second period intermission there were certainly a lot of things said. Driver remembered one thing. "I remember someone in the locker room between the second and third telling us that there is one moment that defines the Frozen Four. And we took that."
Nugent on the other hand remembered thinking, "We knew weren't playing up to our ability. We knew if we get chipping away that a bounce would go our way. We just needed to utilize our speed on the big sheet of ice. We just needed to keep going and things would take care of themselves."
Things did take care of themselves as the Panthers killed off an early power play and scored four unaswered goals allowed only one shot in the third period en route to a 5-2 victory.
Like in the quarterfinals, the Panthers were pitted against a team they knew little about: St. Thomas. Like in their semi-final matchup, they looked flat footed early on. Unlike in that game, however, they didn't fall behind early, thanks to the brilliance of the freshman netminder Cherry. After making a number of acrobatic saves in the early going, the Panthers cruised to their seventh national championship.
"The best thing about Ross was that if we started a period slow, he'd make two or three saves he needed to and then we knew we needed to step it up. If St. Thomas has scored early who knows what would have happened," admitted Doria.
Like the seniors of '04, the seniors of '05 were very sentimental about their win.
"The special thing about playing at home is winning in front of the fans, especially those that can't make the road trips," said Phinney. "I know last year the zamboni crew was pretty upset because they couldn't watch us win. It's fun to do win at home because then the fans can be a part of it, because they are a part of it, and they make it all worth while and more special for us."
The freshmen also appreciated the significance this win was for their senior teammates.
"I remember standing on the blue line next to a couple of the seniors and thinking how happy I was for them, being able to win a national championship their final year," said MacIntyre. "That's the best thing that could happen."
Bartlett also remembered the moment well thinking, "It was great to see the looks on the other guys' faces when we were piled up."
Maldonado added, "It was great to share this with others who working just as hard as you for the same goal."
So what's next for the graduates?
"Well Patrick and I both got CHL offers," joked Doria.
In reality, they will have to move into the real world, and earn a living like their predecessors did before them. Ward put it accurately, stating, "I think my old man has paid enough for tuition. I should probably go out and find a job."
The members of the class of '05 will no longer be able to contribute on the ice for their team, but they still will have the opportunity to play a role in the team's legacy.
"One thing I'll always remember is the guys who I played with. I'll take with me all things I learned as a part of this team. It was special to see the guys who won last year come back this year to support us. That's what this is all about. I just hope next year I'm around for the ride," said Nugent.