The colors of Robert Morris are red, white and blue — and after last season's surprising inaugural season with a cast of freshmen, the Colonials are hoping for an all-American turnaround in 2005-06.
Last year, RMU featured a lineup of 18 freshmen, a sophomore and a junior and though the Colonials finished in the CHA cellar, their 4-14-2 league record was 10 points better than the winless record some predicted.
Head coach Derek Schooley said his squad used statements such as that for motivation, and it showed when they won their first-ever regular season game, on the road no less, against Canisius. The Colonials also took league champs Bemidji State to overtime twice, beat and tied Wayne State and shellacked Niagara, 6-0, at home on Jan. 29. Altogether, RMU played nine overtime games and went 2-3-4 in those contests.
"Our game is work ethic-based and there's no quick fix overnight," Schooley said. "We're gradually building up the program and have a great nucleus back and key additions."
There's no bigger returning player than sophomore goaltender Christian Boucher. Last season, Boucher saw the bulk of time in the cage and took the decision in all eight wins for the Colonials. His statistics (2.86 goals-against average and .916 save percentage) were also respectable. But it was outside the numbers that had Schooley raving about his goalie.
"Boucher held us in a lot of games that we probably had no business being in," said Schooley. "He stole games for us and kept the shots down and gave us a chance. He is a legitimate Division I goalie and is all-league caliber. He was our workhorse last year and we're looking for him to be that guy again this year."
Pittsburgh native Carrick Davis will be RMU's No. 2 goalie behind Boucher.
Boucher added that he knows being a netminder carries pressure, but after last year, he's learned to deal with it.
"I expect that there will be some games where I'll have to steal a win for us," said Boucher. "I expect there to be pressure on me to repeat after what I did last year. I also think the coaches expect it from me, but I don't think that I'll have to do it as often this year. I think there will be a couple of games this season where we will be able to put the pressure on the other team and not have to worry so much about winning by keeping the puck out of the net."
Team co-captain Kurt Wright, the only player who will be honored on Senior Night this year, came in last year after a year at Findlay, which folded its program due to budget constraints. Being one of two players with previous D-I experience (forward Doug Conley was the other, with Niagara in 2002-2003), Wright immediately assumed a leadership role and captained last year's team with defenseman Rob Cowan, and will do so again this year.
"Our goal is to build on our wins from last season," said Wright, who also attended New Hampshire before Findlay. "We won't be satisfied with just eight wins this season given the amount of talent that we have in the locker room. I think our personnel has been upgraded and we've managed to move along the bottom five percent of our team and bring in better, more skilled players."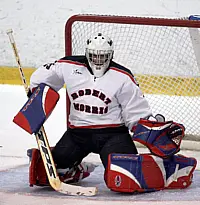 As for wearing the 'C,' it's Wright's hope it helps his offensive production.
"I'm looking to take on an advanced leadership role offensively, especially in the numbers department and specifically goal-scoring," Wright said. "Last year, I scored six goals in the first half of the season before an injury slowed me down. I expect to produce a lot more on the offensive end and build on the seven goals from last year. I want to increase my offensive numbers in order to help the team win games."
Forwards Jace Buzek — RMU's leading scorer a year ago — as well as Logan Bittle, Brett Hopfe, Joe Federoff, Conley and David Boguslawski are all back and freshmen Steve Bandurski, Andrew Jackman, Chris Margott and Jason Towsley will fight for spots. Niagara transfer Aaron Clarke should also help out up front and fellow NU transfer Bryan Mills will add punch to the defense.
Joining Mills on the back end are Andrew Bonello, Cowan, Jeff Gilbert, Chris Kaufman and Eric Trax. Kaufman made the CHA's all-rookie team last spring. Freshmen Jeremy Barber and Greg Petersen are also new to the Pittsburgh area.
"For the team, I think it's that we have four lines that can play," said Boucher. "We're not as big as a lot of teams, but all of our guys are quick and can skate. I think we'll be able to outskate a lot of teams and we have tremendous speed. We're going to be able to us that to our advantage and have teams chase us around the rink."
And if all goes as planned, Robert Morris could chase a league title down the stretch.