Stop the presses. Boston College is picked to finish first.
Okay, maybe you can unstop the presses.
It's become almost as predictable a rite of autumn as the leaves turning color, mornings growing cold and college students returning en masse to the Hub. Six of the last eight years the Eagles have been picked to finish first in the Hockey East coaches' preseason poll. That's just about as consistent as anything gets in the world of college hockey.
"I was surprised," BC coach Jerry York says. "Not just because of the number of losses we had, but more importantly the significance of the players: Andrew Alberts, Patrick Eaves and Ryan Shannon."
Such is the talent equation. If you bring in exceptional talent almost every year, you also lose exceptional talent almost every year. The key isn't what is gone — and Alberts, Eaves and Shannon amount to a hat trick of lost All-Americans — but what is left behind.
And what's left behind at Chestnut Hill is still very good. There are question marks, but also exclamation points.
"We're proud of the fact that maybe we can defend the title and win it again this year," York says. "But realistically, we're going to be very young in a lot of different areas."
The most obvious place of youth, and by far the biggest question mark, will be on defense. Three senior blueliners who regularly dressed last year must be replaced. Vying for that ice time will be newcomers Anthony Aiello, Tim Filangieri, Tim Kunes and Brett Motherwell.
"We've got Peter Harrold back," York says. "He'll be a senior and we know exactly what we have there. Mike Brennan came on pretty good as a freshman. It will be pretty steady with those two.
"After that, there are a lot of questions. Brian O'Hanley and the four freshmen will be vying for those next few spots. It will be interesting."
All of which puts the defensive zone spotlight on goaltender Cory Schneider (1.90 GAA, .916 Sv%). As a freshman last year, the first-round NHL draft choice split much of the time with veteran Matti Kaltiainen, but took over in the playoffs. With the graduation of Kaltiainen, Schneider will move front and center.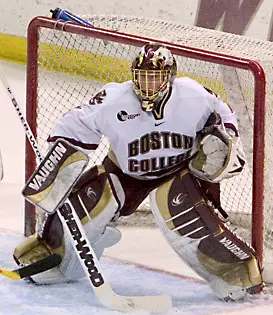 For the first time since York began his parade of top recruiting classes to BC, the team's biggest strength, at least on paper, is between the pipes. Of BC's 21 All-America selections since 1997, not one was a goaltender. Not that Schneider will necessarily change that, but in many respects he'll be the Eagles' go-to guy.
"We're going to rely on Cory Schneider to have a banner year back there," York says. "I think he will. He'll have to because we're going to break in the four freshman defensemen in front of him. And we're not going to have the puck as much without Shannon and [David] Spina and those guys."
Speaking of which, BC lost four of its five top scorers, leaving behind only Brian Boyle (19-8–27) and Joe Rooney (4-16–20) as 20-plus point producers. Stephen Gionta, Dan Bertram and Chris Collins all finished in the 17-to-19 point range.
In other words, offense could be a surprising question mark. Starting with the 1997-98 season, BC has finished first in league scoring every time except for last year (second to New Hampshire) and 2001-02.
"We're trying to think of where the goals are going to come from," York says. "We're hoping that Gionta and Collins can get up into the 15-16 goal [range]. Then Rooney and Boyle are our two junior forwards. Those four will be the core of the upperclass forwards."
It all adds up to a lot more question marks than usual for the Eagles.
"It's going to be an interesting year," York says. "I'm looking forward to it just because there are so many unknowns."