Some teams perform a last-to-first rebound from a disastrous season to a tremendous one. Last year, Boston University achieved an almost-last to an almost-first performance. Following the very forgettable 2003-04 season in which the Terriers finished a point out of last place, avoiding the cellar only by an overtime goal in the final game, they came back with a vengeance, trailing regular season champion Boston College by a single point.
The close but no cigar motif continued in the playoffs, where BU got to the Hockey East semifinals only to fall to New Hampshire and then lost in the first round of the NCAAs to North Dakota.
Very good, especially when taken in context of the prior year's disaster. But since when is making it to the league semis a satisfactory outcome at BU? Since when is making the NCAA tournament, but going one-and-out, good enough at BU?
Not in the past. Not in the present. And not in the future as long as coach Jack Parker is at the helm.
This is a program built on competitiveness and a refusal to accept second place.
But that may be roughly what is in store for this year's team.
Whatever heights the Terriers achieve this season, the backbone of the team will almost certainly be in goal. John Curry (2.00 GAA, .922 Sv%) came out of nowhere last year to earn Second-Team All-Hockey East honors. The position looks even stronger for the season ahead.
"I think the biggest strength we have is the guys in net," Parker says. "We're going to be very, very solid and very, very deep there. Curry gave us a great year. When Stephan Siwiec had to come in and fill in for [Curry], he gave us great performances for a number of games.
"And Karson Gillespie looks much more confident and ready to go this year. We recruited him to be our number one goaltender. So there's depth, there's skill and there's experience there."
In front of those netminders will be a group of defensemen that lost only Bryan Miller from its ranks. The returning group will be led by seniors Dan Spang and Jekabs Redlihs along with juniors Kevin Schaeffer and Sean Sullivan.
"That will be our strength as well, our corps of defenseman," Parker says. "We are losing Miller as a defenseman, that's important. The fact that we're losing an offensive defenseman like Miller that we don't have a replacement for yet [is a bigger issue]. But I do think a few guys will emerge.
"We had a couple of guys who didn't get a lot of ice time last year, guys like [Thomas] Morrow and [Dan] McGoff, who I think will be very, very good Division I players. McGoff didn't see a lot of ice time as a freshman, but I think he'll be a real solid player for us and might be a guy who can play on the point on the power play as well."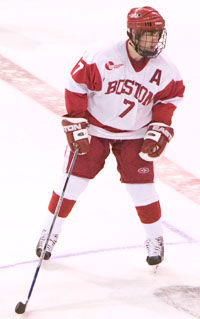 Up front, there were no superstars last year, but good depth. Freshman Chris Bourque made a great first impression, especially making the power play tick, but he turned pro shortly after the season ended. The top returning scorers include seniors David Van der Gulik (18-13–31), John Laliberte (12-18–30) and Brad Zancanaro (10-13–23), along with sophomores Pete MacArthur (13-14–27) and Brian "Boomer" Ewing (6-8–14 in 29 games).
Van der Gulik, however, has been sidelined since the end of last year with a pubic bone inflammation and will require time to get into shape when he does return. The current worst-case scenario puts him out until January.
"[Bourque's departure] leaves more of a void on the power play than it does up front [even strength]," Parker says. "He certainly was a great player and created a lot of offense for us, but we think we've got enough guys there.
"We're really happy with our depth up front, but we can't have those guys have years like they did last year; we have to have them have more productive years. [Kenny] Roche has got to get more goals. Zancanaro has to play an entire season like he did the first half of the season as far as production is concerned. He played great all year, but the puck didn't go in the net for him.
"Van der Gulik has got to get back and healthy and then he's arguably our best player, certainly offensively. I think MacArthur and Ewing are going to be real stars in this league. After their freshman years and the injuries that occurred and the struggles [they had], they're going to emerge as important offensive players for us."
Incoming freshman forwards Chris Higgins, Jason Lawrence and Brandon Yip are also expected to make an immediate impact.
All in all, the Terriers shape up to be a team without weaknesses. How far they go will depend on how strong some of their strengths become.