We cannot escape history. — Abraham Lincoln
Talk about a change in the wind. Michigan captured just one first-place vote in this year's CCHA preseason coaches' poll, presumably only because Ohio State head coach John Markell couldn't vote for his own team to give the Buckeyes the unanimous nod.
Sure, OSU returns a killer team and Michigan brings in half a roster full of newcomers, but let's remember our history here. This is Red Berenson's team, and no Red Berenson team has finished below at least a share of second place in league play since 1990-91.
Berenson won a national championship in a hostile environment against heavily favored hometown heroes — in overtime — with a freshman-laden squad in 1998.
"The Michigan team will have a different look to it this year with so many different faces," says Berenson of the Wolverine squad that will boast 11 freshmen. "We graduated 10 players and lost three underclassmen to the pros during the summer. One of those positions will be goalie, and our freshman goalie, Billy Sauer, who is 17, will be tested early."
Sauer looked less than stellar in exhibition play, allowing three goals on 20 shots to Toronto, but Berenson is very high on Sauer. "He's a great kid…he's coachable … he has all the intangibles."
"I like our incoming freshmen," says Berenson, "led by [defenseman] Jack Johnson, who was drafted No. 3 overall [in the NHL Entry Draft], and [forward] Andrew Cogliano, who was No. 25 overall, who should be impact players."
Berenson also likes freshman Travis Turnbull; he's eager to coach the son of Perry Turnbull, whom Berenson coached when he was with the St. Louis Blues.
While the fresh faces will add enthusiasm to the Michigan lineup, the remaining Wolverines are no slouches. Players like T.J. Hensick, Matt Hunwick, Brandon Kaleniecki, Chad Kolarik, and Kevin Porter are guys any CCHA coach would be happy to have on his roster. The Wolverines are not by any means hurting for talent, in spite of the personnel turnover.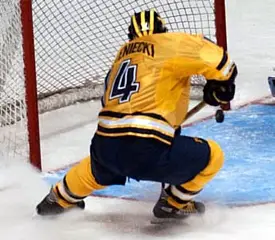 Perhaps not every departure — or even every early departure — is detrimental to Michigan hockey. Berenson remained steadfast and true to Al Montoya until the bitter end last year, but it was clear to anyone who took the time to look that Montoya was just not the netminder last year that he was his sophomore season.
Perhaps it was the hoopla of his first-round drafting by the N.Y. Rangers; perhaps it was the weight of the Wolverine world. Whatever the reason, Montoya's timing and focus were off, and he let in pucks that had no business getting by him.
There is no offense intended here, as Montoya is a genuinely nice kid who — we all hope — will find great success in the professional ranks. (In fact, it's generally believed that any coach not coaching Michigan hockey would have been glad to wish him that success as long ago as 2002.) However, he was off his game last year and were it not for a phenomenal team in front of him would have had a much different win-loss record.
In addition to goaltending, what the Wolverines need is a healthy dose of chemistry. Half the roster is new to Yost, and the other half working harder than it ever has — that can be a recipe for the kind of magic that only Berenson can make, or the first Michigan team in well more than a decade to finish below second place.
Don't forget about Michigan's disappointing final game last season, the game that captain Eric Nystrom called "a bad way to go out." Watching a 3-0 lead evaporate is definitely not a good way to go out — "I'm just really pissed off that that's the way we had to go out," said Nystrom — but half this Michigan team wasn't there for the 4-3 NCAA Midwest Regional Final loss to Colorado College, so those Wolverines have no sense of bitterness, no sense of failure.
And that can't be bad.