So far, St. Lawrence has lived up to the hype of its preseason No. 1 national ranking, reeling off seven straight nonconference wins to open the campaign. This weekend, the Saints' quest to fulfill expectations of an ECACHL championship begins on the road against Dartmouth and Harvard, the two teams that have combined to win the last four conference titles. First up is a Big Green squad that has undergone major renovations but still has some established cogs and is eager to measure its new formula against the league's best.
Game Time: Sat. 2 p.m. ET (Broadcast Links)
No. 1 St. Lawrence (7-0-0 overall, 0-0-0 ECACHL)
Top Scorers: Sabrina Harbec, So., F (4-7-11), Alison Domenico, Fr., F (2-7-9), Carson Duggan, Fr., F (6-2-8)
Top Goaltenders: Jess Moffat, Sr. (5-0-0, 1.20, .950), Meaghan Guckian, So., (2-0-0, 0.50, .977)
Scoring Offense: 3.71 (8th)
Scoring Defense: 1.00 (1st)
Penalty Minutes: 17.6 (5th)
Power Play: 6 of 28, 21.4% (6th)
Penalty Kill: 45 of 49, 91.8% (6th)

Life is almost all good these days for Coach Paul Flanagan. His goaltending tandem has been restored with sophomore Meaghan Guckian now back from injury to complement senior Jess Moffat, who has picked up where she left off from last year's playoffs. The veteran defense has been every bit as suffocating as advertised yielding just seven goals in seven games. The offense has featured a healthy mix of the old (Sabrina Harbec, Emilie Berlinguette, Crystal Connors) and the new (Alison Domenico, Carson Duggan, Lisa Batchelor). Flanagan has also had a chance to see his team win with relative ease and gut out close victories against three of last year's conference champions (No. 4 Minnesota, No. 7 Mercyhurst, and Providence).
Life would likely be all good if not for two things. First, the contributions of the Saint freshmen forwards will take on greater importance given the unwelcome news that former ECAC Rookie of the Year Chelsea Grills will miss the remainder of the season after undergoing surgery to heal a nagging injury this past week. Second, the Saint penalty kill has been stellar at 92% so far but perhaps that's in part because the units are getting so much work. In just seven games, St. Lawrence has managed to log a whopping 23 penalties and 57 minutes more than its opponents. Only once (2003-04) during Flanagan's tenure have the Saints have received more infractions than their opposition and even then, by just one penalty.
No. 8 Dartmouth (3-1-0 overall, 1-1-0 ECACHL)
Top Scorers: Shannon Bowman, Fr., F (2-4-6), Danielle Grundy, Sr., F (2-4-6), Tiffany Hagge, Sr., F (4-1-5)
Top Goaltender: Kate Lane, Sr. (3-1-0, 2.50, .892)
Scoring Offense: 3.25 (11th)
Scoring Defense: 2.50 (18th)
Penalty Minutes: 17.5 (5th)
Power Play: 3 of 27, 11.1% (25th)
Penalty Kill: 21 of 27, 77.8% (T-25th)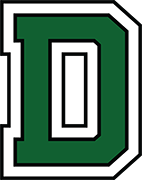 Tiffany Hagge says, "It's back to basics." Indeed. With eight freshmen and 10 players overall who were not with last year's team, there is a different learning curve for Coach Mark Hudak's Big Green in 2005-06 compared to the veteran squad that went to its third straight Frozen Four a year ago. However, having the multi-talented Hagge as a cornerstone is a big first step toward building another winning team. The Minnesota native has already notched the gamewinning tally in all three Dartmouth victories this season, and in speaking about his captain, Hudak remarked, "No matter what happens out there…this team will follow [her]". Junior assistant captain Caroline Ethier quietly bagged 11 goals last season, and Hudak also regains the services of seniors Danielle Grundy and Alex Zagaria to add a little more seasoning to the forward units. Add in Emily Nerland and Meredith Batcheller on defense, and senior Kate Lane in goal, and there seems to be at least some experience at every position.
However, youth must be served if Dartmouth is to contend for another Frozen Four berth. Sara Parsons never made it to Hanover this fall because of her inclusion on the U.S. National Team, but early returns still seem encouraging with first-year Shannon Bowman tied for the team lead in scoring and rookies at all three center positions. However, the progression of the three newcomers on defense may prove most critical. Last weekend's viewing of No. 5 Harvard provided strong evidence that an abundance of freshmen defensemen can yield erratic early-season results on breakouts and defensive zone coverage. But then, the Crimson gutted out the win that day. Dartmouth already has two one-goal victories to its credit, and the winning experience for both teams no doubt trumps any aesthetic shortcomings.