Being named the College Hockey America preseason player of the year hasn't given Bemidji State goalie Matt Climie a big ego. In fact, he's still doing what he does best: win hockey games for the Beavers.
Last Friday, Climie made 25 saves in a 4-1 win at Wayne State, but sat the next night as Layne Sedevie beat the Warriors.
Climie, a sophomore from Leduc, Alb., noted that he's happy being one-half of a one-two punch in the Bemidji State net, but obviously, would like to see more time between the pipes.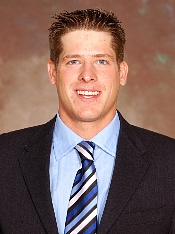 "You just have to be mentally tough to accept that," said Climie. "But early in the season, each win brings your confidence level higher and that's where I am right now."
The fact Climie earned preseason honors is just "something on paper," said Climie.
"It's nice to get that respect and it's nice to be recognized," Climie said. "But that was all before the season started and now is when it matters."
"I have never talked to Matt about it," said Serratore of the preseason player of the year laurels. "I don't think discussing it with Matt would be the right thing for me as a coach to do. But he's mature enough to handle it."
Serratore, when asked who his true No. 1 goalie is, said, "We have two No. 1s. Matt's 3-1 and Layne is 4-0. I'm comfortable playing either of them in any game against anyone."
Climie's one loss came three weeks ago when the Beavers split with Air Force. He thinks that game may have been an early-season preview of what to expect in the CHA this season.
"After we swept Minnesota-Duluth and Minnesota State, I think everyone's emotions were too high and that includes myself," said Climie. "We just didn't focus and you saw what happened. That game was seriously a wake-up call for all of us."
Expect Climie and Sedevie to do the splits again this weekend as No. 16 Bemidji State ventures to Ferris State for a pair.
Air Force Grounded By Army
In an annual battle of the two Division I service academies with hockey programs, Army took both from Air Force last weekend at West Point.
Friday night, Black Knights' goalie Brad Roberts stopped all 26 shots he saw en route to a 3-0 win.
"The best team won tonight," Air Force head coach Frank Serratore said. "When they get a lead, they clog up the ice and they are very difficult to play against. You just have to find a way to score blue-collar goals and get it done and we didn't. Roberts was the best player on the ice."
Saturday, Army jumped out to a 3-0 lead before the Falcons rallied with three in the third period, including a penalty shot by captain Matt Bader. But Chris Migliaro scored in overtime for the Army sweep.
"Army deserved to win the game," Serratore said. "We had some momentum early, but until the penalty shot it was all Army. We put ourselves in tough position getting down by three, but we almost stole it. We had all the momentum after Bader scored, but they took it to the net and the puck went in. It's a tough pill to swallow.
"We have had a good run against them, but you can't win all the time. What a great game it ended up being. We needed to put them away early and we didn't. They got the first goal in the game and they are a tough team to beat when they have a lead. We went five periods without scoring and that is demoralizing. That would have been a good tie or a great win, but it didn't happen that way."
The Falcons now travel across the pond for a series of exhibition games against teams from the German Professional League. The first game of the trip was scheduled for Monday, Nov. 21, against Munich at Ottobrun, Germany, but the game was cancelled. Another game may be scheduled in its place. Air Force will play Bad Tolz on Tuesday, Nov. 22, in Bad Tolz. The Falcons will then play Rosenheim, in Rosenheim, on Wednesday, Nov. 23.
Warriors Still Struggling
Wayne State is off to the worst start in its seven-year history at 0-7-1. But even so, morale seems to be on the upswing.
"It seems like the hockey gods might be against us right now," said head coach Bill Wilkinson after Saturday's loss to Bemidji State. "We've got a mature team that can handle some adversity and I keep telling them we're a good team and things will change."
Sophomore Stavros Paskaris was reportedly supposed to be back last Saturday after being out since Oct. 13, but didn't dress.
NU Hosts Homecoming Of Sorts
Saturday night, Niagara hosts RIT for a single game, but it'll be a flashback for NU head coach Dave Burkholder. The former goaltender played for the Tigers in the early 1980s.
The last time the two teams squared off was March 7, 1998, a 5-2 Niagara victory, when Burkholder was an assistant coach with the Purple Eagles. While with the Tigers, Burkholder helped RIT to the NCAA Division II title during the 1982-1983 season and was a first-team NCAA All-American in 1983-84.
Burkholder still holds the school's record for shutouts in a season with seven (1983-84) and is tied for the career shutout mark with 12 (1980-84).
Colonials Show Character Against RIT
Robert Morris mounted a third-period comeback en route to a 5-5 tie with RIT on Saturday night at home. The Colonials scored three times in 67 seconds and four times overall in the third period.
Sean Berkstresser, Steve Bandurski, Jace Buzek and Chris Margott all tallied in an 11:58 span of the third period to take a 5-4 lead, but Simon Lambert notched an extra-attacker goal with 11 seconds left to gain the tie.
RMU rebounded and beat the Tigers, 4-2, Sunday.
The two games featured the two newest Division I teams. Robert Morris joined the CHA last season and RIT made the jump to D-I this year.
Huntsville Night And Day Vs. Niagara
Alabama-Huntsville eked out a 5-4 win over Niagara last Friday night, but then got blown out in an 8-4 loss the next night.
"We jumped out to a quick lead and I think our guys got a little overconfident," UAH head coach Doug Ross said to the Huntsville Times on Saturday. "Our power play was not very effective. And their power play was really good."
Dominik Rozman's breakaway goal came on the Chargers' first shot and gave UAH a 1-0 lead only 1:11 into the game. Steve Canter and Bruce Mulherin added goals to chase NU goalie Juliano Pagliero just 14:27 into the game. But then Niagara responded with five straight goals and finished with five power-play goals on the night.
Friday night, it was Niagara that got out to a quick 3-0 lead and led 4-1 at one point before UAH countered with four unanswered goals.