Throughout the season, USCHO.com staffers Scott Brown and Jim Connelly will offer their views on the previous weeks' action, alternating writing duties (and occasional potshots at each other) every Tuesday. Brown will focus on the West and Connelly on the East, in a regular column exclusive to USCHO Extra.
So admit it. How many Harvard faithful had already written off this year's team?
I know that I had turned my head after an exhibition loss to McGill and then another "L" against still-wet-behind-the-ears Quinnipiac.
Then after Harvard blew a late lead and dropped one to archrival Cornell at home (albeit most say Harvard is a home away from home for the Big Red), I was pretty much ready to write off the Crimson.
Who knows what it was? My guess is that head coach Ted Donato had a bit of a "come to Jesus" talk with his players after the Cornell loss. Since that time, though, Harvard looks very different.
After beating Colgate the next night, the Harvard varsity traveled to Boston College, a place it hadn't won in 27 years, and shocked the Eagles. The Crimson used a fast-paced power play to score three early goals and open up a 4-0 lead and hold on for a 5-3 victory (with plenty of tense moments down the stretch).
Still, a win was a win and when Harvard added two more to the win column this past weekend (beating Yale and Brown at home) you could hear the engine on the Harvard bandwagon once again ready to rev.
The Crimson's current ranking — No. 14 in the nation — is deserved. Seeing Harvard play live for the first time last Tuesday, this is a club with talent. Maybe we can write off the Quinnipiac loss to the fact it was the Bobcats' first ECACHL game and no team, no matter who was on the ice that night, would have won that game against the "Q."
The Cornell loss? That's likely a product of the Crimson simply not playing a 60-minute game. The identical situation happened last Tuesday at Boston College, but on that night Harvard had built up an insurmountable lead.
However you explain things, it's obvious to me that Harvard will be a team that remains in the hunt much of the season. Sure, there will be bumps in the road, but riding this bandwagon could mean a trip to the NCAA tournament.
Eagles' Frustrations Boyle-ing Over
Boston College's special teams this season have been atrocious, to say the least. The Eagles penalty kill has given up multiple goals on numerous occasions and the power play hasn't converted as well as in years past.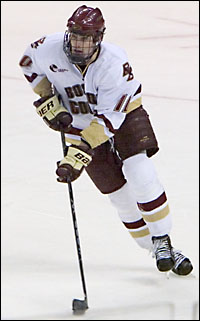 The penalty kill can be explained by youth. Head coach Jerry York continues to call his team "a work in progress," and BC plays three freshman defensemen on the average night, so there's some understanding why there's a learning curve.
But the power play? That's another story. There's no reason why the Eagles, a team that returns a handful of solid forwards while adding a deep recruiting class of blue-chippers up front, should not be able to score on the power play.
One player on the team, though, was happy to shoulder the brunt of the blame. Brian Boyle, whose 6-foot-7 frame should be a menace on the ice for the Eagles, said after last Tuesday's loss to Harvard (during which BC went 1-fot-7 on the power play, squandering some quality chances) that it was his responsibility to use his size to help make the power play successful.
"Coach told me, and I realize it, that I've got to be in front of the net," said Boyle. "I've got to be causing trouble there, not screaming around trying to make the great plays."
By Saturday, things changed and as a direct result Boyle scored two goals from, of all places, right in front of the net. The first was the redirection of a wrist shot from the left point. On the second, Boyle was wide open in the slot to bury a Stephen Gionta pass. Those two goals went a long way in a 5-3 victory over Northeastern.
"[The goals] are a result of us having more traffic in front of the net," said Boyle. "We're going to stick with that because it works real well.
"I can get better [at playing in front of the net] but the more I do it the more comfortable I can be at it. That's a place I think I should be and have [my linemates] zip around in the corners and stuff."
Linemate Chris Collins agrees.
"It's incredible for guys like us," said Collins. "[We] want to buzz around and move so it's great to have a guy like Boyle in front. It opens up just an incredible amount of space for us."
Turkey in New York
While many teams will enjoy their Thanksgiving dinner among family, a few eastern teams will be eating turkey served by hotel banquet staffs. Providence and Holy Cross will both travel to Rensselaer for their Thanksgiving to play in the Rensselaer Holiday Tournament.
I'm of the belief that Thanksgiving is a little early for holiday tournaments. Years ago, these two-night events were reserved more for the week between Christmas and New Year. Some seem to agree.
Providence this year will move its tournament from the Thanksgiving weekend to the post-Christmas weekend. Last year, despite being a well-run tournament, the Dunkin' Donuts Coffee Pot tournament drew miserably small crowds on both nights.
But some people, still, love tournaments no matter what time of year. Holy Cross coach Paul Pearl said that he wants to play as many tournaments as his team can and this year will add the Ohio Hockey Classic at Christmastime to the RPI tourney, giving his team a twin billing of hardware-hunting opportunities.
Whatever the case, Holy Cross and Providence will join host RPI and Nebraska-Omaha in upstate New York this weekend, each club hoping to put its first piece of hardware on the shelf.
Out west, the College Hockey Showcase, which is not really a tournament as much as it is two games that feature some of the nation's better teams, will have Wisconsin, Michigan, Michigan State and Minnesota battling in the two-night event.
Making a Point
I'm probably not the only one who was happy to see American International earn its first point in a tie last weekend. And I was very impressed to see the Yellow Jackets limit Holy Cross, one of the better offensive teams in the nation, to just three goals in the two-game set.
Most impressive was AIC's penalty kill, which held Holy Cross scoreless on the weekend. That alone is a feat, but when you take into account the fact that the Crusaders entered the weekend with the second-best power play in the nation it's even more reason to be impressed.
Funny thing: though AIC grabbed its first point with the 1-1 tie, few were likely happy in the AIC locker room after the game. The Yellow Jackets were just three seconds away from their first win of the year — a shutout, no less — before the Crusaders evened the game.