Ten of the league's 12 teams were in action over the weeks surrounding Christmas and New Year's, and while Quinnipiac and St. Lawrence may have been resting comfortably over their break, the holidays weren't so kind to many other members of the league.
Every team will be in action this weekend, most beginning the second half with a slate of league games. Included among those are a pair of potent rivalries scheduled for Saturday afternoon and Sunday afternoon.
---
The biggest game on the schedule for this weekend will have a certain international flavor when St. Lawrence and Clarkson square off in Ottawa, Ont., at the Corel Centre. The Corel Centre will play host to the 2 p.m. tilt between the two North Country rivals as part of its third College Hockey Showcase.
The first showcase came in December 2002 as a nonconference game between Clarkson and Colgate, and the sheer magnitude of the arena makes this year's game between the two rivals even more of an event than usual.
The Corel Centre, home to the Ottawa Senators of the National Hockey League, was opened in 1996, has a 200×85 ice surface, and can hold 19,153 fans for a hockey game.
While the Centre won't be nearly full for Saturday afternoon's game, fans from both schools were making plans to take buses or form a caravan on the way up to Ottawa. St. Lawrence coach Joe Marsh said he expected many of the fans from the Canton and Potsdam areas would travel for the game, as well as some Canadian hockey fans who may not normally see college hockey action.
"For us to be able to expose people in Ottawa to college hockey is very beneficial to both programs," said Clarkson coach George Roll. "It increases the visibility of both schools, and I think it's a good showcase of college hockey north of the border."
Still, Roll wouldn't spend too much time talking about Saturday's game the Saints, instead saying that he and his team were focused on their nonconference matchup against RIT on Friday night.
"We weren't as sharp over the holidays as we were before break," he said. "It was a long layoff. Right now our focus is on Friday and our game against RIT; we don't want to look past Friday. We know we are capable of being better than we were against Bemidji and Vermont. Now our focus is on executing and our own play."
---
The other premier rivalry this weekend will pit Yale against Quinnipiac for the first time; the game will take place on Sunday at noon, a special start time that will allow for TV coverage by NESN.
In an unusual twist, the Bobcats are down on paper as the home team but the game will be played in Yale's Ingalls Rink.
"It's a unique situation — a Quinnipiac home game at Yale's rink," agreed Quinnipiac coach Rand Pecknold.
"We're going to wear the white jerseys but we'll be sitting on the visitors' bench and changing in the visitors' locker rooms," he said, chuckling. "We knew there were going to be some obstacles to overcome until our rink is ready next year."
According to Pecknold, despite not yet facing each other on the ice, the rivalry between the two schools has flourished ever since Quinnipiac was announced as the newest member of the ECACHL, replacing Vermont, which departed for Hockey East.
"Quinnipiac is an in-state, and almost an in-town rival," said Yale coach Tim Taylor. "I'm expecting a terrific atmosphere, a full house.
"Lots of people have been waiting a long time to see this game," he added.
---
There are four nonconference games on the books for this weekend; RIT, as noted above, faces off against Clarkson on Friday night and then travels into Lynah Rink to face the Big Red on Saturday in Cornell's only contest of the weekend.
The other nonconference game this weekend will feature Colgate hosting WCHA-foe St. Cloud State. Despite strong league play and a 6-1-1 record in-conference, the Raiders have struggled to a 4-3-3 record against nonconference foes. They have also struggled of late, losing 7-1 to Providence before Christmas and then losing 4-0 at Bowling Green on Tuesday night.
"We didn't play very well [against Providence] and it carried over to the next night," said Colgate coach Don Vaughan. "I thought we played one good period all tournament and then [against Bowling Green] we got outworked again."
"It was very similar to the two games we played prior to Christmas," he continued. "We simply got outworked."
"At this point in doesn't matter who we play, we have to get back to working hard," Vaughan added. "We got away from what made us successful; I don't know if the guys spent too much time looking at our press clippings or what, but we just have to get back to working hard on the ice."
---
Hard work was also what Brown coach Roger Grillo emphasized; his focus following this team's struggles at the Providence Holiday Tournament was on getting the parts of his team's game aligned for the second half.
"We've been working to get some things straightened out," Grillo said. "This year, we've struggled to put all the aspects of our game together. We've had games where we've played great defense and been unable to capitalize on our chances near the net, and vice versa."
"We're going into this weekend focused on ourselves," he continued. "We're making sure we're executing our game and we feel that if we do that we're going to come out on the upside of a win a lot more often than the downside of a loss."
---
Grillo's colleague, Princeton coach Guy Gadowsky, was whistling a similar tune following his team's strong showing at the Denver Cup, where the Tigers upended the two-time national champion Pioneers 4-1 before falling in the championship to No. 5 Boston College.
"I think we've been playing well all season but haven't had the results to show for it," he said. "[In Denver], our hard work was rewarded. … But just playing well doesn't guarantee anything."
As an example, Gadowsky cited three of his team's last four games-the 4-1 win at Denver, and a split at home with Alabama-Huntsville the second weekend in December. Of those three games, Gadowsky said his team's best effort came in the 4-2 loss to the Chargers on December 9th.
---
I suspect Rensselaer coach Dan Fridgen agrees with Gadowsky's comment on needing more than just good effort to win.
"We came out a little sluggish against Miami," Fridgen said. "As the game progressed, I though we came out and took the play to them. We got some real good scoring chances."
"Unfortunately they got that last goal," he said. "It was disappointing because I thought we had the better of the play. A bounce here or a bounce there would have been the difference."
But Fridgen's larger concern was in how his team struggled to start both of its games in the Ohio Hockey Classic. After the narrow loss to No. 2 Miami, the Engineers again gave the early lead up to Holy Cross.
"The next night, we fell behind on the first shot and now we have to play catch-up hockey again," Fridgen said. "We've got to learn from our nonconference games."
---
In nearby Schenectady, Union coach Nate Leaman could cite the opposite result after a tough loss. The positive he took out of his team's trip to the Dodge Holiday Classic was the way his team responded after absorbing an 8-0 beating at the hands of Minnesota.
"We didn't do ourselves any favors taking so many penalties and giving a team like that power-play opportunities," Leaman said. "You give one of the most talented teams in the nation that many power plays, you can't really expect to come out with a win."
"But I was really happy with the way the team responded the next night," he continued. "It's really important that if you do have a bad game, you can't let that carry over to the next night. Earlier in the season, we didn't do ourselves any favors after losing to Colorado College, and we let that carry over the next night against Air Force."
---
Harvard heads into the Capital Region to face Rensselaer and Union fresh off a strong showing at North Dakota. The Crimson took the opening night contest at Ralph Engelstad Arena by a 1-0 score, and then lost a competitive 3-2 game the next night thanks for two miscues in the last two minutes of the second period that resulted in a pair of Fighting Sioux scores.
"I liked the way we responded after what I thought was a very lackluster performance up at Dartmouth," Harvard coach Ted Donato said. "In front of great crowds and in a great building, great environment … Our team grew up on this road trip.
"We need to use the way we played in North Dakota to help us this weekend," he continued. "Both teams will be tough, and it's a challenge to win on the road in this league."
The pair of games represent the Crimson's last action before a three-week hiatus for Harvard's exam period. The long layoff perennially presents a challenge to Crimson teams, and as both a player and as a coach Donato has seen the importance of entering exam period with momentum.
"Certainly there's no reason to hold back this weekend," he said. "We're going to leave it all out on the ice; we want to enter our break on a positive note."
---
If you aren't able to be in the stands to watch the inaugural matchup between Yale and Quinnipiac at Ingalls Rink on Sunday afternoon, the game will be broadcast on NESN.
Very Briefly
Three short items that are noteworthy despite their brevity.
1. Colgate senior forward Jon Smyth was nominated for the Hockey Humanitarian Award, along with a pair of ECACHL goaltenders. Junior David McKee of Cornell and senior Eric Leroux of Princeton were also nominated.
The list of 18 nominees was announced by the Hockey Humanitarian Foundation on January 4th, and the list of finalists will be announced by the Foundation on January 20th. The award will be presented as part of the festivities of the Frozen Four on Friday, April 7th, in Milwaukee.
2. Sophomore defenseman Sasha Pokulok of Cornell was invited to the selection camp for the Canadian Junior National Team that has been competing in the World Junior Championship in Vancouver over the past week and a half. Of the 34 players invited to the selection camp, Pokulok is the only ECACHL player invited and one of the just five collegiate players in all.
3. Union enters the second half of the season without leading scorer Josh Coyle, who was ruled academically ineligible by the school in mid-December and will not be eligible to rejoin the team until next season. The sophomore winger had nine goals and nine assists so far this season, already a strong improvement over his 11-point freshman season.
ECACHL Honor Roll
This week's ECACHL's Honor Roll reflects the fact that Cornell was the only team in the league to win its holiday tournament, and as such the Big Red boasts on its roster the Goaltender of the Week, David McKee, and also Player of the Week Cam Abbott. Yale netminder Alec Richards was named the Rookie of the Week.
Player of the Week
A senior forward for the Big Red who's been to the Florida College Classic for years now, Cam Abbott helped Cornell control the tournament and repeat as champions.
He assisted on the second goal in the Big Red's 3-0 win over Northeastern, and then scored a spectacular short-handed goal on a great individual effort in the 1-1 tie against Minnesota-Duluth in the Championship Game.
In the shootout against Minnesota-Duluth, Abbott scored the decisive goal in the fifth round to secure the title for Cornell. Abbott also played an important role in the Cornell penalty kill, which held the Huskies and the Bulldogs scoreless over 16 chances in the tournament.
Goaltender of the Week
Given his success last season, which included phenomenal numbers and recognition as a finalist for the Hobey Baker award, it may seem surprising that it wasn't until 2006 that McKee was named the ECACHL's Goaltender of the Week.
McKee has struggled at times this season as compared to last, allowing more than an additional goal a game and struggling with a save percentage below 90%. He recorded his first shutout of the year in the team's 3-0 win over Northeastern; and yet that blanking of the Huskies gave the junior 16 shutouts, an ECACHL career record.
McKee picked a good week to shine, though, helping Cornell to a second Florida College Classic title and winning the tournament MVP award.
Rookie of the Week
Having already been named the league's Goaltender of the Week in early December after wins over Brown and Harvard, Richards picked up right where he left off despite the long winter break.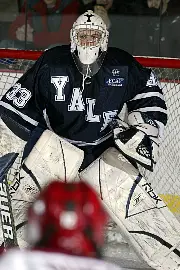 He recorded 44 saves, a career high, in Yale's 2-2 tie with the Mavericks from Minnesota State-Mankato, and then recorded 32 saves on 35 shots against the Mavericks of Nebraska-Omaha. Unfortunately for Yale, one of the few pucks that Richards didn't stop on the weekend came off the stick of Bryan Marshall less than 20 seconds into overtime; that goal gave UNO a 3-2 win over Yale.
"Alec Richards was really big and strong and helped save the day for us against Mankato," said Yale coach Tim Taylor.
"It's his size and ability to center himself that are the keys," Taylor continued. "He's big in the net, he's very efficient in his movements, and he's always in good position to block shots.
"He's very, very patient in net, he let's the puck come to him. It's been a long time since I have seen a freshman as composed as Alec is in the net."
Tournament Team Honor Rolls
As the only league team that won its tournament over the holidays, it's not terrible surprising that Cornell placed the more players on the tournament team than any other. In addition to Abbott and tournament MVP McKee, defenseman Ryan O'Byrne and forward Matt Moulson were also recognized for the Big Red.
Much farther north than the Florida College Classic, Dartmouth and Clarkson both placed one player on the Sheraton/TD BankNorth Tournament team. For the Big Green, goaltender Mike Devine was selected after making 25 saves in a 1-0 loss to Vermont and then coming back the next night and stopping 33 shots in the consolation win over Bemidji State.
For the Golden Knights, sophomore forward Nick Dodge was selected to the tournament team after tallying two of Clarkson's three goals against Bemidji State. His team's leading scorer, Dodge has nine goals and 12 assists through 18 games and has impressed his coach with the improvement he's made from his freshman campaign.
"Nick is a guy that brings it every single night, and every practice for that matter," said Clarkson coach George Roll. "He's been an integral part of our success this season."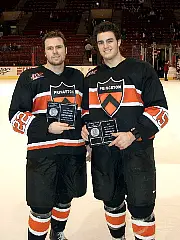 Two prominent parts of Princeton's success in the Denver Cup are the brothers Westgarth. Both juniors, Brett plays defense for the Tigers and Kevin is an imposing physical forward.
In Princeton's 4-1 upset of defending national champion Denver, Kevin scored one goal and added an assist and both he and his brother played strong, physical hockey and helped contain Denver's talented forwards.
"Both Brett and Kevin had great tournaments," said Gadowsky. "They're both big, strong kids. Both are very physical but also very skilled, explosive players."
"I don't think they get enough credit for their foot skills," he added. "They are very deserving of a spot on the All-Tournament team."
Record Versus Nonconference Foes
The holidays were not very kind to teams from the ECACHL, which mostly floundered against their nonconference foes. The holiday tournaments are, to some degree, always difficult for the ECACHL since many of the most prominent tournaments — the Great Lakes Invitational, the Dodge Holiday Classic, the Denver Cup — are hosted by CCHA or WCHA schools and involve a fair amount of travel and a shortened holiday hiatus.
Four teams were not involved in holiday tournaments, and two of those four — Quinnipiac and St. Lawrence — didn't play any games over the holidays. The other two teams, Harvard and Yale, both faced long Midwestern road trips against quality opponents in intimidating venues.
Cornell was the lone tournament winner among ECACHL teams, with a win over Northeastern and a tie (but a win in the shootout) over Minnesota-Duluth. That tie versus the Bulldogs combined with Princeton's surprise win over two-time defending national champion Denver and Harvard's split at North Dakota, helped the ECACHL to a solid showing against WCHA opponents.
The league fared worse against the CCHA-with losses to Miami and Yale's overtime loss to Nebraska-Omaha-and against Hockey East, where Vermont prevailed over both Clarkson and Dartmouth, Providence stunned Colgate and BC handed Princeton a 5-1 loss.
The vast majority of nonconference play has been completed and most teams have settled into a stretch of conference clashes for the next two months. This weekend, though, Clarkson and Cornell will each host Division I independent RIT and Colgate will play a pair against St. Cloud State from the WCHA. And next weekend, Dartmouth will face UNH in Manchester at the Verizon Wireless Center next weekend.
vs. AH 10-4-1
vs. CCHA 4-12-3
vs. CHA 10-3-2
vs. Hockey East 13-12-1
vs. WCHA 4-8-3
vs. Independent 5-1-0 (RIT)
Overall 46-40-10
Commissioners' Cup Update
The ECACHL won the inaugural Commissioners' Cup Series a year ago, and with only two games left in the series the league's fate rests with Yale.
Over the holidays, Niagara pulled off a 6-2 upset at UNH to eliminate Hockey East from consideration. Harvard's road win at North Dakota came a night too early from a Cup perspective, but Alaska-Fairbanks' victory over Alaska-Anchorage in the battle for the "The Last Frontier" eliminated the WCHA from title consideration. All of the remaining four conferences are currently still eligible for the title or a share of it.
The two games remaining are a full month away-Wayne State (CHA) at Northern Michigan (CCHA) on February 4th and UConn (AHA) at Yale (ECACHL) the next night.
While the ECACHL is currently atop the standings for the Commissioner's Cup Series, if there is a winner of the Wayne State-Northern Michigan game, that team will move its respective conference ahead of the ECACHL in the standings. But if Yale is able to beat UConn in a Nutmeg State showdown, the ECACHL will repeat as Commissioners' Cup champions.
USCHO.com/CSTV Division I Men's Poll Top 20 Poll (Jan. 2)
No. 8 Cornell-For the third consecutive poll, the Big Red have held steady at No. 8. Inactive between December 3rd and the 27th, voters kept Cornell in the 8th spot even as teams rose and fell around them. Coming off a repeat win of the College Hockey Showcase that wasn't as strong as it could have been (technically Cornell is credited with a win and a tie, rather than two wins because one came in the shootout), the Big Red wasn't able to jump ahead of Michigan, the only team ranked above it that faltered over the holidays.
No. 11 St. Lawrence-The Saints have been inactive since an impressive 2-1 road win over then No. 3 Vermont on December 17th, but they managed a one-spot hop since the pre-Christmas poll was released December 19th. That slight bump was the result of Princeton's upset of previously No. 13 Denver; that upset caused the Pioneers to plummet like a stone down to No. 17.
No. 12 Colgate-Just like the Big Red, the Raiders had been inactive for two weekends before the December 19th poll was released. In that poll, Colgate held the 11th spot. Since that time, though, Colgate struggled in two games at the Providence Holiday Tournament. The Raiders lost badly to Providence, the team currently ranked No. 13 in the polls, and I'm honestly a little bit surprised that the Friars didn't move ahead of the Raiders. Given the loss at Bowling Green on Tuesday night, Colgate needs a strong showing this weekend against St. Cloud State to keep from tumbling right out of the Top 20.
No. 14 Harvard-The Crimson looked terrible in a 5-1 loss at Dartmouth on December 16th, and then turned around and nearly took two games from national power North Dakota on the Fighting Sioux's home ice. Given its strong showing against UND, I was surprised that the voters didn't have Providence and Harvard ranked above Colgate.
No. 18 Clarkson-The Golden Knights dropped three slots since the pre-Christmas poll, the result of a one-point showing against Bemidji State and Vermont in the Sheraton/TD BankNorth Tournament in Burlington. Clarkson has a tough game looming on Saturday against St. Lawrence, but a win there could convince voters that the Golden Knights should move up a few slots in next week's poll.
Dropped
Once again, no ECACHL teams fell out of the Top 20 this week.