It all began with a phone call in 2003.
Head coach Kevin Sneddon had just taken the reins of the Vermont hockey program. He wanted a player he could count on to help rebuild a winning culture at a school with a proud hockey tradition. He didn't have to look far to find his man — sophomore defenseman Jaime Sifers.
"When I accepted this coaching position, I needed to find one player that could really lead this team to where we wanted the program to go," the coach, now in his third year in Burlington, recalled. "I knew from my first phone conversation with Jaime that he was the one. There is no doubt in my mind that this team would not be where we are today without Jaime as its leader."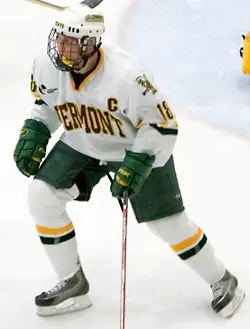 Sneddon got his wish before the season, when Sifers, a Stratford, Conn., native, was voted an assistant captain by his teammates. Later, one of the two captains relinquished his 'C' in the midst of a dreadful 13-game winless start to the season. The players voted Sifers his replacement. He admits it took some getting used to.
"It definitely was a lot of pressure. I was pretty shocked," the 5-foot-11, 210-pounder said. "But that's what my teammates wanted me to do. … It took a little to get completely comfortable, but, with the help of my other captains and my coaches and my teammates, the transition was pretty smooth."
Sneddon had full confidence that Sifers, the hard-hitting backbone of the defense, would succeed in his new role. "Not many players could handle that pressure. He was perfect, and his teammates accepted him for the great leader he is, even though he was young."
A vocal and passionate player, Sifers could easily have been speaking about himself when describing defense partner, junior Kenny Macaulay.
"[He's] a tough kid, and he's got great puck possession," Sifers said. "I always know where he's gonna be. He always knows where I'm gonna be. I think that goes for the majority of our defensive corps. He plays a gritty style. I can complement him well. I can jump in with him pretty much whenever."
Now, in his senior year, Sifers, 22, the first three-year captain for the Catamounts in 40 years, leads a much-improved defense that limits scoring chances and blocks a boatload of shots — the quintessential reason for Vermont's success. The Cats gave up just over 20 shots on goal and less than two goals per game through the end of 2005. Recently, they claimed their own holiday tournament trophy, the Catamount Cup, without surrendering so much as a single goal. It was the second time in two years the Cats had blanked two teams in a weekend sweep.
Sifers is also vital to both the power play and penalty kill — two of the best special teams units in the country.
"His best plays usually come on the penalty kill because he's so competitive down low," said Sneddon. "He reads the play very well and can block shots from anywhere. We've placed more responsibility in his hands for the power play, and he seems to be doing great with the added work."
"We know each other so well, and we pay attention to each other's movements. We can read off one another, if something goes wrong," explained Sifers of his teammates. "Everyone loves to take a shot in the chest, if you have to. [It's] definitely a group effort. The aggressiveness and discipline of our penalty kill is just top notch."
Sifers said the improved defense is a function of each skater having a well-defined role. "We each know what we need to do when we're out there," he said. "We know who we are playing against. We really work together with our forwards with a lot of talk and so much commitment to blocking shots and getting the puck out [of the defensive zone] when we need to."
Sneddon, who coached 10 seasons at Union as both an assistant and head coach prior to arriving at UVM, summed up Sifers' qualities with nothing but praise for his steady blueliner.
"Jaime is the toughest player I have coached. He does all the little things very well. He sacrifices his body to make plays, he finishes every check, he blocks shots, and he competes every shift," Sneddon said. "He does have talent to go along with that toughness, which makes him one of college hockey's best defensemen. … He represents all that is good about college hockey: toughest competitor, hardest worker, and yet a true gentleman.
"[He] steps on the ice and is willing to do anything to help the team win," the coach continued. "He steps off the ice and is willing to do anything to help out a friend, a member of the community, a sick child. He is a great person and that makes him a great captain."
As evidence of his team-first attitude and tremendous leadership qualities, Sifers doesn't cite his only goal this season, a once-in-a-blue-moon, top-shelf, breakaway tally, as his best moment wearing green and gold. Instead, harkening back to last season, he is most proud of the way the team responded, overcoming a one-game deficit on home ice in the ECACHL quarterfinals to advance to the league's Final Four at Pepsi Arena.
"Last year, going into the playoffs, we had the first-round bye, and it was a lot of pressure on us," he said. "Everyone else was looking ahead to Albany. We still had a strong Dartmouth team coming in, our biggest rivals. It was a good test for me and the other leaders of the team just to keep everyone focused. Everyone did such a great job."
Sneddon and his staff knew they could rely on Sifers then, as they do now. "His ability to play off the coaching staff, as well as read the team, is a quality that makes him so special as a leader," he said. "Jaime and I talk all the time about the team, how things are going in the locker room, problems, energy level, etc. He is a direct link between the staff and the players. There is no one that I trust more than my staff and Jaime."
Last season, Sifers was named an ECACHL second-team all-league selection and the conference's Best Defensive Defenseman. He was also a semifinalist for the Walter Brown Award, given to the top American-born college player in New England. Sifers is also among the nominees for this year's Hockey Humanitarian Award, presented to college hockey's finest citizen.
What does Sneddon see in Sifers' future?
"I know he will be successful in whatever he aims to achieve. He has the ability to be a great pro player, a great businessman, a great family man, and a great community leader. Don't be surprised — he will be all that and more."