Eric Ehn bounced around the Michigan minor hockey ranks and then through two junior leagues before landing in Colorado Springs with the Air Force Academy.
It's a journey Ehn laughs about.
"I pretty much played for every AAA team in Michigan growing up," said Ehn, a native of Dexter, Mich., just five miles north of Ann Arbor, who played for HoneyBaked, Compuware, Little Caesar's and Belle Tire travel teams as a youth. "Then after my first year of juniors (in the NAHL with the Capital Centre Pride in Lansing), the team folded and I went to Green Bay in the USHL."
It was while Ehn — a 5-foot-9, 175-pound sophomore forward with the Falcons and their leading scorer with 10 goals and 19 points — was with the Pride that he first thought about joining the Air Force.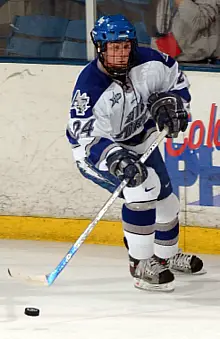 "I spoke with (assistant coach) Maj. Joe Doyle a couple times over the phone and he talked about what they could offer me at the Academy," remembered Ehn. "I came out for my visit and the guys that were here really made it feel like a family-type atmosphere. I weighed my options and here was the one place that had everything I wanted, plus a hockey team."
Playing on a line this year with fellow Michigan native Mike Phillipich, a freshman from Lansing, and junior Andrew Ramsey, Ehn is nearing his point total (22) from all of last year when he was a member of the CHA All-Rookie Team. He said aside from bulking up over the summer, his game hasn't changed from last year.
"Phillipich I grew up playing with for about four or five years, so there's a history there," Ehn said. "And playing with a guy like Ramsey, who's so dynamic and was second on the team in scoring last year, also helps."
Being a cadet has also made Ehn, who turns 22 on Jan. 29, realize the importance of his family, a group he sees but four weeks out of the year.
"We get a three-week leave during the summer from June into July and then about five or six days over Christmas," explained Ehn. "And that's it.
"This is a school your parents want you to go to because of all the discipline. But you know what? I still do what I do and the guys, well, we can still be idiots."
Ehn said the last bit with a laugh, it must be noted.
Air Force head coach Frank Serratore takes a role in the player's discipline and also has a very passionate side for the game as Ehn has noticed the past two years. Apparently, the required daily amount of eight hours sleep doesn't figure into Serratore's agenda.
"Coach gets so in-depth that last year, I struggled quite a bit," Ehn said. "I still struggle, to be quite honest. But Frank is so passionate about hockey. He eats, sleeps and breathes the game. I mean, I don't know if he sleeps for several days in a row. I get emails from him at 2 a.m. talking about how he felt after the game and how we can rebound and stuff like that.
"I don't think 'intense' is a strong enough word to describe Frank when it comes to hockey. Constructive, for sure, describes him."
But intensity is an item the Falcons need to build on if they are to climb up the CHA standings this season.
"It's not like we're playing bad or have bad luck," Ehn said. "We outshoot and outwork the other team, but we just have to chase down that X-factor.
"Once we do that, I think we'll be pretty dangerous."
UAH Nets Sweep Over Falcons
At home for the first time in nearly two months (Nov. 11-12), Alabama-Huntsville reaped the benefits of home-ice advantage with a sweep of Air Force at the Von Braun Center.
Friday night, UAH took a 3-2 win and then posted a 6-3 win Saturday night.
Chargers head coach Doug Ross is hoping some momentum can come as a result of last weekend's play.
"Getting a sweep against Air Force is important for us, especially CHA games," Ross said to the Huntsville Times. "We were real flat first part of the game, first period. Really they took it to us first period. I think we woke up a little bit and our guys responded. We played our 'A' game for 12 minutes in the second period and that was the end of it."
"We came together as a team in the second period," said freshman forward Kevin Galerno in the same story. "We had some of the leaders step up and some of the younger guys, too. We've got to give credit for the leaders showing some of us younger guys what to do."
A positive for Air Force was freshman Michael Mayra's first collegiate goal in an eight-goal (six by UAH) second period. In doing so, UAH became the fifth team in CHA history to score six goals in a period.
Warriors Hit by Injury Bug
Two WSU sophomore forwards are on the shelf with serious injuries and one may not play again.
Redshirt Mike Forgie escaped potential paralysis during a recent practice when he met the boards head-on and is out for the year, maybe longer, with what the school calls a "neck injury."
Tylor Michel broke his fibula and is out 4-6 weeks to boot.
Forgie missed all but two games of the 2003-04 season with an injury, so time off to heal is nothing new for the 6-foot-3, 212-pounder.
Krug Nets Rookie Honor
Wayne State freshman defenseman Matt Krug has been selected honorable mention national rookie of the month by the Hockey Commissioners' Association.
Krug helped the Warriors compile a 4-2-0 mark in December including a sweep of Merrimack in their only home games. In the six contests, Krug had seven points on a goal and six assists including three helpers in the overtime win over Merrimack on Dec. 10.
He was +3 for the month, while his lamplighter was the game-winning goal versus Western Michigan on New Year's Eve.
Van Nynatten a Workhorse
Even though Niagara goalie Jeff Van Nynatten entered the record books last weekend, it was bittersweet as the Purple Eagles were swept in their series with then-No. 3 (now No. 2) Minnesota.
Saturday night, Van Nynatten made 59 saves, a record for CHA goaltenders, and 29 in the third period, also a record. But NU fell to the Gophers, 7-1. The Purple Eagles also lost, 5-2, on Friday night.
Saturday was the third-straight game Niagara allowed more than 50 shots.
The game also featured a "fight" between NU captain Jason Williamson and Minnesota's Chris Harrington. Both will sit their next game after a mandatory game disqualification.
"I just tried to tie up the guy and make sure no one else got involved," Harrington said to USCHO after the game. "It was like any other double minor for roughing or delay of game. That was unbelievable."
Minnesota head coach Don Lucia was equally upset with the call.
"I don't have a problem if a guy gets thrown out for a legitimate fight," Lucia added. "But that wasn't."
Van Nynatten has made 654 saves this season, the fourth-most on Niagara's single-season chart. He only needs 140 more stops to surpass his career high. Also, he has 2,534 saves during his four years at Niagara, which is 105 short of Greg Gardner's school record of 2,639.
This year has been just what NU head coach Dave Burkholder expected out of his senior goaltender. Burkholder also knows this is Van Nynatten's last shot to taste some of his sophomore-year CHA glory.
"I look at Jeff Van Nynatten's career and what he did as a freshman, and then as a sophomore he was one of the best goalies in the country when you look at the stats," said Burkholder. "And then last year his injury forced him to lose two months. He couldn't work out for eight weeks because of the threat of infection with his hand. He just never got back on track.
"But he has been given the chance to lead this team this season. We have three very good Division I goalies (junior Allen Barton, sophomore Scott Mollison and freshman Juliano Pagliero) behind him who push him on a daily basis.
"I would like to have four guys ready to play at any time. So if one gets the call, he has to step in and be ready. If he hasn't played in a couple weeks and he gets called, then he has to make the best of his opportunity. We have a senior goalie who needs to be replaced for next season and we have already done that. Our plan is when Jeff graduates, Mollison, Barton and Pagliero are going to be there."
Bemidji, Robert Morris Do Splits
Robert Morris junior Aaron Clarke is making his presence known at Robert Morris. The Niagara transfer has scored three goals in three games since becoming eligible last month.
Clarke scored two of those goals in RMU's mild 2-1 upset of Bemidji State last Saturday at home. The Colonials were shutout, 2-0, the previous night by the Beavers.
Rob Sirianni's 30th-career goal was all BSU could muster against Robert Morris goalie Christian Boucher, who finished with 28 saves. Layne Sedevie stopped 21 for the Beavers.
Last Friday, Shane Holman and captain Jean-Guy Gervais scored for Bemidji and Matt Climie made 26 saves. Boucher faced 50 shots for RMU and knocked aside 48.
At times, Robert Morris appears ready to take forward strides, but during other stretches, the Colonials look a year or two away. The CHA coaches picked RMU to finish fifth in the division in the preseason poll, and that in itself had head coach Derek Schooley optimistic.
"Obviously in our second year as a program, it's for us to take a step forward as a program," said Schooley. "The league coaches recognized the surprising record we had in our first-year and with that, recognized that we are going to be a better team in 2005-2006."
RMU sports a 5-12-1 overall record. At this time a year ago through 18 games, RMU was 4-11-3. Each record equates to 11 points.