They Are The Champions
There's a new sheriff in town in the CCHA.
Miami beat Ohio State 6-3 Tuesday night, and in the process the RedHawks gave themselves a nice little Valentine's Day gift: the CCHA regular-season championship.
The win over OSU gave Miami 38 points in conference play and an insurmountable nine-point lead over Michigan with four games (eight potential points) remaining in the regular season for each league member.
Thus the celebration was on in Oxford, Ohio.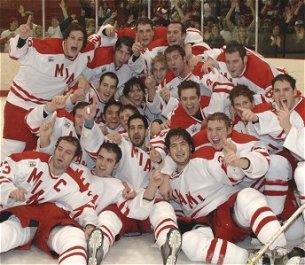 Miami was not the favorite in the CCHA before the season — far from it. Coming off a 15-18-5 overall record and an 11-13-4 CCHA slate in 2004-05, the RedHawks were picked to finish sixth in the 12-team league by the coaches, and seventh by the media.
But after a season-opening shutout loss to North Dakota in the Lefty McFadden Invitational, Miami got on a roll and never looked back. The RedHawks ripped off six straight wins after the UND loss, and have also enjoyed two separate five-game winning streaks since then.
More telling, the RedHawks haven't lost consecutive games all season. That sort of consistency is hard to come by.
"When you get on a roll like we have, it tends to smooth things out and the thing about this team is that it's so close," Miami forward Nathan Davis, who had four points in the title-clinching win, told USCHO's Zach Silberman.
"Chemistry" is an ill-defined concept in team sports. Everybody agrees it's important, but few know quite how to get it or keep it. I would suggest that in college athletics, especially, a key ingredient to chemistry is coaching. Strictly speaking, you don't have to like your teammates off the ice to have good chemistry on the ice — though that doesn't hurt.
But on-ice chemistry develops when players and coaches are united in pursuit of a common goal, when roles and responsibilities are well known, when systems allow players' talents to shine through.
In short, let's credit Miami head coach Enrico Blasi with a lot of this. Miami's style has more than suited the team's makeup, and the seventh-year head coach's comments before the season began have turned out to be spot-on.
"I think our question mark is in goal," Blasi told USCHO's Paula C. Weston in her CCHA season preview. "We have two young men that will battle for that position — Charlie Effinger played some games for us last year down the stretch and Jeff Zatkoff."
Well, the results of that battle are in — and it's a draw. Zatkoff (12-3-1, 1.75 GAA, .938 SV%) and Effinger (9-2-3, 1.76, .934) have been a formidable one-two punch all season, replacing the departed Brandon Crawford-West. Both rank among the national leaders in goals against average and save percentage, and their statistics are remarkably similar.
Did I mention that Effinger is a sophomore who saw limited playing time last season behind Crawford-West, and that Zatkoff is a freshman?
Of course, the goaltenders have gotten plenty of help from such notables as defenseman and team captain Andy Greene, who's putting on another show in his senior season. Greene's numbers (8-18–26) and leadership are a big part of the RedHawks' stability, as is the scoring of Davis (the team leader in goals and points with 16-15–31), and playmaking defenseman Mitch Ganzak (2-24–26).
The RedHawks have also had a key — and sometimes frustrating — variable go their way. Last year's Miami squad was banged-up most of the season, never permitting Blasi's charges to show what they could do as a group.
That certainly hasn't been the case this year, as the RedHawks have upset the CCHA's longstanding balance, upstaging Michigan and Michigan State as well as the Buckeyes, the preseason pick to win the league.
The only remaining questions are how the RedHawks will carry their dominance into the CCHA tournament, and into the NCAAs.
The regular season may be wrapped up for Miami, but a fascinating finish is still in the cards.
Frozen Moments
It goes without saying that the marquee game on the schedule last weekend was Wisconsin against Ohio State in the Frozen Tundra Hockey Classic at Lambeau Field.
That game, witnessed by over 40,000 fans at the historic NFL venue, was won 4-2 by the Badgers, who likely played their last game of the season with freshman Shane Connelly in net. Connelly, who was the goaltender of record in four straight losses after starting netminder Brian Elliott's injury in practice, helped Wisconsin right the ship in a split at Minnesota-Duluth before making 18 saves in the win Saturday in Green Bay.
For the Badgers, the experience nearly outshined even the win.
"This week was unique in the energy that it brought to this team and the players," UW head coach Mike Eaves told USCHO's Eric J. Schmoldt. "It will springboard us through our last few weekends of the regular season and into the playoffs."
That's a springboard the Badgers may very much need. During Elliott's absence, they lost what once looked like an insurmountable lead in the WCHA standings, and now stand third in the league behind Denver and Minnesota — though they are still ranked No. 3 in the nation in the latest USCHO.com/CSTV poll.
Meanwhile, a quick look at the PairWise Rankings — the only ones that really matter — shows UW still on top. And an NCAA tournament berth has been all but assured for some time now, thanks to the Badgers' incredible 18-2-2 start. But no team wants to go into the postseason without some momentum, which for Wisconsin has been hard to come by the past few weeks.
And speaking of momentum, the Badgers' Lambeau opponents could use some of their own. With the Tundra defeat and its subsequent loss Tuesday to Miami, Ohio State has lost four straight games to drop below .500 on the season.
Yes, the losses all came against powerhouse opponents (Michigan, Michigan State, Wisconsin and finally the RedHawks), but teams hoping to make the national tournament need to win at least some of those.
Of course, the Buckeyes should be used to the rollercoaster ride by now. A brutal 2-5-1 start to the season, which included a sweep at the hands of lowly Western Michigan, promptly gave way to a five-game winning streak to put OSU back on track at the end of November.
A topsy-turvy couple of months followed, featuring victories over Michigan and Miami, but also losses to Alaska-Fairbanks, Bowling Green and Notre Dame. Amazingly, though, Ohio State is still in reach of an NCAA tourney bid thanks to strength of schedule.
With its remaining regular-season games coming against solid PWR opponents in Ferris State and Northern Michigan, and with the CCHA tournament yet to come, it's conceivable — though not likely — that OSU could finish the year at .500 and still make the NCAAs.