What an oddball year this has been in College Hockey America.
Alabama-Huntsville and Bemidji State are 1-2 in the standings and Niagara sits tied with the Beavers. Was that much expected? Perhaps.
But for the bottom three, most figured Wayne State would be in the No. 4 range, maybe even No. 3, and Robert Morris and Air Force would flip-flop basement spots. Expected? Perhaps.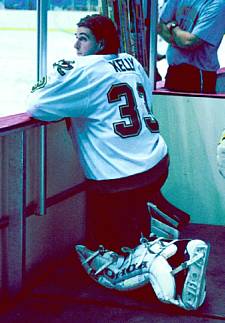 With three weeks left in the regular season, Wayne State has had a rough go and sits in the five hole, just a point up on Air Force. The Warriors have underachieved and much of that may be the goalie factor. Matt Kelly has proven to be a No. 1 goalie, but he's done nothing more than split time with Will Hooper this year. And altogether, WSU has but five wins with Kelly notching three.
The Colonials have been the surprise team of the conference and have ripped off a five-game unbeaten streak heading into this weekend's game at Bemidji State.
Several coaches around the league have gone on record as saying they don't want to face RMU in the CHA tournament in Detroit the second weekend in March. Colonials' goaltender Christian Boucher is very underrated and would be more well-known if he were part of a higher-profile team. But that's obviously not going to change the fact RMU will ride Boucher as far as he can take it.
Another underachiever has been Air Force. With a fairly solid veteran roster, some figured the Falcons would at least challenge for fourth place in the league. Pete Foster earned the two wins last weekend in net for Air Force against Niagara and RIT, but can the streak continue? Time will tell.
Alabama-Huntsville and Bemidji State, in a perfect world, meet in the finals in Detroit on Mar. 12. But don't count out anyone else. Not yet, anyway.
That's what makes the CHA exciting. When coaches give you the "Any team can beat anyone else on any given night" line, sure, it's a cliché, but it holds true in the CHA and this season is proof. Bemidji saw time in the national polls earlier this season and UAH should be there now.
This weekend, all six games on the docket are league games and the postseason picture may get a tad clearer come Sunday, but don't plan on it.
Who would have thought Air Force could take out NU last week or that Robert Morris would be on a roll and peaking at the right time? Can Bemidji State and UAH hold onto the top two spots and get first-round byes in the tournament? Or will the Purple Eagles throw a wrench into those plans?
Many questions, but probably few answers. Or maybe not. Saturday night postgame(s) can't get here soon enough.
Beavers Secure High-Profile Recruit
Bemidji State has reportedly received a verbal commitment from Dauphin Kings forward Joey Moggach for this fall.
A 5-foot-7, 165-pounder from Brandon, Man., Moggach, 20, leads the Manitoba Junior Hockey League in scoring with 50 goals and 99 points in 55 games, averaging almost two points per game.
The next highest scorers on the Kings, T.J. Warkentin and Joel Malchuk, have 64 points apiece.
Niagara-Air Force Series Yields Split
Last weekend, Niagara was poised to sweep Air Force and gain ground on Bemidji State and Alabama-Huntsville. Only problem was that the Falcons didn't comply and beat the Purple Eagles Friday night.
Air Force escaped Dwyer Arena with a 3-2 win Friday, but NU retaliated with a 6-2 win Saturday.
Billy Devoney's goal with 2:38 left in regulation won it Friday for the Falcons.
"This is the best team I've had since I've been here and we compete so well at the Division I level," Air Force head coach Frank Serratore said. "Our guys work so hard and do so many things well. (Goaltender) Peter Foster had a big game for us and we needed it. We found a way to get three goals tonight and we held them to two. That was the bottom line."
"My hat's off to them; they outwork teams and have been outshooting teams and we knew that coming in," Niagara head coach Dave Burkholder said. "All we could get in Colorado Springs was a split so it's not like they snuck up on us. They were better in transition, and if our power play doesn't bail us out we won't win a lot of games. That's not a good way to go into games."
Saturday night, Burkholder nailed down his 50th career CHA victory and the Purple Eagles moved into a tie for second place with Bemidji State.
"I wasn't happy with our start and their two power-play goals," Burkholder commented. "But we had much more energy tonight and I thought if we stuck with it, kept our feet moving and finish our checks, which we didn't do last night, that we would eventually get it done. And we had some extra power-play time, which definitely helped."
The Purple Eagles were 3-for-12 on the power play while Air Force was 2-for-6. Ian Harper made a season-high 32 saves for the Falcons while Jeff Van Nynatten stopped 22 for Niagara.
"It was kind of dysfunctional because of all the penalties," Serratore said. "It was a special teams kind of game and Niagara took advantage of that. Niagara was better at special teams and goaltending. We were better last night and they were better tonight. We had an opportunity to win the third period and we simply didn't get it done."
RIT Win Gives Falcons Confidence
Brian Reese's overtime goal Monday gave Air Force a 3-2 win over host RIT. The four points on the three-game road trip no doubt has the Falcons booming with confidence.
"We dominated the majority of the game and deserved to win," Serratore said. "It wasn't pretty, but it was a win and at this point, all that matters is finding a way to get the W. The more we win, the better we will get at executing late-game situations.
"I am not going to let our lapse in the last five minutes of the third period tarnish a great effort. We slipped, but we did not fall and our kids showed great courage and resiliency in overcoming the adversity that occurred late in the game. We had to win and we did. A tie would have felt like a loss and a loss would have been catastrophic to our confidence.
"The bottom line is we played well and earned a great win, a win that gave us two wins in the three-game road trip."
And nothing gets easier with Alabama-Huntsville coming to the Cadet Ice Arena this weekend.
Wayne State Falling Back To Reality?
Now just a point out of last place in the conference, Wayne State knows its luck can change with just a bounce or a flick of the wrist, or even a veteran to utilize his authority.
"Guys need to stay focused," senior defenseman Steve Kovalchik said. "It's a long season and we only have a few games left before the tournament. As one of the older guys, it's my job to keep the guys loose and comfortable and try to lead by example."
Kovalchik also leads WSU in scoring with a 1-17-18 line.
The Warriors started out 0-8-2, but then won four of their next six. Since a win against Western Michigan on New Year's Eve in the Badger Showdown consolation, Wayne State is 1-7-4 for an overall 5-17-6 mark. The Warriors are 2-7-5 in league play.
Robert Morris Unbeaten In Five
Give Robert Morris the benefit of the doubt. The Colonials are a young team in just their second year fielding one.
Looking at their schedule this season, and even last year, and losing streaks stand out like that all-too familiar sore thumb.
But lately, the Colonials are in unfamiliar territory: fourth place with the aforementioned five-game unbeaten streak (4-0-1). The one tie was last Friday in a 7-7 stalemate with Wayne State. It was the first time they'd ever scored seven goals in a game.
RMU had scored six goals only once before, in a win over Niagara last year.
UAH Gets Sweep At Home Over RIT
Though both games were decided by identical 4-3 scores, Alabama-Huntsville came away with two home nonconference wins last weekend over RIT.
"We're becoming a better hockey team," UAH head coach Doug Ross told the Huntsville Times. "And we're timing it right. We've got a tough stretch ahead, so we need to keep our focus."
The Chargers, now 10-1-1 since Jan. 6, lead the CHA, but have no love from the USCHO.com/CSTV weekly poll as they are still not ranked among the nation's top 20. Perhaps another sweep this weekend in Colorado Springs would sway a voter or two.