Repeating an awards hat trick from Hockey East's inaugural season, the University of New Hampshire swept the three major individual awards, acknowledging the season's top player, rookie and coach.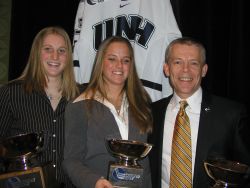 Sophomore Sadie Wright-Ward put on a scoring display in the final week of the regular season (12 points in just three games) to win the scoring title by just one point ahead of teammate Jennifer Hitchcock, and subsequently claimed the honor of TPS Hockey Player of the Year. Hitchcock, however, is being honored as the ITECH Three Stars Award winner, identifying the best collection of single-game performances this season.
First-year Wildcat Samantha Faber scored 20 of her 31 Hockey East points in the final month of the season to remove any doubt about who would be ITECH Rookie of the Year. She was a unanimous selection by the Hockey East coaches. And for the third time in four years of Hockey East play, UNH head coach Brian McCloskey has been chosen by his peers as the RBK / CCM Coach of the Year.
Providence College senior Karen Thatcher will be presented with the Sportsmanship Award for the third consecutive year, and UNH goaltender Melissa Bourdon will also make it three in a row as well, as the league's Goaltending Champion. She established a personal best with a 1.18 goals-against-average in league play in 2005-06.
Three of the league's four semifinalists dominated the All-Star selections this season, as Boston College, UNH and Providence combined to garner 10 of the 12 spots on the two squads. Top-ranked UNH led the way with four selections, including three first-teamers, while BC and Providence had three each.
But of the five repeat honorees from last season, each represented a different Hockey East program. Both All-Star goaltenders, UNH's Melissa Bourdon and UConn's Kaitlyn Shain, were repeat selections, although Shain got the nod as the first-teamer this year. PC's Karen Thatcher and BC's Deb Spillane were not surprisingly selected as All-Stars again, and Maine blueliner Kelly Law graduated to the first team following a second-team selection last year. Law and UNH's Martine Garland narrowly edged Kristin Gigliotti of Providence for first-team status.
BC's Maggie Taverna was the only rookie among the All-Stars, and was one of two unanimous selections on the ITECH All-Rookie Team, alongside Rookie of the Year Samantha Faber. Although only in its first season as a varsity program, Boston University placed two players on the All-Rookie squad, goaltender Allyse Wilcox and defenseman Amanda Shaw.
First Team All-Hockey East
F – Sadie Wright-Ward, New Hampshire (So., Durham, N.H.)*
F – Karen Thatcher, Providence (Sr., Douglas, Mass.)
F – Jennifer Hitchcock, New Hampshire (So., LaSalle, Ont.)
D – Martine Garland, New Hampshire (So., Toronto, Ont.)
D – Kelly Law, Maine (Jr., Markham, Ont.)
G – Kaitlyn Shain, Connecticut (Sr., Calgary, Alb.)
Second Team All-Hockey East
F – Sonny Watrous, Providence (Jr., Albuquerque, N.M.)
F – Deborah Spillane, Boston College (So., Franklin, Mass.)
F – Sarah Feldman, Boston College (So., Fall River, Mass.)
D – Maggie Taverna, Boston College (Fr., Howell, N.J.)
D – Kristin Gigliotti, Providence (Jr., Sauquoit, N.Y.)
G – Melissa Bourdon, New Hampshire (Jr., Ile Bizaed, QC)
Honorable Mention All-Stars
G – Marisa Hourihan (NU)
D – Amy McLaughlin (UNH), Julie Poulin (Maine) and Amanda Shaw (BU)
F – Jaclyn Hawkins (UConn), Cara Hendry (BU), Nikki Petrich (NU) and Becky Zavisza (BC)
2005-06 ITECH All-Rookie Team
Allyse Wilcox BU Goaltender (Grand Blanc, MI)
Erin Normore PC Defenseman (Cambridge, ON)
Amanda Shaw BU Defenseman (St. Thomas, ON)
Maggie Taverna BC Defenseman (Howell, NJ)
Samantha Faber* UNH Forward (Mt. Sinai, NY)
Patricia Gagnon Maine Forward (Mont-Joli, QC)
Becky Zavisza* BC Forward (Suffield, CT)
* unanimous selection