It was a banner year for netminders in the CHA, as two goaltenders shared the league's Player of the Year award. Alabama-Huntsville senior Scott Munroe and Niagara senior Jeff Van Nynatten were honored as co-Players of the Year at the CHA's annual awards banquet Thursday evening at the Hall of Legends at Ford Field in Detroit.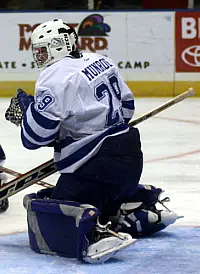 Munroe was also selected First-Team All-CHA for the second straight year after finishing third in league play in winning percentage (.658), save percentage (.915) and goals against average (.2.80). Meanwhile, Van Nynatten, the CHA's First-Team goalie in 2004, set CHA records for all games in career wins (53) and was named Second-Team goaltender.
Joining Munroe as a repeat selection on the CHA First Team was Alabama-Huntsville senior defenseman Jeremy Schreiber, who earned his third consecutive First-Team honor. Schreiber anchored a defense which finished second in goals against with 57 goals while leading all CHA blueliners with 13 assists and 16 points. The other First Team pick on defense was Bemidji State senior Andrew Martens, who was second among CHA defensemen with 11 assists and a plus/minus rating of +11 on the league's top D.
Bruce Mulherin, a Second-Team pick last year, finished the season with 15 goals in 31 games to earn First-Team accolades this season. He led the CHA in goals in conference games with 14. Mulherin was joined at forward by Sean Bentivoglio, who notched 28 points in 20 CHA games, tied for first in the league, and Bemidji State junior Luke Erickson, who scored 11-14–25 in league games.
Joining Van Nynatten on the All-CHA Second Team were a trio of freshmen, Niagara forwards Ted Cook and Les Reaney and Air Force defenseman Michael Mayra, along with Wayne State senior defenseman Steve Kovalchik and Falcon sophomore forward Eric Ehn.
Cook and Reaney, who also shared the league lead in conference scoring with 28 points, were selected as the league's co-Rookies of the Year. In all games, Cook established CHA records for freshmen with 19 goals and 10 power-play goals. Reaney established a conference rookie record with 39 points overall.
Cook, Reaney and Mayra made up one-half of the all-rookie team, which did not have a goalie, but instead consisted of four forwards and two defensemen. They were joined at forward were Robert Morris' Chris Margott and Bemidji State's Tyler Scofield, and on defense by Bemidji State's Cody Bostock.
For the fourth time in seven years, the CHA Student-Athlete of the Year was bestowed upon a member of the U.S. Air Force Academy; senior defenseman Brooks Turnquist earned this year's award. An astronautical engineering major with a 3.16 grade points average, Turnquist will graduate this spring and receive his commission as a U.S. Air Force second lieutenant.
The Coach of the Year Award went to Niagara's Dave Burkholder, whose team won its second CHA regular-season title and first under Burkholder during his six-year tenure.
CHA All-Conference Teams
First Team All-CHA
F Sean Bentivoglio, Jr., Niagara*
F Luke Erickson, Jr., Bemidji State
F Bruce Mulherin, Sr., Ala.-Huntsville
D Andrew Martens, Sr., Bemidji State
D Jeremy Schreiber, Sr., Ala.-Huntsville*
G Scott Munroe, Sr. Ala.-Huntsville
Second Team All-CHA
F Ted Cook, Fr., Niagara
F Eric Ehn, So., Air Force
F Les Reaney, Fr., Niagara
D Steve Kovalchik, Sr., Wayne State
D Michael Mayra, Fr., Air Force
G Jeff Van Nynatten, Sr., Niagara
All-Rookie Team
F Ted Cook, Niagara*
F Chris Margott, Robert Morris*
F Les Reaney, Niagara*
F Tyler Scofield, Bemidji State*
D Cody Bostock, Bemidji State
D Michael Mayra, Air Force*
*-unanimous selection