This year's championship was the first Division III men's ice hockey championship game ever televised to a national audience.
Having a TV audience had several effects on the game — both large and small — over the course of the afternoon. Pre-game interviews with each of the head coaches were recorded about two hours before game time for use during the lead-in to the broadcast. Also, immediately following the end of each period, a brief interview was held with a player just after he stepped off the ice.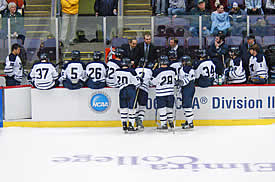 Perhaps the most visible impact was the TV timeout that occurred at regular intervals during each period. They usually lasted about two minutes each, giving the players a rest and the coaches time to work on in-game adjustments. The extra breaks in the action also allowed the coaches to keep their tops lines more fresh, without having to play the third or fourth forward lines as much as normal.
"I don't think [the TV] phased too many of us," said Middlebury junior John Sales. "We were actually shocked when the first TV timeout came on. We didn't really know what was going on. We didn't know if [St. Norbert] called timeout or coach [Beaney] called timeout. We didn't think we needed a timeout."
"Coach actually looked up at us and said 'I don't really know what to say. We'd better start coming up with some jokes.' Then our trainer stepped up to the plate, told us a pretty nice joke and had everyone laughing. It kind of loosened us up."
The CSTV crew arrived in Elmira about 5:00 a.m. Sunday morning, after covering the ECACHL playoffs in Albany on Saturday. They spent the rest of the morning setting up their cameras, crowd microphones and announcers' area. By the time USCHO got to the rink about two hours before game time, a very tired-looking CSTV crew was putting the finishing touches on their preparations.