Ice Sheet
One of the bigger factors in the game was the larger dimensions of the ice sheet in Mariucci Arena. Wisconsin had played a handful of games on a larger ice surface while facing WCHA opponents, but St. Lawrence had not played even a minute on the Olympic-sized surface.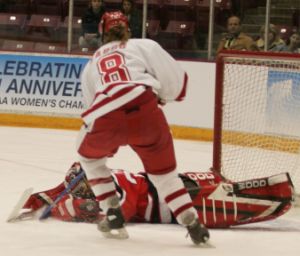 "The biggest adjustment for Paul [Flanagan, SLU coach] and his group was probably the bigger ice sheet," said Wisconsin coach Mark Johnson. "You can practice on it, but until the game starts you don't know how the players are going to react to the bigger surface."
Flanagan agreed that it was an issue.
"In hindsight, we probably should have bussed up to Lake Placid to practice more on the larger ice sheet," he said, referring to the Olympic ice rink where next year's Frozen Four will be held, not far from the St. Lawrence campus. "It made a difference, particularly when we had to shorten the bench. Our third line hasn't been good at putting the puck in the net, and we needed a goal.
The larger playing area meant more ice to defend.
"Our players would skate all the way up the ice and back, and they would come to the bench red in the face," Flanagan said. "It was really a situation of not being conditioned for that. We tried to make sure they came of the ice before their legs would get tired, but they were gassed.
"It caught up with us in the third period," he continued. "But the game is played where the game is played. Last year was on a larger ice sheet, and next year is on a larger ice sheet. We'll have to do something about it. I don't think St. Lawrence is going to build us a new rink."
Mmmm Bop
A technical miscue from Tia Hanson nearly cost the Badgers a goal earlier in the game. In a collision with another player, Hanson fell to the ice surface. As play continued, she gingerly got to one foot, and slowly hobbled toward the Badger bench. St. Lawrence had the equivalent of a power play and was putting pressure on the Wisconsin goaltender, Jessie Vetter.
Luckily for Wisconsin, it wasn't an injury at all.
"The front of my skate broke off," she said, laughing about it after the game. A replaced blade easily corrected the problem, and she returned in time for her third period heroics.
Shots
As any hockey coach worth his or her salt will tell you, shots don't tell the whole story of a game.
For instance, St. Lawrence had the shot advantage over Wisconsin 27-25 for the game. However, nine of those shots for the Saints came on the power play, versus only one for UW. That means that skating five-on-five, the shots were 24-18 in Wisconsin's favor.
"They had a lot of shots on the power play, but they were mostly point shots," said netminder Vetter, a freshman. "Our D did a good job of keeping the shots where I could see them, and then clearing them out."
"They didn't give us many good shots," agreed Flanagan. "We had a bunch of shots from the perimeter on those early power plays. If we could have scored one there, I think it really would have given our club a boost."
Quotables
"Last week we won a game 1-0 that was a great game to win and a tough game to lose. And now we are in the other position." — Paul Flanagan, St. Lawrence coach, who beat UMD 1-0 in the NCAA quarterfinals.
"We've had a real tough stretch here, where we have scored just one goal in two games. We've been a pretty good offensive squad. This is a rough time to have that happen, whether it is running into a hot goaltender or taking bad shots." — Flanagan
"We don't consider them freshmen, because they come through for us." — Mark Johnson, Wisconsin coach, on first-year players Hanson and Vetter, who got the game's only goal and the shutout, respectively
"We try to put the puzzle together, and sometimes it looks beautiful. But if things go wrong, we get second-guessed [by the media] real quick. That's why we coaches don't get much sleep before a game." — Johnson, about his decision to start Vetter in goal over senior Meghan Horras