It's a Wrap
You know when an artist plays a "farewell" tour, then refuses to go away? Well, just call me Cher.
Last week's column was going to be the last CCHA column of the season, but after a weekend in Detroit watching great hockey and avoiding Northern Michigan fans, I have more to say. Who knew?
Here are some highly subjective observations about Detroit.
The New Format
I thought this year's field of four was much better than the Super Six format. The six-game, three-day format from the past was just too much for everyone, fans, teams, and media alike. The Super Six was ambitious and I enjoyed seeing half the league for one glorious final weekend of CCHA hockey, but it was clearly unsustainable.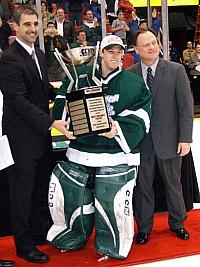 Whittling the field to four was an excellent idea, and fans saw some great hockey in two days. Well, some fans saw great hockey, and certainly not as many fans as the league and teams would have liked.
The attendance for Friday's semifinal game between Northern Michigan and Miami was, in a word, brutal. The two-game attendance for that day is listed at 10,478, but there couldn't have been more than 3,000 fans in the seats for the early game, and that includes the relatives of all the players and the pep bands for both schools.
What's even more discouraging is that the two-game, semifinal attendance total includes Friday night's match between Michigan and Michigan State, two teams that the league quite literally banks on to carry the weekend. Many people blamed the Spartans' Friday night NCAA men's basketball game for the low turnout, but the problem is rooted in the way in which the tournament is promoted.
Not one cab driver I encountered or any other person on the street in Detroit knew that the CCHA tournament was in town last weekend, but everyone knew about the dog show. The 97th Detroit Kennel Club's Dog Show took up a big chunk of the Sunday's Detroit News front page. DKC president, Eric Bergishagen said the two-day attendance for March 19-20 at the COBO Center was close to 40,000, but the News put it closer to 60,000.
(In case you're wondering, a black Doberman pinscher, Dabney's Phenomenon, was best in show.)
Saturday's two-game total was 16,234, but the crowd was very quiet for the championship game, perhaps because Michigan State completely controlled the contest, or perhaps because MSU's notoriously quiet (and polite) fans made up the bulk of the spectators. The small Miami contingent was vigorous.
It's time for the league to think about how it promotes this tournament, and time for the league to rethink how to get the most from the Detroit location.
Which brings us to…
Joe Louis Arena
The bowl is a great place to see a game, the press box is a nightmare: it was tacked onto the building as an afterthought; it's narrow, long, and in places unworkable; it sustains many technical issues; it's forever away from the media room. And this weekend the stairwell the media uses to get from the press box to the media room smelled like urine.
From the fan's point of view, this is a hallowed hall that should not be missed. The CCHA hosts a media hockey game on the ice at JLA, and I know that my colleagues get a kick out of skating where the Red Wings skate.
But the outside of the arena is not very user-friendly. The huge concrete walkways and motorways make for a potentially dangerous maze that people must navigate, especially after dark. I don't like leaving there so late at night, after many people have gone. I never feel safe in the area surrounding JLA after dark.
The staff at JLA is mostly very friendly and helpful. The CCHA staff was also helpful this year more than most others, and I give credit directly to Mike Harris for that. Harris is the assistant athletic director for external affairs and the athletic media relations director at Miami, and was once upon a time the Miami hockey sports information director, as well as director of communications at the CCHA. Harris is among the best in the business, and his presence made things go much more smoothly than usual.
Oh, and Ricky the sound guy for the postgame interviews is always good. He deserves a mention.
Detroit
It's hard to argue with the beautiful new river walk, the up-and-coming revitalized urban neighborhoods, Greektown, Lafayette Coney Island, readily available cabs, and mostly friendly inhabitants.
I've always liked Detroit, in spite of its obvious problems. There is a hipness to the city that can be denied only by those too immune to soul to feel it. I think its decline was one of the greatest crimes of the 20th century, and the boarded-up skyscrapers are heartbreaking. It is recovering, slowly, but you can still drive one block out of your way and feel as though you're going to encounter danger.
I still can't believe the 2010 Frozen Four will be held in Ford Field. Detroit is not a destination I would have chosen for that event, not just because of its patchy recovery, but because of the suburban — and hockey-temporary — venue.
Of course, if you like to gamble, drink, and take in the Canadian ballet, you'll love it. What am I saying? It's perfect for many, many hockey fans.
The Press
I am ever amazed at the number of people who get credentialed for this event and then simply don't show. Of course, we at USCHO always show up. We have, quite literally, nothing else to do.
This year, I shared duties with Sean Caruthers, our arena reporter for two years now at Michigan State and for four years before that at Providence, and Lindsey Ungar, in her first year for us at Michigan. I enjoyed working with both of them, and because of the mere fact of them was able to sleep a little this weekend.
And my esteemed colleague at the Lansing State Journal, Neil Koepke, is the undisputed king of the CCHA. At least that's what someone said during the weekend, after introducing me as a hockey goddess … a bit over the top and a lot to live up to, but at the time I didn't mind.
Anyway, most fans don't know the extent of cooperation among most reporters in the CCHA. I feel very lucky to have worked with the (mostly) guys I've encountered over the years. For example, Neil and I are always sharing quotes; if one recorder doesn't catch something — as when the sound for the postgame press conference after the early semifinal game was horrible — the other fishes it out and transcribes, dictates, or emails.
This isn't unique to Neil and me, and I don't know if it's unique to the CCHA, college hockey, or college sports. Having covered many Frozen Fours, I've seen plenty of ungenerous reporters, but I think the pool in ice hockey reflects the greater ice hockey population — nice folks.
The Fans
This year, I was reminded again of how much I love Michigan State fans. I received many hugs of a non-threatening nature from Spartan fans, sober and otherwise, all weekend long. It was like being greeted by long-lost family. And this was before they won the championship as well as after.
And all weekend long, wherever I went, if people recognized me they were really very nice. I met fans in the hotel lobby, in the elevators, at a bar, at JLA, and I was really moved by how genuinely nice many of you were.
I did not make it to the CCHA's Friday night party in time to socialize much, but I did get to meet NMU assistant coach John Kyle there, for the very first time. I also didn't get to chat as much as I would have liked to with the CCHA on-ice officials, one of the drawbacks to a shorter tournament.
I did dodge NMU fans more than once, but they were tipsy and it was late each night. Several times, when someone in my group said my name, I heard an NMU fan or two respond with, "Paula Weston!? Where is she?" It was then that I pushed the elevator buttons a little faster, not out of fear but exhaustion.
It was terrific meeting you all, and your kindness means more to me than you can know. I was overwhelmed at times — especially by the MSU fans and by a few fans of teams not present — by your affection and enthusiasm. I thank you very much.
This Is the Show
Congratulations to the Nebraska-Omaha Mavericks on their first-ever NCAA appearance. I couldn't be happier for the team, for head coach Mike Kemp, and for the league itself.
It was the strength of the league that earned UNO its nod, more than anything else. There are fans angry that the Mavs got to go and the Wildcats did not, given that NMU knocked UNO out of the CCHA playoffs to get to Detroit, but it's all about the math, folks, and we don't make the rules.
After Saturday's NMU loss to Michigan, Wildcat head coach Walt Kyle still held some hope that his team would make the tournament, but perhaps he and the Wildcats were the only ones.
"I don't think anyone really knows where you sit in the PairWise," said Kyle. "You can look at all those things on the computer and all that. At the end of the day, the NCAA numbers, I know, are different from that."
I like Walt Kyle and I hate to say this, but how can anyone question that the PWR is an accurate predictor of the NCAA field? Jayson Moy's final bracket projections flip-flopped two No. 2 seeds — Cornell instead of Miami in Worcester, Miami instead of Cornell in Green Bay — but were otherwise 100 percent accurate.
Sometimes optimism such as Kyle's is just for show, but I doubt that his was. It is interesting to hear coaches talking about the PWR as though the PairWise itself is the NCAA selection committee's process. The PWR is USCHO's projection tool, and it's pretty darned accurate, but we at USCHO are not responsible for selecting the field or influencing the committee. We do, however, suffer from the shoot-the-messenger philosophy.
The brackets are interesting, and I have to say I'm a bit grumpy about the Worcester set. I'm sure many people in Boston are equally unhappy. That's the only bracket with only two leagues represented, and I'm sure the NCAA did all it could to prevent a repeat of last year's all-WCHA Frozen Four, but why must Boston University and Boston College potentially play each other to get to Milwaukee? Why must UNO and Miami also, potentially, do likewise?
I know. It's the math. In this case, I'm just looking at it like a fan.
"It seems like very year there's a different slant on the bracketing," said Michigan head coach Red Berenson. "It's an impossible job for those guys. They don't want to have interleague matchups right off the bat, but sometimes that's what you get in the end."
Last Sunday, when the NCAA Selection Show opened to a shot of the Miami RedHawks — silent, motionless — hockey fans across the country caught a glimpse of a visual representation of the coaching staff's philosophy: not too high, not too low.
By the end of the show, there had been three shots of Blasi and crew, and even the announcers quipped about the stoic appearance of the RedHawk team. I'm absolutely certain that Blasi warned his boys to behave, and when I asked him how he got to them all to sit so still, he said, "I could tell you, Paula, but then I'd have to kill you."
Blasi did say that his team was tired from the trip home from Detroit. "We got back at three o'clock in the morning. I'm not sure the guys knew that we were going to be on ESPN. We really kept it to ourselves, we didn't want the guys thinking about that."
This from a man who said the night his team won the regular-season championship, "I was actually smiling for the last nine seconds there."
The funniest part of that broadcast was the lone, creeping, waving hand behind Blasi during one of the interviews. It had to belong to a player, as only players were seated behind the coach. You couldn't tell who it was immediately, but I thought it had to be Ryan Jones, and sure enough, during a wider shot you could see that it was, indeed, the sophomore forward who named the CCHA regular-season championship trophy "Frank."
I would have paid real money to see Jones give Blasi bunny ears on camera.
We'll Swing By and Pick You Up
For the trip to Worcester, the RedHawks got a ride with the Mavericks.
Actually, the NCAA picks up the tab, but flew out both teams on Wednesday, with the chartered plane stopping in Dayton to pick up Miami with the UNO Mavericks already on board.
I asked UNO head coach Mike Kemp if he wanted his players to keep to themselves during the flight — I guess I was thinking of the time that Red Berenson housed the Wolverines in a hotel during an NCAA regional in Yost Arena — but Kemp said that too many players from his team knew too many players from the other team, and the coaches are on very friendly terms, so what's the point?
And the world is even smaller than that. Miami's Nathan Davis said, "About 10 minutes after I got back from Detroit, I was on the phone with Mike Brennan." Brennan, a sophomore forward from Boston College, played with Davis on the U.S. Under-18 Team.
Davis also played with Eagle freshman forward Nate Gerbe and sophomore goaltender Cory Schneider as part of Team USA at the 2006 IIHF World Junior Championship. "I spent a lot of time with Cory and Nate," said Davis. "All three of those guys are great hockey players and great competitors."
Nowadays, so many players go through that program or play together in juniors that not only is the world a little smaller, but the styles of hockey across the country begin to meld. Kemp said that the old East-vs.-West argument is just a myth.
"In the WCHA and the CCHA, you're going to find teams in each league who are going to play a different way. Now there's more interleague play, there's more film work and watching teams from other leagues. Boston University to me is a physical team that plays very hard. They're not afraid to bang, they play a very aggressive style of hockey. We see them a lot like a Michigan or Michigan State.
"Now you're more likely to see differences in styles within a league, not between them."
And Finally…
Thank you all again for sticking with me and USCHO this season. I hope you take notice of USCHO's coverage of other sports. I, personally, am looking forward to contributing to USCHO's original content coverage of baseball and perhaps a few other things as well.
I have features in the works about Nebraska-Omaha and Michigan, so look for them shortly.
And I still haven't found my mother's cookie recipe yet. At Christmas, I promised another of my mother's Christmas cookie recipes, this one a Slovakian recipe from her mother. Dolly Weston has been a little busy lately, and every time we talk on the phone, I forget to ask her. Perhaps I should go straight to the source, my grandmother Josephine Novak, who just turned 90 years old and is still living independently in Lebanon, Penn.
I'll give Nanna a call, and then I'll email those of you who expressed an interest. Before next season.