Every so often one of those games comes around that reminds us of how playoff hockey is an entirely different animal. It usually takes an overtime, but when two teams battle for just under nine minutes shy of what essentially amounts to a double header with the season on the line, what unfolds is a battle of survival like few others in sport.
Sunday night was no different, as the tension built off the glove of each season-saving stop and off the stick of every potential game-of-their-lives-winning goal. The difference between the end of a career and the realization of a dream hinged on one mistake, one tripped-up skate, or one puck squirting free.
In sudden death, that is the way of things. But by the end of 51:13 of extended play in what had become the longest scoreless contest ever in the history of the NCAA tournament, nerves were certainly fleeting and legs were not far behind.
Wisconsin forward Robbie Earl could not even find the strength to remove himself from the ice during the third and final overtime. Succumbing to leg cramps, Earl crawled along the ice to his bench where he was lifted over the boards and treated.
The thing is, he kept doing it over and over again. This is the same player who a short time earlier had spoken up in the locker room, telling his teammates, "It's easy to quit here. It's easy to quit. But we're not quitting."
Badger senior captain Adam Burish compared the game to a conditioning drill the team does at the beginning of the season in which they run all-out at 10 miles per hour on a 10-percent inclined treadmill.
"Who's going to get tired first; who's going to get off that treadmill?" Burish said. Earl had to be lifted off it.
"I wanted to be out there," Earl said. "I owe it to my teammates. I owe it to myself. You only get this chance once. I wanted to be a champion."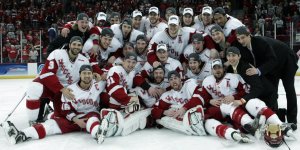 With the win, Wisconsin has that chance. But a number of scoring opportunities gone another way, or a sliding save missed, and these Badgers might be burrowing back to Madison in an entirely different state of mind from the excited, jubilant one they are in now. Strangely, it was managing to be that loose even before it ended that enabled the team to persevere.
"It's weird," laughed Wisconsin senior Nick Licari, who along with his linemates provided a huge spark to the game, especially when things got long and tiresome. "I think you're kind of tense at the end of the third period, first overtime. And then me and my linemates were laughing in the third overtime.
"It just gets to the point where it's just kind of like, 'Is this ever going to end?' And you just get caught in the moment, and you just really enjoy it, and you realize it's a classic –- an instant-classic kind of thing."
The mood in the locker room was light between periods for Wisconsin. Players were joking and poking fun at each other. Even when Earl was being attended to and massaged, his teammates were having a good time with him. "I've got a girlfriend that will massage your legs for you," is the type of thing Burish said guys were yapping.
Perhaps it might seem counterintuitive, but as the contest grew longer and longer, the atmosphere got looser and looser. But at the same time, every once in a while a team elder like Earl would step in and keep the team's focus.
"One of the older guys would step in and say, 'Hey, it's in this room. We're not giving it up. No way are we letting this thing slide. Just be patient and persistent and we're going to get one,'" Burish said.
Then, of course, the team began to recognize the history it was writing. It was the longest game any of them had ever played and definitely the most important. Growing up and watching the many long and winding playoff hockey games before them, these college kids were now living in their own.
Coach Mike Eaves and his players talked about some of the history, about NHL games with teams like the Islanders or the Flyers, or how certain record-breaking overtime games played out and ended.
"It was about trying to give examples of what needed to be done," Eaves said.
Licari thought back to a game with five overtimes he and fellow Duluth East graduate Ross Carlson played in high school when Duluth East ultimately fell to Apple Valley. "I remember sitting there at the start of the third overtime. I was like, 'Hey Ross, is this Apple Valley-Duluth East?'"
In that 1996 classic, Licari was rooting on the losing end, but it was still quite memorable despite that. For the Cornell team that leaves the Resch Center disappointed it will not advance to Milwaukee's Frozen Four, "A loss is a loss," said Big Red goaltender David McKee. But like the Badgers, the other team in red and white still had plenty of jump in the final overtime. McKee said the locker room was still pretty fun and upbeat.
"We were feeding off each other," McKee said. "You ate a lot of bananas and drank a lot of Gatorade and that was about it."
And both sides will certainly remember for the rest of their lives what it was like to play in this type of a game. Wisconsin goalie and Midwest Regional MVP Brian Elliott will remember looking in the seniors' eyes and seeing the excitement of making their first Frozen Four. Licari will remember the best game he has ever played in – better than the state championship in high school or the national title games in Pee Wees.
Eaves went one step further and said what the battle will mean for the greater game. "I think that's a college hockey game that everybody that was in that building will be talking about for a long time," he said.
And Burish?
"I think I'll remember this game as playing two full games almost," he said.
After winning the two-for-one, the Badgers were quickly looking forward to the next two in the locker room. "Two more left. Two more to go," they said.
Tonight may be the greatest hockey moment in any of the Badgers' lives, but they hope it won't stay that way for long.