It's typical that the day before the Frozen Four starts, most of the players and coaches are still pretty loose, pretty relaxed, having a lot of fun.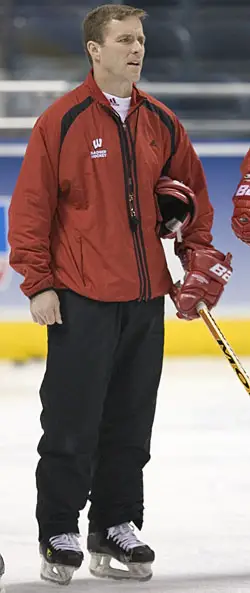 According to Wisconsin captain Adam Burish, that enjoyment is something that was part of the Badgers' mentality during the NCAA regionals, when Wisconsin beat Bemidji State and Cornell — the latter coming 1-0 in triple overtime — to advance to Milwaukee.
"Lately, it's been keeping it simple and have fun and just playing," said Burish. "Throughout the regional in Green Bay, we were successful because we were loose, we were just playing and having fun."
That mentality may have come a bit from playing the regional in the club's home state of Wisconsin. So given that the Frozen Four, as well, is in the state whose nickname is the same as the school's mascot — the Badger — it would be conceivable that fun would overshadow the pressure of playing in front of the home crowd.
"I don't think it's pressure; it's excitement," said Burish. "We're excited to be here in Milwaukee. All year [the media] has asked, 'Wouldn't it be special to be here?'
"Yeah, it's special."
Burish admitted to wishing that the team could have arrived in Milwaukee a week earlier, but still enjoyed walking the downtown streets of Brew City and getting high-fives from Badger fans.
"This is the ultimate stage," he added. "We're excited. I don't know that we feel any extra pressure."
Head coach Mike Eaves thinks there's a good reason his team shouldn't feel much added pressure playing in front of a big home crowd — the Badgers seemingly do that every home weekend in Madison. This year's club averaged a school-record 13,511 in 20 home dates. And that didn't include the 40,890 Badger faithful who witnessed the Frozen Tundra Hockey Classic played at Lambeau Field in Green Bay.
"We handle this every weekend at the Kohl Center," said Eaves. "When you play in front of 15,000 fans nearly every weekend, you can get nervous. You can get uptight. But since we've done that, we've been there. We just need to apply those lessons that we've learned."
Elliott's Rebound
The date was January 14, 2006. The Badgers were 18-2-2, a unanimous number one in every national poll, and at that point were college hockey's sweethearts.
Wisconsin, simply put, could do no wrong.
Four days later, that all changed. Goaltender Brian Elliott was injured in practice when a teammate slid into his left leg. The prognosis was three to four weeks on the sideline. Rookie Shane Connelly, who had never seen ice in a regular-season game, would have to take over.
The result was a 3-5-0 skid under Connelly's watch, including four straight losses after Elliott's injury. And even upon his return, Elliott was not himself.
"It was unrealistic to think that [Elliott] could get back [to the way he was playing] right away," said Elliott. "When he first went down, we know it'd be tough. We were as good as we were because of Brian.
"It took about three games for him to find his focus and patience. When he started to become patient again, that was when he became successful."
Since his fourth game back, Elliott has been a little more than successful. He's been almost unbeatable. He's 7-1-0 in that eight-game stretch, has allowed more than one goal only once (the single loss, a 4-3 decision versus North Dakota in the WCHA semifinals), and has posted five — that's right — five shutouts.
Needless to say the now-Hobey Baker "Hat Trick" finalist is back to true form.
Family Feud
Should both Wisconsin and Boston College advance on Thursday, it will create an interesting battle of loyalty in the Eaves household. Both of Eaves' sons, Patrick and Ben, are Boston College alumni, Patrick having played at the Heights as recently as last year.
Even though both Eaves have graduated from BC, that father-son matchup could still happen in Saturday's title game. Older son Ben has returned to the Eagles team as a volunteer coach, helping out his former team while rehabbing an injured knee.