It's not quite a three-peat, but Denver defenseman Matt Carle finished his college hockey career a champion once again.
Carle was named the 26th recipient of the Hobey Baker Memorial Award Friday evening at the Bradley Center. He won two national championships in his first two seasons with the Denver Pioneers and took home the top individual honors as a junior. He recently signed with the San Jose Sharks, forgoing his senior season.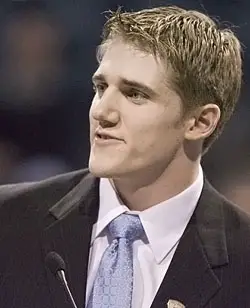 "It's almost like a storybook," Carle said. "I have to give a lot of credit to my Denver teammates in winning two national championships and then those guys helping out in getting me to the Hobey Baker Award. I can't give enough credit to those guys."
Carle dominated both ends of the ice for Denver, leading the nation in assists with 42 and topping all defensemen in points at 53. He was first in the country in assists per game and tenth in points per game. The Hobey Baker Award comes in addition to winning USCHO.com's Player of the Year, the WCHA Player of the Year and the WCHA Defensive Player of the Year. He is the first person to win both conference honors in the same season.
In addition to his offensive prowess, Carle posted a +19 plus/minus rating, while playing against the opposition's best forwards in the high-flying WCHA.
"As a defenseman, there are a lot of unsung things that you do on the ice," Carle said. "You have to make a good breakout pass or [break] up a three-on-two rush. A lot of defensemen could be here on defensive ability.
"It's an honor to win this award as a defenseman. This is something that I'll remember for the rest of my life."
Carle was an integral part of Denver's improbable back-to-back championships in 2004 and 2005. He was named to the All-Tournament team in 2005 and had a goal and three assists in the Frozen Four that year.
The Anchorage, Alaska, native also contributed to the Denver community off the ice. He has participated annually in the "Skate with the Pioneers" event for terminally ill children and has volunteered his time at the Alaska Food Drive and other children's holiday food collections.
Carle edged out his fellow Hobey Hat Trick finalists, Boston College forward Chris Collins and Wisconsin goaltender Brian Elliott, for the award.
Collins leads the nation in scoring with 34 goals and 30 assists and was named Hockey East Player of the Year. He punctuated his case for the Hobey Baker Award with a hat trick in the Frozen Four semifinal yesterday against North Dakota.
Collins earned USCHO.com's Most Improved Player award, scoring more points in his senior season than in his previous three combined, and was a First-Team All-USCHO selection.
"This summer I listened to the coaches and they all said to be patient with the puck," Collins said on his senior turnaround. "With puck patience came confidence and confidence was the key."
Elliott leads the country in virtually every goaltending category. He has the best goals against average at 1.57 and save percentage at .938, and is tied with BC's Cory Schneider for most shutouts with eight. He was named First-Team All-USCHO as well.
Collins and Elliott will try to console themselves by playing Saturday night for the national championship.
"This season we had goals that we set out to accomplish as a team," Elliott said. "We are at the next step to get to the top of the mountain. Tomorrow's game is the pinnacle. It's gonna be fun.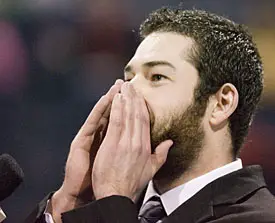 "We'll trade a trophy for a ring any day."
Elliott and his father provided some comic relief during the Hobey ceremony as the ESPNU crew called attention to the moose on the back of his helmet. It was painted in honor of a friend of the family who was a champion moose-caller. Both Elliott and his dad did their best moose call.
Carle joined the Sharks upon the conclusion of the Pioneers' season. He has already made an impact at the NHL level, scoring a goal in his first professional game on March 25 against the Minnesota Wild.
His pro career, however, has not deterred the real estate and construction major from finishing his college degree.
"School obviously has been a big factor for me and was part of the reason I came to Denver," Carle said. "I'll be online in a couple of weeks registering for summer classes."
Denver may still have Carle as a student, but the Pioneers would have liked to have him as a student-athlete for another year. After going out as a champion for three straight years, Carle now has the NHL to conquer.
"It's very different than the Magness Arena," Carle said. "When you go out for warmups people have their cell phones out taking your picture. It's amazing, the fan support and great fun and a great atmosphere."