Going into its NCAA semifinal contest against Wisconsin, Maine's last worry was special teams. Many factors may have conspired to keep Black Bears coach Tim Whitehead awake at night, but neither the power play nor the penalty kill was among them. The penalty kill ranked first in the nation with an 89.1 percent success rate; the power play wasn't far behind, ranking third at 22.5 percent.
Perhaps the last thing one would have expected to hear from Maine coach Tim Whitehead after the game was, "I almost didn't want the power play."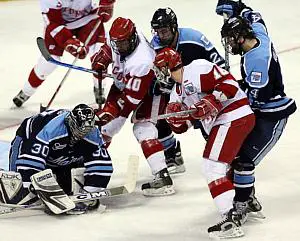 A more likely culprit for Maine's undoing would be that the Black Bears were playing "us against the building" for the fifth straight year in the NCAA tournament.
As it turned out, the Badger fans were loud and raucous. But not the key factor.
"That's not why we lost," Whitehead said following the 5-2 loss, one which included an empty-net goal. "We've won on the road before. We had opportunities. We knew what we were up against.
"It was a great atmosphere. The Wisconsin fans were great and the Maine fans were great. Obviously we weren't able to have as many people here, but I thought the Maine fans really gave us a lift and several times allowed us to come back."
Another worry for Whitehead was getting the puck past the nation's top goaltender, Brian Elliott. Elliott held the top marks for both save percentage (.938) and goals-against average (1.55) despite three poor games after returning from an injury.
A look beyond those get-rid-of-the-rust contests painted a picture of an even more impregnable fortress. Subtracting the 15 goals he surrendered in those three games transforms his numbers into an astounding .951 and 1.19. Against all ranked opponents, Elliott had held a 13-1-1 record with off-the-charts numbers of .956 and 1.19. Small wonder, then, that he was one of the Hobey Baker "Hat Trick" finalists.
Not to mention that he entered the Frozen Four riding a 252:15 shutout streak, a WCHA record. With him as the backbone, Wisconsin boasted the nation's top team defense, allowing only 1.85 goals-against per game.
And yet Maine generated 34 shots and got two pucks past Elliott, a feat only accomplished one other time since the end of February. Those were numbers that the Black Bears might well have expected to put them in good stead.
"We knew we were going to have to get a lot of shots to score on him, which we did," Whitehead said. "We drew some penalties by working hard, but we just weren't able to get the puck through on the power play."
Ah, yes. The power play.
After a stellar season, the Maine man advantage went 0-for-7, stifled by a Badger penalty-kill that was on an impressive run of its own, extending its streak of consecutive kills to 32.
The unkindest cut of all, however, came on a Black Bear man advantage with the game still tied, 1-1. Instead of scoring a huge go-ahead goal as it had done so many times before, the power play surrendered a Ross Carlson shorthander that was a dagger to the heart of Maine's chances. It gave Wisconsin a lead it would never relinquish.
Adding insult to injury, the Black Bears' PK surrendered a goal four minutes later that left them with a two-goal deficit, a crater-sized hole in light of the prowess of Elliott and the Wisconsin team defense.
Mike Lundin's goal midway through the third period got them to within one and the Maine power play got one more opportunity to get off the schneid, but it would finish with not only the goose egg on the plus side, but also the Carlson shorthander on the backbreaking negative.
"Probably the only reason we were able to get to the Frozen Four was because we had such good special teams," Whitehead said. "It is a little bit ironic that it cost us in this game.
"They did a great job on the kill. They had us scouted pretty good. We had our chances, but it seemed as if every time we got a power play our top unit was tired. It was just one of those bizarre [coincidences].
"I almost didn't want the power play. It was like, 'Not again!' because we were exhausted and to really have a good power play, you've got to be jumping."
In the end, though, allowing the shorthanded backbreaker was the biggest of all turning points.
"That shorthanded goal was a big momentum swing," Whitehead said. "We've lived on the edge a bit with our power play this year. We can get scored on shorthanded. We give our guys the freedom to make plays under pressure and sometimes it bites us."
In the case, the bite was with very sharp teeth.