It was Oct. 11, 2002, and Rensselaer had just beaten Wisconsin, 5-1, in the opening game of that year's Ice Breaker Invitational, hosted by the Badgers in Madison.
"They capitalized on every opportunity," UW head coach Mike Eaves told USCHO's Jayson Moy after the game. "Every chance they had, they took advantage."
That was what Eaves had to say after his first game as Wisconsin's head coach, at the start of a season that would become one of the worst in Badger hockey history when UW finished 13-23-4.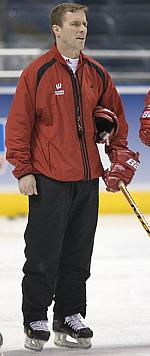 Four years later in their 2-1 win over Boston College for the 2006 national championship, it was the Badgers who capitalized on every opportunity and took advantage of every chance that Mike Eaves has taught them to recognize in his four short years behind the Wisconsin bench.
"He's always there for every player, and he's pushing every player to do their best," said senior defenseman Tom Gilbert. "For us seniors, he's guided us every year to get to this spot and he's just done an unbelievable job coaching."
After spending two seasons coaching USA Hockey's National Team Development Program in Ann Arbor, Mich., Eaves returned to Wisconsin to replace legendary coach Jeff Sauer, who skippered the Badgers for 20 years. He experienced his first NCAA championship as the captain of the Wisconsin's 1976-77 title team.
The experience of winning as a player and winning as a coach don't compare, said Eaves — unless you can compare the life of a man to that of the boy he once was.
"As a player, you have such an emotional investment in the game in terms of physically, mentally, emotionally that when you win, it's just this explosion," said Eaves. "From the time we won the game in overtime until I got into the locker room, I don't remember a dang thing on the ice. I saw pictures later, but I don't remember that. It's such a euphoric high that I lost a lot.
"But being on the ice this time as a coach, it was fun to be very cognizant of what was going on and hug each one of those guys and look them in the eye and say, 'Job well done,' and, 'Let's come back.' It's an intimate moment. That was really fun. I enjoyed this one because I can remember it."
Eaves and his players said that one ingredient was essential to make the journey from 13-win season to national champions: trust.
"We showed a clip at the beginning of the year on a horse race between — what was it? — Seabiscuit and War Admiral," said Eaves. "We showed the boys that clip because it talks about the jockey and the horse, and they have to work together to get the job done. In the big-time races, they have to be on the same page.
"I think as this year has gone on and over the years together with these seniors, there's a trust that's been built up, and what's fun to see is them take charge. The rider's got to be there to guide … but they've got to win the game.
"When they're in tune with what's going on on the ice and they take the lead in between periods, you've got a mature hockey team and you put yourself in the position to be a championship team when you've got that kind of leadership."
"Since our freshman year — it was not a very good year — we believe in Coach Eaves and his systems, we freshmen did and we five seniors," said Gilbert. "He does an unbelievable job of developing us and teaching us work ethic.
"For us, he's been a guide to getting to this point in our career and it's paid off. We have all the trust in him and he had all the trust in us. He's an unbelievable coach and an unbelievable friend and I wouldn't take another coach besides him."
Gilbert said that Eaves knows just what to say at the right time. "He's just an unbelievable motivator, whether we're down a goal or up a goal. He knows when we're playing bad, he knows what kind of pep-up speech we need between periods — he knows the game. He's taught us so much in our four years and he believes in what he coaches."
Fellow senior Adam Burish said that the Badgers trust Eaves because of the coach's personal experience.
"You know what it is? You look in his eyes and you can just sense his passion and how badly he wants you to succeed," said Burish. "He's very demanding.
"When he looks at you and says, 'This is what we need to do,' you want to get it done that way because you can see that he's got a plan, you know he's won championships. The stuff that he's done, he's accomplished, speaks for itself."
Gilbert's classmate, captain Adam Burish, said that Eaves cultivates the trust he has with his players by being as much mentor as coach to young men at a pivotal point in their personal development.
"One of the neat things he does is that he wants to teach you life lessons," said Burish. "A lot of times, he won't come in and talk strategy, he won't come in and talk tactics, he'll talk life lessons. He'll say, 'If we do it this way, if we accomplish it this way, you'll be a better father, you'll be a better husband, you'll be better down the line in your career, whatever that might be.'
"That's one of the neat things about him that people don't understand is that he teaches you life lessons, and that's something that we five that are done here will take away and be better people because of being around Coach Eaves."