Jordan Parise, North Dakota's "go to" goalie the past three seasons, is now gone.
Parise, a junior, became the fifth Fighting Sioux player from last season's team to turn pro. According to the Grand Forks Herald, Parise has signed a contract with the New Jersey Devils where his younger brother Zach, also a former UND player, just completed his rookie season.
The other Sioux players to forego eligibility and sign NHL contracts are sophomore Travis Zajac (New Jersey), junior Drew Stafford (Buffalo), junior Matt Smaby (Tampa Bay) and sophomore Rastislav Spirko, who returned to his native Slovakia to play for MHC Martin.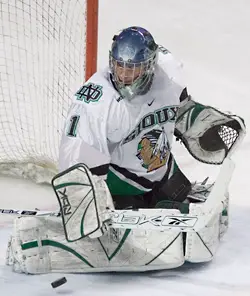 Parise leaves UND with a career record of 55-20-7 and his name firmly entrenched in the Sioux record book among goalies. His career statistics are:
1st – Save percentage (.921)
1st – Goals against average (2.14)
2nd – Wins (55)
2nd – Shutouts (10)
3rd – Winning percentage (.713)
6th – Games played (83)
As a freshman during the 2003-2004 season, UND won the WCHA title with Parise and Jake Brandt sharing goaltending duties. Parise became the starter during the NCAA West Regional in Colorado Springs. After shutting out Holy Cross 3-0, the Sioux lost 1-0 to Denver, the eventual national champion.
In 2004-2005, Parise rotated with freshman Philippe Lamoureux throughout the regular season before emerging as the starter during the playoffs. He helped lead the Sioux to the Frozen Four championship game in Columbus, Ohio, where UND lost to Denver 4-1.
Last season on Sioux team that started 9-10 freshmen each night, Parise played 34 of 46 games. He was named the most valuable player of the WCHA Final Five tournament and made the NCAA West Regional all-tournament team. UND lost 6-5 to Boston College in the opening semifinal game of the Frozen Four in Milwaukee.
The departures at UND might not be over. The Sioux have three first-round NHL draftees who are considered flight risks. They are forward T.J. Oshie (St. Louis), center Jonathan Toews (Chicago) and defenseman Brian Lee (Ottawa).