Quinnipiac men's hockey coach Rand Pecknold has agreed to a contract extension that will run through the 2009-10 season. Contract terms were not disclosed.
"Over the past 12 years Rand has brought Quinnipiac men's ice hockey from a Division II/III program to one of the most respected programs in Division I," said athletics director Jack McDonald. "Our inaugural ECAC Hockey League season was highlighted by Rand opening the season with victories against Harvard and Dartmouth and closing the season with an excellent showing in the ECACHL playoffs. We are very pleased that Rand, Nikki and son Tate will continue to be a part of our wonderful community at Quinnipiac."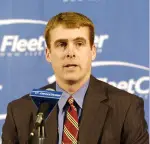 Pecknold enters his 13th season behind the Quinnipiac bench in 2006-07. In his previous 12 seasons as head coach, he has accumulated the most wins of any coach in program history and is a two-time finalist for the Spencer Penrose Award, given annually to the top Division I college hockey coach. Pecknold has guided Quinnipiac to two MAAC regular season titles, one Atlantic Hockey regular season title, one MAAC tournament title and the first-ever NCAA berth in program history in 2002.
"I look forward to the prospect of spending the next four years as head men's ice hockey coach at Quinnipiac University with great excitement and anticipation," Pecknold said. "I feel that we will continue to strive for excellence as a program, both on and off the ice. I'm appreciative of the commitment displayed by Quinnipiac University and its senior administrators to both myself, my family and our men's ice hockey program."
In 2005-06, Quinnipiac's first season in the ECACHL, the Bobcats reached the 20-win plateau for the seventh time in eight seasons, finishing at 20-18-1. Quinnipiac also registered a first-round road playoff sweep of RPI and took Colgate to three games in the quarterfinals. Pecknold has amassed a 222-136-32 career record.
Quinnipiac also posted its 10th straight winning season overall and eighth in a row at the Division I level. Only five other Division I schools — Michigan, Michigan State, New Hampshire, Northern Michigan and Maine — have had eight straight winning seasons over that span.
For his career, Pecknold has coached 19 All-League selections, including 13 First-Team picks. Ten of his players have earned All-Rookie honors. In addition, five players have been named `Player of the Year', with another four taking home `Rookie of the Year' laurels. Pecknold has coached three All-Americans, one Academic All-American and one Hobey Baker finalist at Quinnipiac.