The Bemidji State Beavers are going for a three-peat this season.
Calculating their additions and deletions, BSU essentially has the same team of a year ago.
Essentially.
The Beavers won the CHA's postseason tournament in 2005 in their home state of Minnesota, and last year in Detroit. Each year, a different goalie was in net and both, senior Layne Sedevie and junior Matt Climie, are back this season.
"I don't think it's any secret that our strength is in net," BSU head coach Tom Serratore said. "We have two very capable netminders in Layne and Matt and also in junior Orlando Alamano. Layne and Matt are a very big part of our team and they're a good fortune we have here at Bemidji State."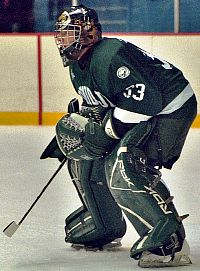 Sedevie emerged as Bemidji State's No. 1 goalie down the stretch, but Serratore would not name a No. 1 for this season, just saying "we have two No. 1 goalies." Alamano played 14 minutes in 2004-2005 and none last year.
Gone from last year's championship squad are forwards Jean-Guy Gervais and Ryan Huddy and big defender Andrew Martens. Other than that threesome, the remaining departed were fringe players or freshmen (or Europeans) who didn't see a lot of ice.
"It's a new season and everyone can say where each team is going to finish," said Serratore. "We don't feel any pressure being the defending champions. The bottom line is that we're going to play to our potential and I think we have a nice team that can do that."
Up front, Luke Erickson is back for his senior season and will be joined by senior classmates Ryan Miller, Rob Sirianni and Shane Holman. The latter can also move to defense if needed.
"We're definitely going to lean on our seniors," said Serratore. "Hopefully, they can use their success and experience from the past few years to carry us and be our leaders. We pride ourselves on all of our experience."
Junior defenseman Dave Deterding was named team captain after being an assistant captain last year. Giving him the captaincy was an easy choice for Serratore.
"Dave has taken a step up as a player for us," Serratore said. "He eats up a lot of minutes for us along with Nathan Schwartzbauer, another senior, and junior Riley Weselowski. Those guys are big for us on the back end."
Deterding said that now wearing the 'C' won't change his game at all, but his leadership skills will now have more of an impact for the Beavers.
"I'm going to have to be more vocal in the room now," said Deterding. "I'm going to have to lead by example and keep the team in order. I always felt I had a big role with this team, but now it just gets a bit more magnified."
In 2005 and again last March, Bemidji State lost in the first round of the NCAA regionals to the team that ended up being crowned national champions. Denver topped BSU in overtime in 2005 and Wisconsin blanked the Beavers last March 25.
But first things first. Bemidji State wants to get the season rolling, opening next weekend at Maine.
"It's a new year and nobody is the champion right now," Deterding said. "We're going to have to earn our way with everything we get. I know we have a hard-working team and we have a lot of talent. The freshmen have a lot of talent and character and we have some great depth. If we do all the little things, we should be all right."
Serratore agreed, especially on the frosh front
"Any time you get freshmen to come in and play regularly, it's a bonus," he said. "You always look to your upperclassmen and college hockey, I've always said this, is a men's game. You really have to have an older team to compete. The college game involves a maturation process and you never want to put undo pressure on your freshmen."
Bemidji State may be in possession of the McLeod Trophy for the year, and the Beavers yearn to retain it next March in Des Moines. If the other four CHA teams have a say in that — and they will — BSU is in for a competitive season. Bemidji State wouldn't have it any other way.