Do you know what I like best about Red Berenson? No, not his winning ways, his impressive hockey pedigree, and his dapper looks.
I like that Berenson finishes his sentences when he speaks.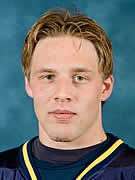 "We had a lot of young players last year, if you remember, 15 new faces in the locker room. The players who were expected to play well in that group did. Jack Johnson certainly lived up to all the expectations that people put on him, and young Mark Mitera and [Andrew] Cogliano and the rest of the freshmen were strong, but they should be better this year and they'll be a bigger part of our team."
See? Complete. Understated. Beautiful.
It isn't a stretch to say that the 2005-06 season was disappointing for the Wolverines. Michigan had hoped to avenge itself of a devastating NCAA Midwest Regional loss right in its own back yard from the previous spring — when Colorado College ended the Wolverines' 2004-05 season with a 4-3 come-from-behind win — but instead found itself on the tail end of a four-game losing streak (gasp!) early last December, a streak which prompted captain Andrew Ebbett to exclaim, "This isn't Michigan hockey."
At the time Ebbett seemed melodramatic, but the rest of the season proved him prophetic; the Wolverines suffered two more short but uncharacteristic winless spells and found themselves on the wrong side of second place in the final league standings for the first time since 1990-91.
This wasn't Michigan hockey.
"Our team will be a team that has to improve from last year," said Berenson. "We did some good things offensively, and we did some good things defensively, but we weren't as consistent as we needed to be.
"Our highlight of the year might have been our first game of the year, and our lowlight might have been our last game of the year. So somewhere in between, we have to get better, and I think we'll have the ingredients to do that."
Readiness
Let's cut right to the chase here. Will sophomore goaltender Billy Sauer be up to the task?
Sauer last saw game time Feb. 25, for Michigan's last regular-season contest, a bitter 4-3 overtime home loss to Ferris State. The Wolverines were up 3-0 going into the third, but lost the lead and then the game, just 42 seconds into overtime.
When Michigan hosted the Bulldogs two weeks later in the CCHA playoffs, senior Noah Ruden was in net, and he stayed there until the end.
Berenson, however, believes in Sauer, and that is perhaps all that counts in Ann Arbor.
"Billy was too young last year, but I think he'll be fine this year," said Berenson. "I like his size and his ability. He's coachable and he's a great kid. When he came in, he was really young and he was on a really young team.
"He should have been coming in this year, and he's got a much better defense in front of him this year. It should be much easier for him this year. The year of experience will definitely help too."
Resilience
In fairness to Sauer, the team didn't respond well defensively in front of him or Ruden all season. The Wolverines had only the ninth-best defense in the league, far from "Michigan hockey."
Last year, the Wolverines didn't respond well to the end of their previous season; this year is a litmus test for this particular squad.
Reality
Although Ebbett was an excellent captain, he wasn't the only heart-and-soul Wolverine, and there is plenty of character in the Michigan locker room.
Again, the Wolverines are loaded. They have big-name talent, returning six double-digit goal scorers.
And Michigan has that fourth R, the not-so-secret weapon known as Red Berenson. Berenson and his staff will have educated these Wolverines on how to recover from last season's disappointment. It's up to the players, now, to execute.
Thanks to Sean Caruthers for his Media Day contributions.