Sacred Heart enjoyed a breakthrough season in 2005-06, and it was no fluke. Powered by all-league forward Pierre-Luc O'Brien and Atlantic Hockey Rookie of the Year Bear Trapp, the Pioneers won a school-record 21 games before being upset in the league quarterfinals.
Even more is expected of the Pioneers this season, as Shaun Hannah's squad has been picked to finish second by the league's coaches in the AHA preseason poll.
"We have key parts of our team back from last year," said Hannah, in his 11th season at Sacred Heart. "We've been able to grow this program and were happy with the season we had last year, but we're starting from zero again this season, just like everybody else. You've got to be ready to play every night. This is a very competitive, equally matched league."
Twenty players return from last year's squad including O'Brien, a strong candidate for AHA Player of the Year honors.
"He's a tremendous player, a special player," said Hannah. "He's our captain this year and we're expecting big things from him again this season."
Hannah is also looking to his defense and goaltending to match its stingy team GAA of 1.96, best in the league last season.
"Defense and goaltending go hand in hand," said Hannah. "And we have an excellent defense and expect Jason Smith to have another good year."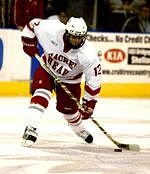 Smith was 18-11-1 last season, setting a school mark for victories. He posted a .927 save percentage.
An upset at the hands of Connecticut in the quarterfinals ended the Pioneers' 2005-06 campaign on a sour note, all the more motivation to get to Rochester, N.Y., site of this year's semifinals and finals.
"We have to be consistent all year in terms of our play," Hannah said. "We need to get it done in the post season."
Sacred Heart will play some tough competition this year, including games at Cornell, Michigan State, and Dartmouth.
"Playing strong teams gets you ready for your league schedule, and gives you an idea of what you're going to face if you make it to the NCAAs," said Hannah.
"That's the goal of every team out there."