For Husky head coach Greg Cronin, the return to college hockey was not exactly an easy ride on the welcome wagon. The team started off 0-6-2, and a stretch of a win and two ties in late fall was about as good as it got in terms of consistently picking up points. Cronin readily admits that the transition was humbling, and harder than he had anticipated.
"The college game is a different game," Cronin said. "I assumed that players knew a lot of the fundamental parts of the game, and I was wrong. We had to revisit the way we were coaching and try to get fundamentals down."
With a clearer sense of the need to emphasize the X's and O's — along with a boatload of new recruits — Cronin is eager for progress but cautions that it may not be immediately evident.
"I don't want to measure by wins or losses," Cronin said. "I would guess that on any night we're going to have seven to nine freshmen in the lineup. This is our first year we've had to recruit our own players to come on board, so you'd like to think that those players represent the next wave of Northeastern Huskies. Our challenge is to develop them quickly. I think six of our first seven games are on the road, and I think those freshmen are going to have a real impact on the success of our team. Once they get their rhythm and their confidence and they get a pretty good comfort level with what college represents, you can see them start to improve."
At least it's not as if the cupboard was bare in terms of quality players returning. The Huskies have their top ten scorers back in red and black, and that's not even counting senior Mike Morris, who missed all of last season due to injury. Given that his 19-20-39 totals two seasons ago blow away anyone else's scoring prowess from last season, his return will have a huge impact if he is healthy and can stay that way.
"I would say that he's close to 100 percent," Cronin said. "You've got to remember that he sat out a whole year and those concussion injuries are tricky to measure … Clearly, athletically his motor skills are back. I've seen him skate with the guys, and he looks healthy. You can tell he's a great player. You've got to approach it cautiously and conservatively; let him be the beacon of where he's at in terms of his rehab. When he's ready to go, we'll play him. If he's ready on October for BC, we'll play him. If he needs until Christmas, we'll wait till Christmas. It's up to him to decide when he's ready to go."
Although the youth movement is key for the Huskies, two other seniors are vital to NU's success, led by blueliner Steve Birnstill. "I think Birnstill a household name in Hockey East, and I really expect him to launch himself to another level this year," Cronin said. "Clearly his offensive ability is highlighted every night in a game, and last year he learned to manage it more efficiently, learned to take less chances and be more prudent offensively.
"Then Yale Lewis is assistant captain. He was injury-prone last year, and I expect him to come back and have an impact. We've got nine seniors, and I told them that it's their team."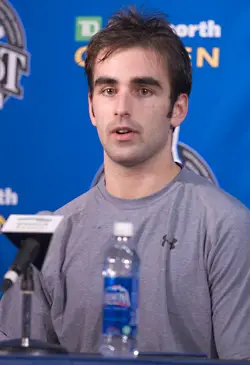 Beyond that, look to Jimmy Russo, Ryan Ginand, and Joe Vitale to continue showing improvement. But perhaps the most interesting element for the Dog Pound will be to rate how well Cronin and his staff fared in their first crack at recruiting for the program. When you look over the rookies, it's obvious that goal-scorers were pulled in, led by USHL star Chad Costello.
"The Costello kid is probably one of the best-known recruits in the country because he led one of the best junior leagues in scoring at Cedar Rapids," Cronin said. "I'd like to think that a defenseman named David Strathman who played on [Costello's] team and was one of the best scoring defensemen in the league should give us some offense from the back end. There's a guy named Randy Guzior who was a well-respected player in the USHL out there in Chicago.
"Of course, you've got Mike Morris coming into the lineup, so there are a lot of new guys in uniforms this year. Our challenge as a staff is to train them and coach them and educate them so they're ready to go right out of the gate. We have a heck of a start to our schedule."
That's putting it lightly. Northeastern plays BC, Vermont, and BU once and Michigan twice, all in October and all on the road. Then it's home-and-home with UNH to open November. With the exception of a nonconference home game against Union and the road game at Vermont — no pushover there, either — that means six of the first eight games will be against top ten teams.
However that goes, Northeastern could be a dangerous team to play as the year progresses, especially as the toughest part of the Huskies' schedule will be under their belts.