Vermont's inaugural season in Hockey East proved to be a rollercoaster ride. The Catamounts won their first seven games, giving them major attention in the national polls for quite some time. However, the season ended with only a single win after Feb. 3. Unfortunately for the league rookie, its stellar 8-1 record out of conference didn't matter one whit in the standings, where the Catamounts finished a game under .500.
The Catamounts took care of business more often than not against the middle and lower tiers within Hockey East, but finished only 1-8-5 against the four perennial powerhouses: Boston College, Boston University, New Hampshire and Maine.
"We had played a lot of those teams in nonconference games for years, but conference games are different," UVM coach Kevin Sneddon says. "The lineups look different. It was new for us last year to have to play a program three times. We didn't fare too well against the top four.
"I think I have a better sense of the styles of each program now. We're going to be challenged every night and that's something that we certainly learned last year. There is no weak team in the league and we'd better be ready to play. That's going to make us a better team by the end. We've played in all the venues now. We've seen the crowds. We know what chants are going to be against us."
Not only will the adjustment process be behind the Catamounts, they also won't receive the media scrutiny of being the new kid on the block.
"That attention was awesome," Sneddon says. "We just love the league and what it's done for our school and hopefully we've been a good addition. But now from a media perspective, we're no longer the new team. Some of that attention last year was subtle pressure.
"This year we can write our own story and hopefully it will be a very positive story. I'm sure it will be, but it will be nice to be just another team in the league looking for a championship."
The foundation for such a championship can be found between the pipes. Joe Fallon followed up his ECACHL Rookie of the Year season with a sophomore campaign that included a league-best 2.02 GAA and a .907 save percentage. Freshman Mike Spillane replaces Travis Russell, who graduated, as backup.
"I've always been a big believer that you build from the net out," Sneddon says. "I know it's an old coaches' cliché, but I really believe it.
"Joe has been a fabulous goaltender for us for two years, but I think his best hockey is ahead of him. I think he's poised to have another great year.
"That being said, we have a great young prospect in Mike Spillane, who's going to push Joe every day and keep him honest. Obviously we expect Joe to be the starter, but he'll be pushed every day."
The blue line's only loss was Jaime Sifers, but what a loss! Kenny Macaulay and Mark Lutz will anchor the defense in Sifers' absence.
"We have some holes to fill even though we're only talking about one player," Sneddon says. "In my opinion, Jaime was one of the best defensemen that has ever played at the University of Vermont. And as [leaders go], he was one of the best.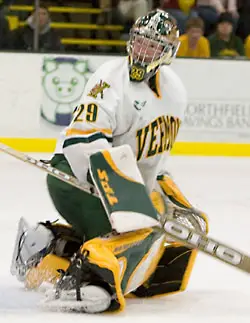 "That being said, we have a very good young player in Patrick Cullity coming into our program. He looks to be ready to take on a role in our defensive corps. Our returning players have done a nice job of getting bigger and stronger so they can maybe assume some of that physical play that Jamie was known for.
"But most importantly, I think we've filled the leadership hole with [captains] Kenny Macaulay and Torrey Mitchell along with our two assistant captains, Chris Myers and Mark Lutz. I think that foursome is really going to take the leadership responsibility much like Jamie did."
Mitchell will be counted on to not only be a leader in the dressing room, but also on the stat sheet. He topped Vermont last season with 40 points on 12 goals and 28 assists. Fellow top guns Brady Leisenring and Jeff Corey have graduated along with four other senior forwards. Even so, Dean Strong (9-15–24) and Peter Lenes (13-7–20) passed the 20-point mark as freshmen and along with classmate and linemate Corey Carlson (6-9–15) should be even better this year.
"We did lose a lot of role players and two big players from an offensive standpoint in Leisenring and Corey," Sneddon says. "But I think that players like Peter Lenes, Dean Strong and Corey Carlson, who were our second line as freshmen last year, are more prepared for this season and are ready to really take off. Those three combined with Torrey Mitchell and some of the freshmen [should give us] more offensive punch than we had last year. I think we have the forwards to play good two-way hockey and contribute more offense.
"Last season, we were top five [nationally] in team defense, but top 40 in offense. We know we've got to improve from an offensive standpoint while maintaining our marquee-style defense."