The Colgate Raiders have been tabbed as the team to beat in the ECACHL this season — and who can blame people for thinking that?
Three of the top four scorers return, as does most of the defense and preseason All-ECACHL selection Mark Dekanich in goal.
Dekanich took over last season between the pipes and led the Raiders with a .924 save percentage and a 2.24 GAA. With four shutouts, Dekanich looks to be the goaltender everyone is talking about within the league.
"Mark, of course, was the goalie of the year — his numbers speak for themselves — and we expect him to come in and pick up where he left off," said head coach Don Vaughan. "We're going to have three solid goaltenders back there and I know they'll all work well together and continue to challenge one another. I'm really quite confident in that position for us as we start the season, and we all know how important goaltending is."
Up front the Raiders return star power with another All-ECACHL preseason selection in Tyler Burton. Burton was second on the team last season in points, totaling 22-18-40, and possesses an explosive move and shot. Right behind Burton are Marc Fulton (14-23-37) and Jesse Winchester (14-22-36). Ben Camper and Peter Bogdanich also look to add to Colgate's firepower.
"As difficult as it is to score goals in the ECACHL, I am confident that we have enough talent on the offensive side of the puck to put up adequate numbers," Vaughan said. "Much of it will be determined by team chemistry and guys playing well together, staying healthy and holding each other accountable.
"We've got a solid group of offensive players returning from last year. We have also added four good forwards who will all be able to contribute."
On defense, the Raiders only lost Eric Main, and return such stalwarts as Mike Campaner, Nick St. Pierre, David Sloane, Mark Anderson, Alex Grieg and Matt Torti. The last time the Raiders returned so many on defense, not only was the defense strong but also the special teams.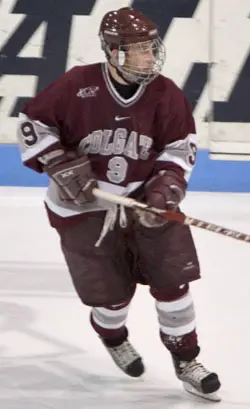 "It's about confidence," Vaughan said. "This year when we find ourselves in close games or in pressure situations in the playoffs, there's going to be a certain comfort level now. Our young defensemen have been through it and know what's expected of them. The challenge, especially for our sophomores, is not to rest on last year's success, but to challenge themselves and realize that it doesn't get easier."
The factor which may push the Raiders over and above the competition is that the power play will probably click right away, having so many returners on the units. It's not unprecedented with a Vaughan team, and getting into penalty trouble with the Raiders will probably hurt more than a few teams.
"Many of our returning players played together last year and even the year before that, so I guess you could say that we are a little ahead of the game in that particular area," Vaughan said. "The power-play guys know what's expected of them and what their roles are, but you still have to execute. Execution is something we will continue to work on early in the season, in the middle of the season, and late in the year.
"The last few years we've tried to separate power-play and penalty-kill units and we've had some success with that. At this level there's a tendency to use the same guys in all special-teams situations, but we've made an effort to develop guys who wouldn't regularly be on the power play and have them work penalty-kill situations. In my opinion, that is what is best for the team."
The Raiders look on paper to be the best the ECACHL has to offer. If it all clicks right away, the Raiders could be a force come playoff time.
Thanks to Mike Volonnino for his contributions.