Last year, all the talk leading into the season was about the numerous coaching changes, including the defending champions. This year, there are again coaching changes, this time with two schools, though one is a return of a longtime coach, and again one involves the defending champions.
However, the talk leading into this season is not about coaching changes. It's about the new playoff format. The SUNYAC is finally going to drop the two-game with mini-game format, and go to single elimination for every round. Six teams will still make the playoffs, with the play-in round held on Tuesday (which makes no sense to me), and the semifinals and final held Saturday nights.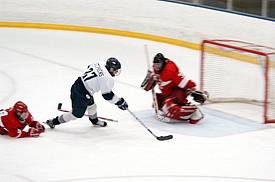 "We had no other choice," Plattsburgh coach Bob Emery said. "We knew we had to change the old format. The two out of three was getting too grinding for the teams."
The original proposal was to allow everyone in, but the athletic directors shot that down. "We wanted to get eight teams in, so if it worked out, the favorites could get two additional wins on their record," Emery said.
"I like to play as many games as possible," Cortland coach Tom Cranfield said. "But, we had to go to it. It's only going to help us."
Fredonia coach Jeff Meredith explains the two key effects the new playoff system will have: "You're not beating up your conference champion like we did last year. And, this way we can get two teams in the NCAA."
As for the aforementioned coaching changes, Geneseo once again will have to defend their SUNYAC championship with a new coach behind the bench. This time, Chris Schultz gets the honor to see if he can lead the two-time champs to another title. At Brockport, Brian Dickinson returns after a one year absence to try to set back into motion his massive rebuilding effort he started two years ago.
Oh, there's also that new arena in Oswego…
Click on any team name at the top of a section below to view its individual season preview.
2006-07 SUNYAC (In Order of Predicted Finish)
Oswego State Lakers
Coach: Ed Gosek, fourth season overall and at Oswego (55-22-8)
2005-6 overall record: 18-7-2
2005-6 SUNYAC record: 10-3-1
2005-6 SUNYAC finish: First
2006-7 Predicted finish: First
Plattsburgh State Cardinals
Coach: Bob Emery, 18th season overall and at Plattsburgh
(383-125-36)
2005-6 overall record: 19-12-1
2005-6 SUNYAC record: 8-6-0
2005-6 SUNYAC finish: Fourth
2006-7 Predicted finish: Second
Geneseo State Ice Knights
Coach: Chris Schultz, first season as head coach
2005-6 overall record: 19-9-2
2005-6 SUNYAC record: 10-4-0
2005-6 SUNYAC finish: Second
2006-7 Predicted finish: Third
Fredonia State Blue Devils
Coach: Jeff Meredith, 19th season overall and at Fredonia
(277-208-46)
2005-6 overall record: 17-9-3
2005-6 SUNYAC record: 8-3-3
2005-6 SUNYAC finish: Third
2006-7 Predicted finish: Fourth
Potsdam State Bears
Coach: Glenn Thomaris, 19th season overall (313-178-25) and fifth
season at Potsdam (42-56-11)
2005-6 overall record: 7-15-4
2005-6 SUNYAC record: 6-7-1
2005-6 SUNYAC finish: Sixth
2006-7 Predicted finish: Fifth
[nl]Buffalo State Bengals
Coach: Nick Carriere, second season overall and at Buffalo State
(11-14-1)
2005-6 overall record: 11-14-1
2005-6 SUNYAC record: 8-6-0
2005-6 SUNYAC finish: Fifth
2006-7 Predicted finish: Sixth
Cortland State Red Dragons
Coach: Tom Cranfield, sixth season overall and at Cortland
(44-78-13)
2005-6 overall record: 4-19-2
2005-6 SUNYAC record: 2-11-1
2005-6 SUNYAC finish: Seventh
2006-7 Predicted finish: Seventh
Brockport State Golden Eagles
Coach: Brian Dickinson, 12th season overall (77-204-23) and 9th
season at Brockport (63-156-17)
2005-6 overall record: 4-20-1
2005-6 SUNYAC record: 1-13-1
2005-6 SUNYAC finish: Eighth
2006-7 Predicted finish: Eighth