Team Overview: Norwich basically reloaded last season with the offensive emergence of Rick Cleaver and Nikita Kashirsky who each totaled over 40 points. In fact, the Cadets scored 151 goals last season while only giving up 56 so they were able to play well in all three zones and dominate opponents.
"We have some good numbers and really good depth on this team," commented Norwich head coach Mike McShane. "We will probably have two or three freshmen get regular playing time on both offense and defense. We should be pretty balanced in terms of our scoring capability across our four lines and expect our defense and goaltending should be pretty good."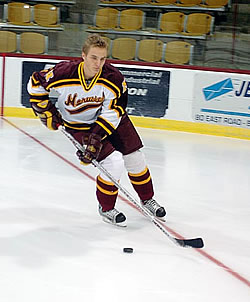 Chance Gieni returns having started 14 games last season, posting a 2.04 goals-against average and three shutouts. Expect newcomer David Thompson to compete with Gieni for some time in goal behind what should be a strong group of defenders led by junior Phil Sbrocchi.
Special Teams: Last season the Cadets scored over one-third of their goals on the power play while only surrendering 18 goals shorthanded. Expect similar play this year from an experienced group of players who understand the importance of special teams play.
Schedule: November may be an early indicator of the Cadets level of play as they host the annual Primelink tournament in Northfield where Potsdam, Plattsburgh and Middlebury will join in the early season festivities. Another event of note is the Times-Argus tournament held over the holiday break where the University of Rhode Island (the defending AHCA champion) will be playing in the tournament.
Summary: Look for the Cadets to get off to a good start and compete on the national stage come spring time.